Minimal growth prospects and declining US soda market
Contrary to US macro trends - Demographic health trend and discretionary spending
Higher, cheaper dividends available elsewhere
Pepsi (NYSE:PEP) recently reported earnings that unsurprisingly were roughly in-line with expectations. Such has been the story recently with soda-water giants Pepsi and Coca-Cola (NYSE:KO). While Coke appears to be in much better shape than Pepsi, they both are facing significant risks that must be addressed soon. In the past year Pepsi's share price has been essentially flat while Coke has recorded a solid seven percent gain. Pepsi CEO Indra Nooyi stated that 2012 "will be a transitional year" for the company; that surely sounds like a red flag to look elsewhere for positive returns.
One of the saving graces for Pepsi was thought to be a separation of the food and beverage businesses in an attempt to unlock value but Pepsi declined any plans to do so. Rumors have persisted since at least November 2011 but Pepsi remains "stubbornly" opposed to even discussing it. There might be additional value in a split-up Pepsi but the mere fact that analysts are clamoring for such an iconic company to split should serve as another warning sign.

Pepsi has finally finished its eagerly anticipated strategic review, which is being called a "reset." Pepsi is planning to cut nearly 9,000 jobs, increased advertising on "megabrands" (presumably those elite brands with $1B in annual sales), and raise prices as necessary to combat climbing commodity prices. Not to be outdone Coke announced a similar round of cost cuts and commitment to advertising. For reference, Coke currently spends approximately twice as much as Pepsi does on advertising as a percent of revenue.
Many investors have these companies in their retirement account due to their perceived safety alone. I will elaborate on why Pepsi and Coke are "safety traps" that are but an illusion of security. Now that the era of buy and hold is dead, investors cannot simply own Coke because they believe "everyone drinks soda". Fundamental research is necessary and it pains a rather gloomy picture for these once dominant American brands. In essence, there are many companies with more attractive risk-reward profiles for your money.
Weak Growth Forecasts and Fading Core Business
The only way in which these companies can achieve growth is with questionable line extensions because the core soda market is so mature. For example, Pepsi has created the Gatorade G Series with mixed results. For an interesting look at the lengths Pepsi has gone to please read this great article in a November BusinessWeek: Gatorade Goes Back to the Lab. What once started as original Gatorade has now been split into no fewer than eleven different beverages under three different brands. The tagline of "It's not a drink, it's a system" appears to be quite true and might actually be confusing consumers with over-fragmentation.
In these respects, both Pepsi and Coke are far more risky that most investors believe. Both companies have to go to great lengths to simply grow by ten percent: this hardly sounds like a great business model, especially considering the PEs in the high teens. Recently both companies are looking to tap into coconut water to juice returns. For reference, the number one coconut water brand, Vita Coco, has $100M in annual sales. Coconut water could end up being a great success for the companies involved but it shows the tremendous lengths these companies must go to in order to generate sustainable growth.
Overall, soda consumption has been declining for years in the United States for a variety of reasons that will be discussed below. For example, from 2005 to 2010 regular soda consumption declined by twenty percent. This puts tremendous pressure on Pepsi CEO Indra Nooyi and Coke CEO Muhtar Kent to continuously find the next hit product.
Stuck Between Unwholesome Past and Healthy Future
As much as these companies attempt to diversify their product lines, the soda and beverage division is still the primary earnings driver. The problem with this is that Americans are finally drinking less soda. Both Pepsi and Coke have been slow to respond as consumers are increasingly shifting towards healthier purchases. The companies find themselves at an interesting crossroads: in order to grow they need to rely on their staple brands which are still at their core heavily processes and containing excess amounts of sugar.
With flat soda sales there are only two options - advertise heavily to steal market share away from competitors or diversify into new products (such as the coconut water mentioned above). The two conclusions that can be drawn are that both prospects are extremely expensive and offer no guarantee of success. The attention to "yogurt drinks, hummus, oatmeal bars, etc." has left Pepsi neglecting the lynchpin brands it depends on. I prefer more businesses that are not subject to the whims of marketing and fickle consumer demand.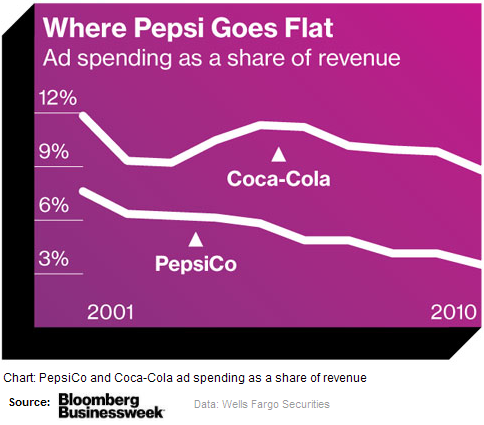 It appears that the Great Recession still is having a significant impact on consumers and both Pepsi and Coke generally produce nonessential snack foods and beverages with low nutritional value. This is an easy area for consumer to reduce their budget on when they are struggling to pay for the real necessities. Nooyi has already characterized the economic climate as challenging and I see little chance of the economy improving with political gridlock.
On Sale in Aisle Two: High Yields Available For Less Risk
Pepsi and Coke each yield approximately three percent and have done so for the last five years. This is a respectable yield but pales in comparison to other mature businesses. For example, investors can achieve a higher yield by investing in utilities without sacrificing much growth. Additionally, there are consumer discretionary stocks with comparable yields that are experiencing true demand growth such as McDonald's (NYSE:MCD). I will tap on three companies in my Great Recession II portfolio that offer higher yields and believe better total return prospects: Consolidated Edison (NYSE:ED), Chevron (NYSE:CVX), and Philip Morris International (NYSE:PM).
Pepsi and Coke trade at forward P/Es of 15.7 and 16.7, respectively, which compare favorably to the nonalcoholic beverage maker industry average TTM P/E of approximately 18. Do you want to own a company trading at a low valuation that has unfettered demand for the liquid it sells without relying on expensive advertising and new product research every year? Look no further than Chevron trading at a P/E below eight and also paying a 3.1% yield.
To summarize, the days of easily achievable high growth have passed for Pepsi and Coke. These companies will have to fight tooth and nail to achieve gains and it will be a challenge for shareholders to consistently beat the market with these stocks. With a deteriorating primary business and a tumultuous demographic environment, I believe there are many more defensive companies that offer both higher growth and yields than either Pepsi or Coke.