By Brendan Gilmartin
Overview
Deere & Co. (DE) is slated to report 1Q 2012 earnings before the opening bell on Wednesday, February 15. Results will follow with a conference call at 10:00 a.m. The actual results are typically available via press release at 7:00 a.m. EST. Given Deere's size and influence as an industrial bellwether, the results have the potential to impact the broader market gauges, including the S&P Futures, particularly if results are way out of line in either direction.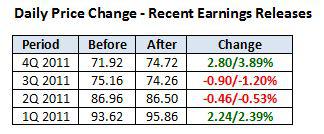 Outliers & Strategy
Key measures:
Earnings Per Share: Deere typically reports a "clean" number that is comparable to consensus. The Street is currently looking for EPS of $1.23. The range is $1.05 - $1.35 (Source: Yahoo! Finance). Last quarter, the company delivered earnings of $1.62 per share, handily topping the consensus of $1.43.
Revenue: Revenue is seen rising 17.6% to $6.49 bln. The high end of the range is $6.70 bln.
Back in November, Deere offered the following guidance for the 1Q 2012 period:
Equipment sales are projected to increase about 15% for the year and to be up 16% to 18% for the first quarter compared with 2011. The company also asserted that demand for John Deere products is expected to experience substantial growth in fiscal year 2012.
This past January, Caterpillar (NYSE:CAT) delivered a solid 4Q earnings release. Among the takeaways that could impact Deere & Co.:
Caterpillar CEO Doug Oberhelman indicated on the conference call that the prospects for global growth have improved since the previous October, while recent economic data suggest that U.S. growth improved in the fourth quarter of 2011.
Last month, Monsanto (NYSE:MON) delivered above-estimate results for the 1Q 2012, citing strength of the business in Brazil and Argentina, with some contribution from timing benefits in the U.S. and Australia. Demand for seeds and agriculture products from Monsanto are expected to contribute toward solid earnings for Deere.
According to Revere Data, Titan International (NYSE:TWI) and Stoneridge Inc. (NYSE:SRI) derive significant portions of their revenue from Deere & Co. Titan draws 26% of its revenue and Stoneridge 14% from Deere.
Recent News
01/13: Jefferies reiterated a Hold rating on Deere and raised the price target from $80 to $83, citing optimism in the machinery space, according to Benzinga.com. The target increase was also based on expansion in key end markets.
12/07: Deere declared a regular quarterly dividend of $0.41 a share. The shares are now yielding 1.85%.
Technical Review
Deere shares are up about 15% year to date, with the 50-Day SMA recently crossing above the 200-Day - a significant bullish technical development. More recently, however, the candlesticks have shortened, volume has tapered off, and the Relative Strength Index is coming off the 70-level - all signals that the momentum may be waning. Should the rally fade, look for support at the 20-Day SMA (~$87.50), followed by $85.00, and $80.00. Meanwhile, there is little resistance up until the 52-week high of $98.19.
(Click chart to expand)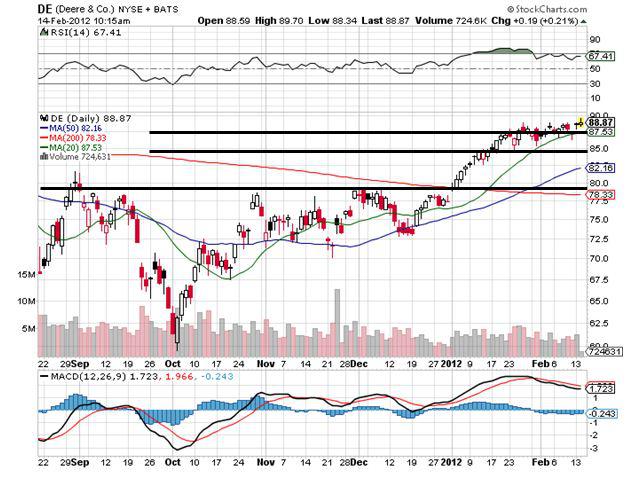 Click to enlarge
(Chart courtesy of StockCharts.com)
Summary
By all accounts, Deere is projected to deliver a solid 1Q 2012 earnings release, following solid numbers from the likes of Caterpillar and Monsanto, evidence of global demand for farming equipment, growth in key markets such as Brazil, and a robust outlook from the company back in November. But with the shares up more than 15% YTD and nearly 50% from the October nadir, much of the positive news may be priced in at these levels, suggesting it will take results at or above the high end of Street expectations to warrant a move higher from here.
Disclosure: I have no positions in any stocks mentioned, and no plans to initiate any positions within the next 72 hours.
DISCLAIMER: By using this report, you acknowledge that Selerity, Inc. is in no way liable for losses or gains arising out of commentary, analysis, and or data in this report. Your investment decisions and recommendations are made entirely at your discretion. Selerity does not own securities in companies that they write about, is not an investment adviser, and the content contained herein is not an endorsement to buy or sell any securities. No content published as part of this report constitutes a recommendation that any particular investment, security, portfolio of securities, transaction or investment strategy is suitable for any specific person.