Cisco (NASDAQ:CSCO) reported Q1 FY 2012 earnings recently, and this is a great opportunity to evaluate how Cisco's restructuring is doing. The short answer - not bad. The longer answer - not bad, assuming a few things.
---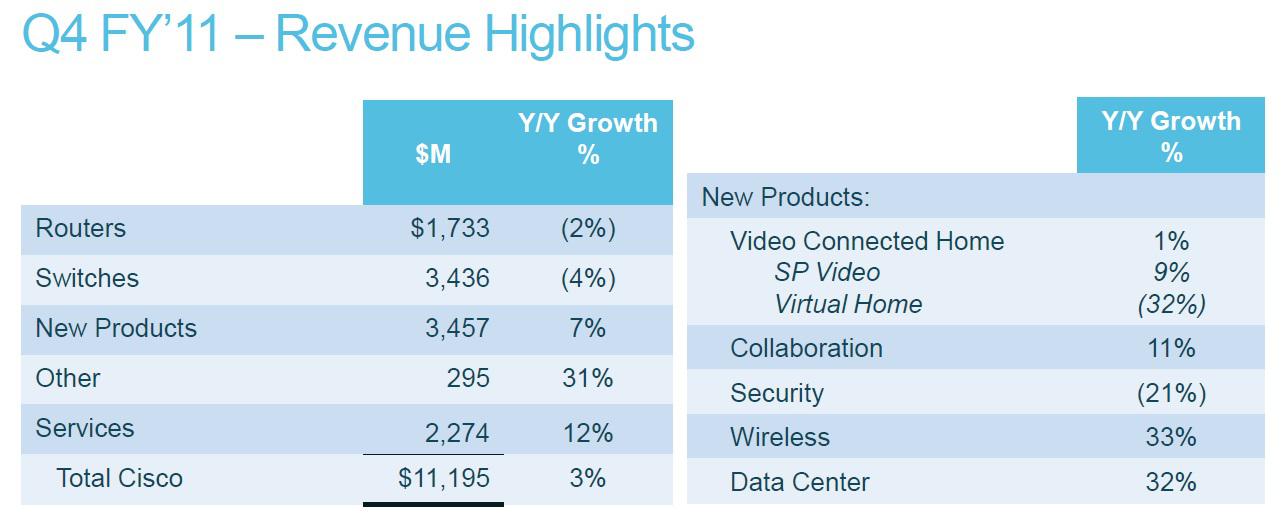 Click to enlarge
Source: Cisco
Representative of its last few quarters, Cisco's earnings were a testament to how massive shifts in industry trends are affecting Cisco's business. Essentially, Cisco now has four main profit drivers: its core business - routing, switching and associated services (which includes comprehensive security and mobility solutions), new products (which includes solutions for wireless, collaboration, video, data center virtualization and cloud, and architectures for business transformation), services, and "other" (consisting primarily of optical networking products, emerging technologies, such as physical security and video surveillance, and digital media systems).
Revenue from routers and switches is in decline across most consumer and commercial markets, and enterprise markets are not doing much better. However this is Cisco's core business, and the focus of its recent restructuring. You would think that a big push to cloud would spur growth (which it did for that exact reason), yet it is more than offset by the decline of in-house data rooms and in general, in-house IT anything. While profits have been declining for the last year, earnings show some signs of improvement. After dropping the failed line of Flip cameras, cutting 10% of its workforce, and lowering estimates, Cisco has met its $1 billion target expense reduction early, and appears to be competitive again. "We believe our vision and strategy are working," said Cisco's chief executive, John Chambers this week.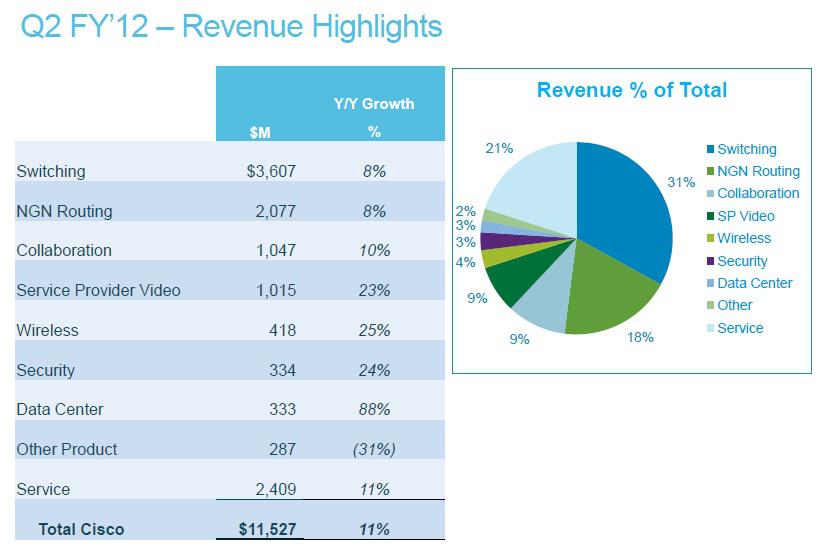 Click to enlarge
Source: Cisco
Cloud Is Good
Cloud is becoming a huge IT trend, and more companies are outsourcing their storage, computing power and virtualization to cloud platforms. While this trend is growing at an incredible pace, and is expected to drive mass purchases by emerging, large cloud providers, such as Amazon (NASDAQ:AMZN) and soon-to-enter Google (NASDAQ:GOOG), those same providers have far superior bargaining power, and can extract lower margins from Cisco, which is already operating in a very competitive environment. Moreover, a push to cloud means large customers are moving an increasing amount of IT processes out of their in-house budget, something that is having a negative effect on Cisco's revenue from these categories.
Home products are doing no better, and Cisco's attempt to gain major dominance in the market through the expensive acquisition of Linksys has proven unsuccessful, something Cisco has recognized, and therefore is investing less money in consumer products. Despite a rise in market share, margins have been going down for a while now, and we are witnessing a commoditization process in rapid evolution.
While this can be somewhat offset by increasing gross margins through work force reduction and improved processes, there has been questions whether such improvement is sustainable. Pundits note that even if Cisco is able to maintain a consistent market share in its core businesses, it seems that real future growth from these categories will be modest, despite wider adoption of the Nexus line of switches.
That being said, Cisco currently enjoys a 76% share of the 10-Gbit Ethernet market, and sales of 10-Gbit Ethernet switches are expected to reach $13 billion by 2016 and will constitute nearly half of a total $28 billion Ethernet switch market by then. By 2016, sales of 40-Gbit Ethernet and 100-Gbit Ethernet products (the really fast and expensive ones) are expected to amount to $3 billion. Some room for hope. Like other vendors, Cisco has been adding higher-capacity switches to meet network demands for cloud computing, collaboration and mobility products, and this trend is expected to continue at a rapid pace. Just imagine how much more information goes through mobile devices today compared to just a few years ago. It's rather incredible.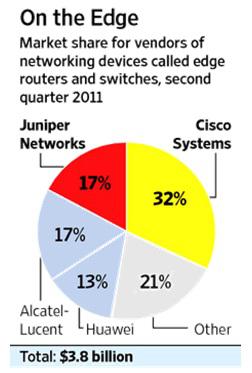 Source: Infonetics Research
Collaboration
Just as we saw in Cisco's Q4 FY 2011 report, this week's report for Q1 2012 further emphasizes the fact that most of Cisco's growth in revenue does not stem from its core businesses, but rather from new products, such as enterprise video-conferencing solutions (collaboration - up 10%), and set-top boxes for cable companies (up 23%). We have been witnessing a real convergence of consumer demands and corresponding technologies related to video and collaboration - both heavily augmented by increased demand for mobility technologies - and Cisco has been very effective at capturing a significant part of that market through both in-house R&D and successfully integrated acquisitions, such as its purchase of Norwegian teleconferencing company Tandberg in April 2010.
Unified Computing for Dummies
The enterprise data center space has undergone massive changes in the last few years. Many major, well-financed, and aggressive competitors, such as Alcatel-Lucent (ALU), Brocade (NASDAQ:BRCD), Dell (NASDAQ:DELL), Huawei Technologies, IBM (NYSE:IBM), HP (NYSE:HPQ), and Juniper Networks (NYSE:JNPR) have been very aggressive in maintaining or expanding their market shares, and gross margins have been declining (despite Cisco's latest successful, aggressive attempt to gain a slight increase in market share through price cuts). We are witnessing mass commoditization in the space, triggered by a convergence of computing, storage, networking and software technologies. Cisco has been attempting to capitalize on this new trend through its (rather) new and scalable Nexus product line, and its Unified Computing System (UCS) platform - both designed to integrate said technologies into enterprise data centers. Cisco reports that "to date, over 10,000 customers worldwide, including 3,000 in Europe, have deployed UCS systems."
Cisco is betting big on Unified Computing to deliver new revenue growth in lieu of other shrinking sources. While this sounds like a rather trivial issue, it really isn't, and neither are the implications to Cisco's core business. Cisco has properly recognized that enterprise customers want packaged, secure and copyrighted solutions for their operations. Similar demands will surely come from other customers as well, and I believe that Cisco has properly envisioned the post-PC, uber-mobile world, and is positioning itself to take advantage of this expected growth. If you had any doubt that Cisco is serious about this whole UCS thing, take a look at the new Cius tablet (Cius Mobile Collaboration Device) - the first real tablet for enterprise users (yeah, I remember the playbook), and a real masterpiece for collaboration (check out Tom's IT Pro's excellent piece on the Cius).
Epilogue
I can't help but feel that Cisco just "gets it." It is unclear whether it is able to capitalize on this shift in consumer and enterprise behavior, but I don't see any other serious players even acknowledging that the game has changed. Indeed, Cisco is leading the way, and with almost $50 billion in cash to spend on acquisitions (something some investors may be worried about - did anyone say special dividend?), I believe Chambers is on the right track.
Disclosure: I am long CSCO.