Falling natural gas prices (NG) have impacted a wide array of stocks, stretching further than just traditional natural gas producers. Beneficiaries of lower NG prices are utilities and pipeline stocks, but coal producers and railroads have begun to feel the pinch of lower prices. Long-term gas supply looks abundant, and short-term unseasonably warm weather has only exacerbated the NG over supply situation. Natural gas prices appear as if they will stay low for the foreseeable future, and there will be both winners and losers of this trend.
Approximately twenty percent of U.S. utilities rely upon natural gas as their energy source. Though coal is also a cheap and abundant resource at their disposal, increasing government regulation and more consistently available inexpensive NG will allow utilities to structure their businesses around natural gas going forward. In the short-term, many utilities have the ability to switch to NG when prices decline relative to the price of coal. It appears as if they have made this switch, and it has positive profit implications by doing so. As the chart below depicts, there is a clear negative correlation between the price of NG and the utilities ETF XLU.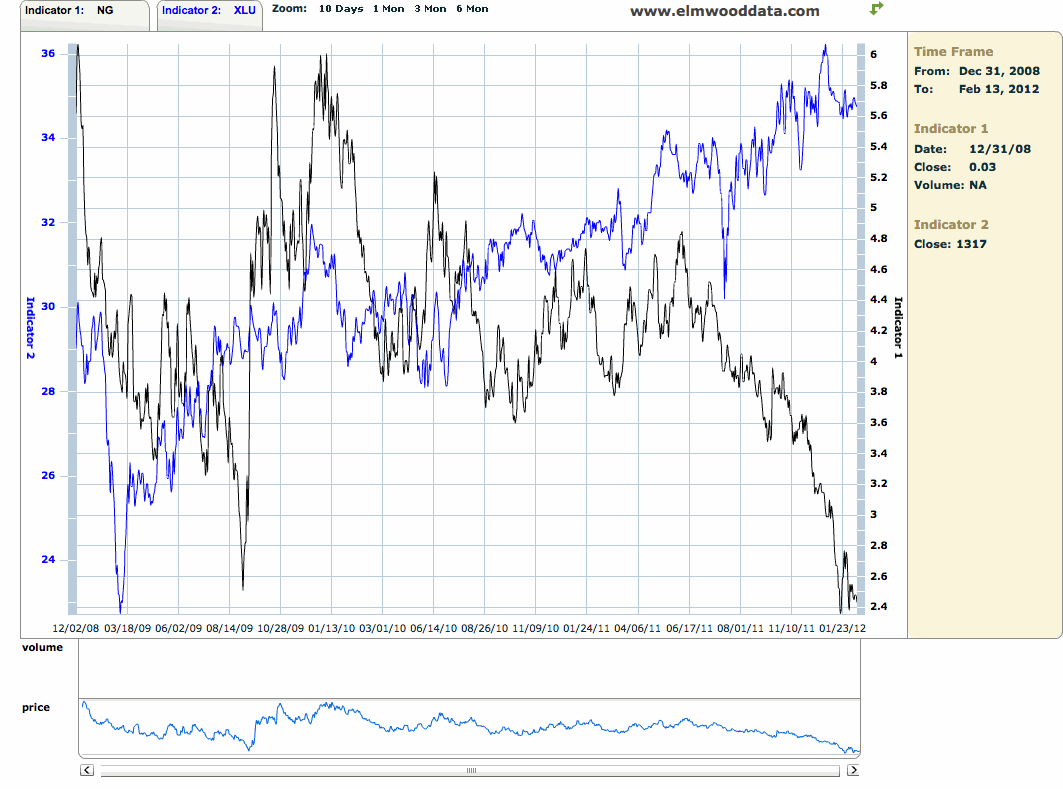 Click to enlarge
(Click to enlarge)
Utilities are not the only beneficiaries of low gas prices, pipeline and transportation companies benefit from lower NG prices as it encourages use by other industries. The pipelines provide stable, consistent access to this energy source. For example, the JP Morgan Alerian pipeline ETF (NYSEARCA:AMJ) also shows a strong negative correlation to NG prices. Even though daily price fluctuations have little immediate impact on their business, the longer prices stay low amid plentiful gas supplies and encourages broader use. Since it's difficult to store NG, pipelines are well positioned.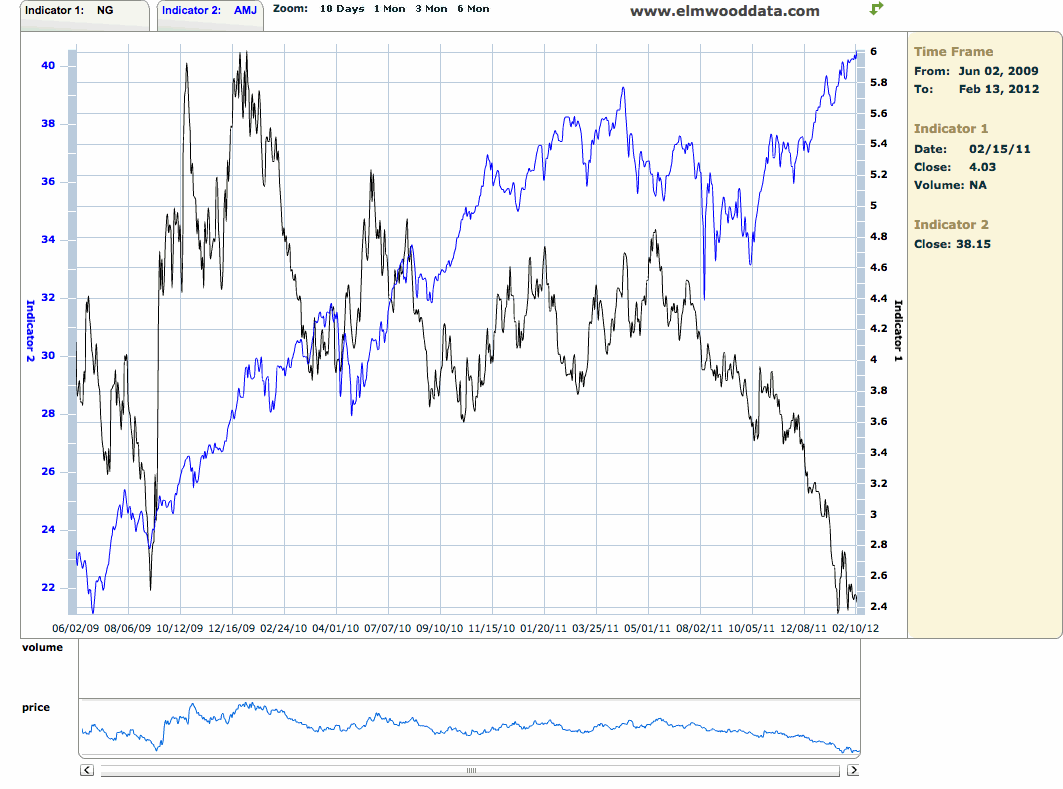 Click to enlarge
(Click to enlarge)
As mentioned previously, coal producers generally do not benefit from lower gas prices. Make no mistake, coal will still have its' place in the future, but domestic demand will continue to decline in the wake of cheap NG. In the following chart, we show the relationship between NG and weekly rail car shipments of coal. After NG moves lower for a period of time, coal carloads consistently fall after a decline in gas prices. This chart shows NG versus U.S. weekly rail car loadings of coal (US_COAL_YOY). We've adjusted the coal data to show as year over year to help blunt any seasonality.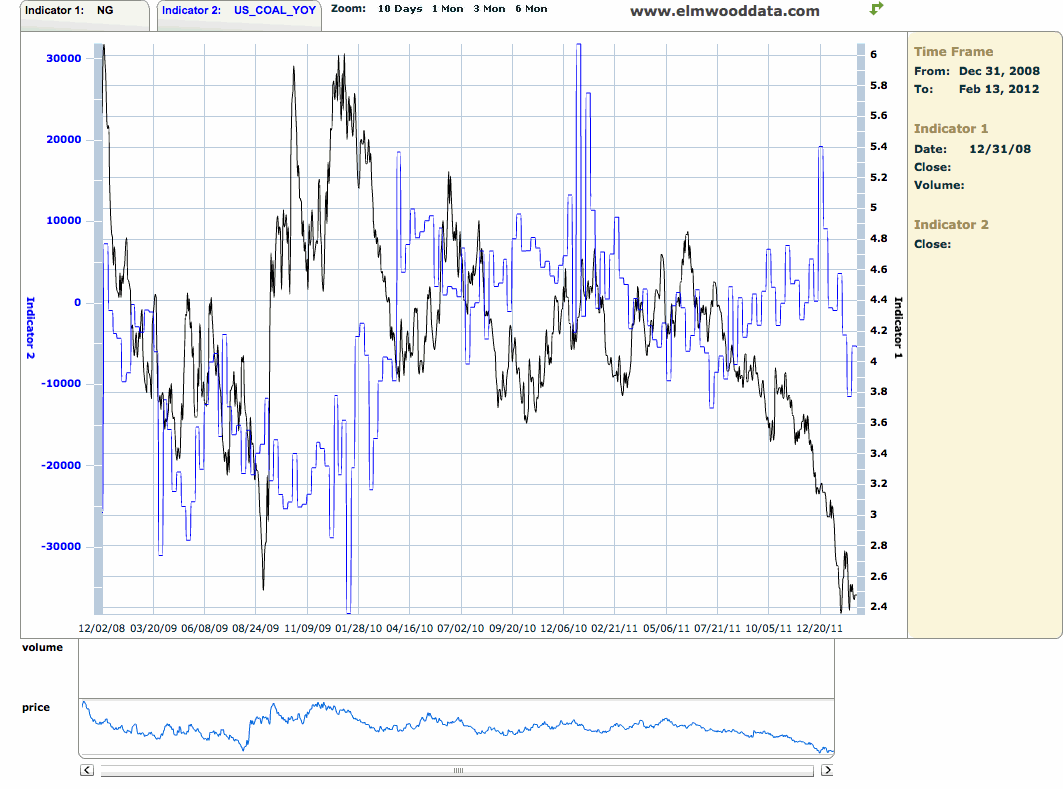 Click to enlarge
(Click to enlarge)
Finally, railroads may also be impacted by low gas prices. Some rails benefit from higher revenue derived from the fracking process. Frac sand, for example, is an important resources used in this process which the rails carry to the drill sites. But rails such as CSX Corp (NYSE:CSX) also carry quite a bit of coal. In fact, coal represents 31% of the CSX revenue stream. Rails have posted strong results recently, and overall carload volume data still confirms their bullish bias. But if coal continues to suffer, close attention should be paid to the rest of their freight metrics. A company like CSX cannot afford weakness from another major revenue source, if coal continues its' decline in volume.
Disclosure: I have no positions in any stocks mentioned, and no plans to initiate any positions within the next 72 hours.
Disclaimer: The opinions in this document are for informational and educational purposes only and should not be construed as a recommendation to buy or sell the stocks mentioned or to solicit transactions or clients. Past performance of the companies discussed may not continue and the companies may not achieve the earnings growth as predicted. The information in this document is believed to be accurate, but under no circumstances should a person act upon the information contained within. I do not recommend that anyone act upon any investment information without first consulting an investment professional as to the suitability of such investments for his or her specific situation.