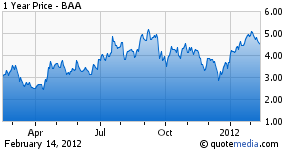 Banro Corporation (NYSEMKT:BAA), a Toronto-based gold mining firm, is on track with its scheduled full capacity production at its Twangiza project in the Democratic Republic of Congo, which is located in Central Africa. The company has a market capitalization of over $860 million, as of January 20, 2012, and it sits well below the industry average based on its relative valuation, which is the key valuation metric used in the mining sector.
After two years of construction of the mines and facilities, the company began production in late 2011. The Twangiza project is designed to produce 120,000 ounces of gold a year on average as noted on the company's website here.
"Following Twangiza's first gold pour in October 2011, the mine and plant continue to gear up to full commercial production. The addition of two CIL (carbon in leach) tanks in the second half of 2012 will bring the mill to full capacity, increasing throughput from the start-up rate of 1.3 million tons per year to the steady-state of 1.7 million tons per year. Once at steady state, estimated production of 120,000 ounces per annum is forecast. The gold export process has now commenced successfully with gold being transported in accordance with in-country protocols from Twangiza to Rand Refinery in South Africa."
With no debt financing required for the Twangiza project (literally zero debt), Banro is unlike other major gold producers like AngloGold Ashanti (NYSE:AU), Barrick Gold (NYSE:ABX) and Newmont Mining (NYSE:NEM) that are sporting debt-to-equity percentages of 52%, 55% and 25%, respectively.
This, in addition to the company's $30 million in the bank as of September 30, 2011, provides the company with $10 million monthly free cash flow, on full production, for its next undertaking of the Namoya project. This project has begun pre-construction activities, and the company currently expects it will match the production of Twangiza and double the company's overall production. The Namoya project is set to be operational in early 2013.
Moreover, according to Yahoo Finance, a whooping 95% of the 216 members who rated Banro based on projected stock appreciation believe that its stock will outperform the S&P 500 going forward.
Perhaps what's even more compelling about Banro's financials is the prospect of its growth as well as its earnings, especially at a time that most individuals, and even institutional investors, turn back to investments in gold as a safe haven play.
First, this idea is highlighted by the fact that it is expected that greater volatility of the major world currencies will boost demand for gold as a monetary reserve asset.
Second, it is anticipated that China and other countries that hold a large portion of their foreign exchange reserves in U.S. dollars will ultimately diversify out of the dollar and into gold, and that gold will rise against all currencies due to the implementation of quantitative easing by central banks worldwide.
Third, in my opinion, gold demand will benefit from concerns over solvency of international sovereign debt as is commonplace news in today's economic front. Also, the threat of debt defaults, both domestic and foreign, increases the appeal of gold as a safe haven.
Moreover, according to a January 19, 2012 telephone interview with Michael Cooper, CFA, President of Toronto-based Cooper Financial Research:
"With production initiated in October 2011, the successful completion of DR Congo elections, and a strategy to increase the resources to 13.3 million oz, we are impressed with management's ability to reduce risks while growing the asset base."
For an even all more comforting factor, the company is under the leadership of a top-notch management that is sure to keep the same upbeat momentum. Mr. Simon F.W. Village, Chairman of the Board, President and CEO is a hands-on executive.
He was formerly the Managing Director of the World Gold Council, and principal of Exchange Traded Gold, a company responsible for developing and managing a series of direct physical gold investment products.
Prior to that, he was managing director with HSBC responsible for global mining based out of London, and also Head of HSBC's South African Securities business. He serves on the boards of Delran Resources Limited, Gentor Resources Inc., and Loncor Resources Inc. Mr. Village holds a Bachelor of Engineering degree with honors from Camborne School of Mines, and brings some 20 years of gold industry and investment experience to the company.
Therefore operating from Africa's second largest nation which sits on an estimated $24 trillion of untapped mineral resources, Banro Corporation is a great way to make hay while the sun shines.
Disclosure: I have no positions in any stocks mentioned, and no plans to initiate any positions within the next 72 hours.