Crocs, Inc. (CROX) has been on a incredible run since December. Here is a nice option play for the year that could net the savvy investor a nice gain.
Crocs and its subsidiaries engage in the design, development, manufacture, marketing, and distribution of footwear, apparel, and accessories for men, women and children. The company primarily offers casual and athletic shoes, and shoe charms. It also designs and sells a range of footwear and accessories that utilize its proprietary closed cell-resin, called Croslite. The company's footwear products include boots, sandals, sneakers, mules and flats. In addition, it provides footwear products for the hospital, restaurant, hotel and hospitality markets, as well as general foot care and diabetic-needs markets.
CROX has continued to move up. Taking a small dip it looks like it is ready to move up again. Basic business tells us that a company with rising gross and operating margins often fuels its growth by increasing demand for its products. If it sells more units while keeping costs in check, its profitability increases. Conversely, a company with gross margins that inch downward over time is often losing out to competition, and possibly engaging in a race to the bottom on prices.
Look very solid as we look at CROX TTM gross margin of 53.7%; operating margin is 13.7%; and net margin is 11.4%. Its recent operating margins have exceeded historical averages so the company continues to look strong. Northland Securities, less than a month ago, initiated an out-perform for CROX, so people are looking at the stock. Because of this, we love a long-term options play on CROX for this year.
(Click chart to expand)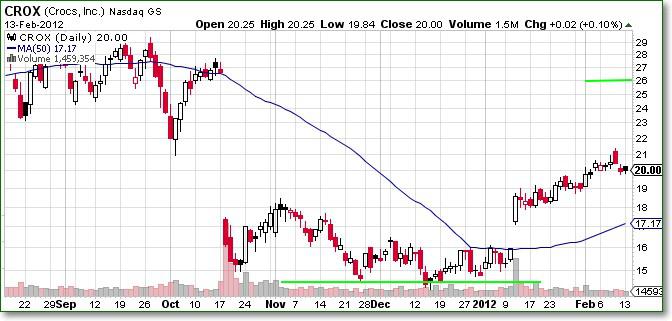 The Option Play
We are looking to initiate a vertical debit spread known as a Bull Call Spread. The bull call spread option trading strategy is employed when the options trader thinks that the price of the underlying asset will go up moderately in the near term. We are looking to make the play farther out toward the end of Summer so it has time to grow. Here is what we would initiate:
Buy a September 2012 25 call (presently priced at $1.70)
Sell a September 2012 26 call (presently priced at $1.30)
Debit: $0.40
Max Profit: $0.60
With a good foundation built at 15, we expect CROX to continue to move up as analysts have a high projection of 30. This gives the stock plenty of time to move and grow while the investor waits for a 150% profit.