The amount of data has been exploding. Companies continue to adopt various data management products as a strategic investment that improves efficiency and enables substantial cost savings. This presents a great opportunity for investors. Followings are 3 high growth data solution leaders involving new and innovative ways of storing and analyzing data.
VMware, Inc. (NYSE:VMW)
VMware provides virtualization and virtualization-based cloud infrastructure solutions. As of September 30, 2011, EMC Corporation (EMC) owned around 80% of VMware total outstanding shares of common stock.
Following is VMware's growth rates over the last 2 years:
| | | |
| --- | --- | --- |
| Growth Rate | 2011 vs. 2010 | 2010 vs. 2009 |
| Revenue | 32% | 41% |
| EPS | 98% | 70% |
VMware enjoys over 65% of server virtualization market shares. Microsoft (NASDAQ:MSFT) and Citrix Systems (NASDAQ:CTXS) are way behind. However, virtual computing has been a hot trend for a few years. Around half of server workloads ran on virtual machines by the end of 2011. The market might be close to saturation.
"Naked" cloud computing is gradually becoming commoditized. Many tech giants such as Amazon (NASDAQ:AMZN) and IBM (NYSE:IBM) also offer utility computing but seem more focused on their platform and only the biggest customers. The new idea is to run private cloud services on a fully virtualized infrastructure. VMware is seeing a lucrative stream of revenue from an increasing amount of service and maintenance.
Informatica Corporation (NASDAQ:INFA)
Informatica provides enterprise data integration, data quality software and services worldwide. It achieved 21% total revenue growth and 36% GAAP net income growth in FY 2011. Following chart from Google shows last 5 years' revenue growth for Informatica.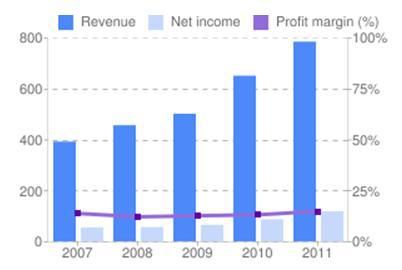 The demand for data integration solutions will continue to increase due to the continued increase in data volumes and complexity of business requirements. The company could also be benefited from new demand for data integration as a result of both the emergence of cloud computing and the new focus on "big data" applications.
Teradata Corporation (NYSE:TDC)
Teradata provides enterprise data warehousing solutions, including enterprise analytic technologies and services. In 2011, its revenue increased 22%. In 2012, Teradata expects revenue to increase approximately 10% - 12%.
According to The Economic Times, the business analytics market size is estimated to be $ 105 billion, with a compound annual growth rate of 7-8%. IBM's CIO study revealed that 83% of business leaders identified analytics as a top priority for their businesses.
More and more companies demand near real-time analysis and speedy delivery for business intelligence. Due to slow growth ahead, Teradata might be acquired by other giants such as Oracle (NASDAQ:ORCL).
Comparison Between 3 Stocks
Following chart shows that these 3 data specialist companies all have rich P/Es and high Price to Sales ratios. Their PEG Ratio are between 1.5 - 1.6.

| | | | |
| --- | --- | --- | --- |
| Metrics/Company | VMW | INFA | TDC |
| Business | Cloud | Data Integration | Data Warehousing |
| Main Competitors | CTXS, MSFT | IBM | ORCL, EMC, IBM |
| Market Cap | 40 B | 5 B | 10 B |
| Trailing P/E ((NYSE:TTM)) | 56 | 44 | 31 |
| Forward P/E | 31 | 25 | 21 |
| PEG Ratio (5 yr expected) | 1.5 | 1.6 | 1.5 |
| Price/Sales | 10.6 | 6.3 | 4.8 |
Conclusion
The Federal Reserve stepped in and gave the economy a much-needed boost by keeping low interest rate until late 2014. Many companies are cautious about the macro environment and the volatility in the world economy. While the overall economics had shown improvement, growing uncertainty in global macroeconomic conditions may impact IT spending.
VMware dominates the server virtualization market it invented. Informatica and Teradata find their niche markets. They provide business insight and competitive advantage through customized data storage and analytics solutions. Even though they all compete directly with industry giants such as Oracle , EMC and IBM , these 3 high growth pure players could be benefit from accelerate coming data boom.
Note: Data is from Yahoo and Google Finance and is valid as of February 12, 2012.
Disclosure: I have no positions in any stocks mentioned, and no plans to initiate any positions within the next 72 hours.