by Brendan Gilmartin
Overview
NVIDIA (NASDAQ:NVDA) is scheduled to report 4Q 2012 earnings after the close of trading on Wednesday, February 15. The results are typically available at 4:20 p.m. EST and will follow with a conference call at 5:00 p.m.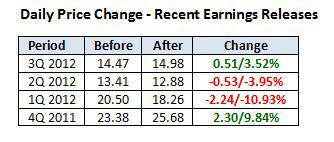 Outliers & Strategy
Key Measures:
Non-GAAP Earnings Per Share: The value for Non-GAAP EPS compares with the "adjusted" consensus ($0.24).
Earnings Per Share: Estimates range from $0.16 to $0.29. (Source: Yahoo! Finance)
NVIDIA is one of the rare cases whereby the Earnings Per Share value compares with general consensus estimates, as opposed to the Non-GAAP EPS figure.
Revenues: Last month, NVIDIA warned it expects revenue for the fourth quarter to be lower than the previous outlook. Revenue is now expected to be $950 million, plus or minus 1%. The company blamed the shortfall on several factors:
The flooding in Thailand had a bigger impact on the mainstream GPU segment than originally anticipated. As a result, shipments by some PC OEMs were reduced.
The higher prices of disk-drives constrained some PC OEMs' ability to include a GPU in their systems.
The Tegra 2 mobile business fell more rapidly than expected. This was due to the introduction of the Tegra 3.
NVIDIA is expected to earn EPS of $0.19 per share (estimates range from $0.16 to $0.29) on revenue of $950.51 mln.
Given that NVIDIA already communicated its expectations to the Street in late January, much of the attention will center on revenue guidance for the 1Q 2013 period. The current estimate is $944.85 mln. If the high end of the revenue guidance for 1Q 2013 period falls shy of consensus, NVIDIA faces potential downside.
While NVIDIA's revenues for the 4Q 2012 period are seen getting hurt by the flooding in Thailand, several other companies with high exposure to the catastrophe, including Seagate Technology (NASDAQ:STX) and Western Digital (NYSE:WDC) managed to produce blowout numbers for the recent period, implying the impact of the disaster may be waning.
Recent News
02/13: FBR Capital upgraded NVIDIA to Outperform and suggested the shares could hit $20 near-term, according to a post on Barrons.com. The firm also suggested that NVIDIA may have won major design wins for its Tegra 3 processor.
02/08: Rambus (NASDAQ:RMBS) announced it has signed a patent license agreement with NVIDIA covering the use of Rambus patented innovations in a broad range of integrated circuit [IC] products offered by NVIDIA.
Technical Review Since mid-January, NVIDIA shares are up more than 18% (from $13.52 on 1/14) in advance of the 4Q 2012 earnings release. More recently, the shares pushed through $16 resistance, matching the early December high, and a key near-term support level. Reflecting the recent momentum, the 20-Day SMA pushed through both the 50-Day and 200-Day, while the Relative Strength Index is tracking near 70. The next area of resistance is $18 - a level going back to late 2009. Below the aforementioned $16-level, support is at $15 (200-Day SMA), followed by $14.50. (Chart courtesy of StockCharts.com)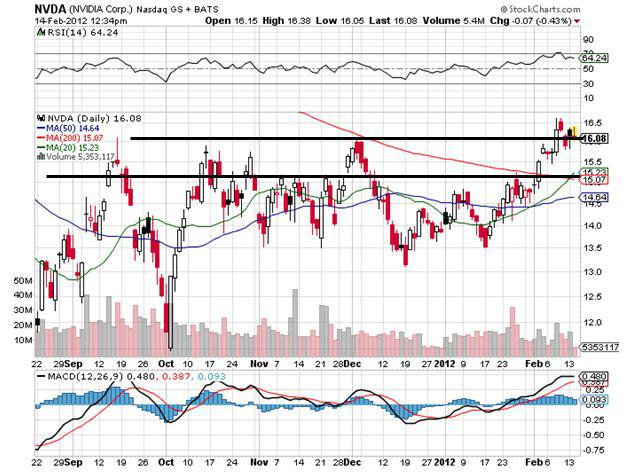 Click to enlargeSummary NVIDIA has been moving higher over the past month, despite a revenue warning in late January. Many of the factors the company cited, however, appear to be priced in at these levels, while the Tegra 3 application processor is gaining in creased traction in the marketplace, resulting in several potential large contract wins. Given that the 4Q 2012 numbers appear priced in at these levels, much of the focus may center on the revenue forecast for 1Q 2013.
Disclosure: I have no positions in any stocks mentioned, and no plans to initiate any positions within the next 72 hours.
Disclaimer: By using this report, you acknowledge that Selerity, Inc. is in no way liable for losses or gains arising out of commentary, analysis, and or data in this report. Your investment decisions and recommendations are made entirely at your discretion. Selerity does not own securities in companies that they write about, is not an investment adviser, and the content contained herein is not an endorsement to buy or sell any securities. No content published as part of this report constitutes a recommendation that any particular investment, security, portfolio of securities, transaction or investment strategy is suitable for any specific person.