Oil and gas wells normally expire slowly in a hyperbolic decay curve such as that in the chart below.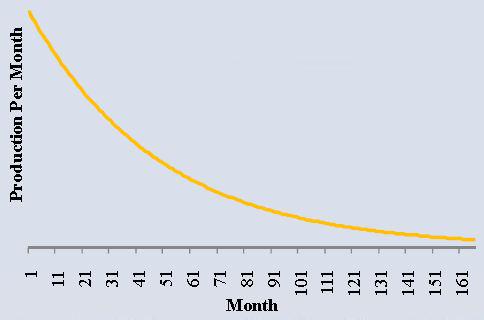 Production enhancement technologies can enhance daily production and total recoverable reserves in many of the older, marginal wells. In the U.S. 48% of producing gas wells are considered marginal, producing less than 300 Mcf/d. Oil wells most suitable for production enhancement services exhibit high gas to oil ratios. Compressco Partners LP (GSJK) makes two main products to help producers achieve this incremental production. The GasJack allows Compressco to perform wellhead compression, liquids separation, and optional gas metering all from one skid. It is reliable, fuel efficient, easy to transport, and has low emissions. A second product, the VJack, is designed to allow Compressco to provide production enhancement services in mature oil fields and in environmentally sensitive markets. The VJack provides vapor recovery and backside pumping applications for oil wells, and it generates zero engine driven emissions. The VJack is capable of handling up to 50 bpd on a standard skid.
Currently there are many old oil and gas fields around that can benefit from Compressco's services. When you then take into account how many old oil and gas wells will be created by the latest surge in unconventional new oil and gas fields, you can see a bright future full of growth for this company. The following chart shows an example of performance improvement though utilization of Compressco's equipment.
Some might be worried that the recent downturn in natural gas prices might negatively affect Compressco earnings. However, Compressco's recent announcement of its Q4 2011 dividend of $0.3875 per unit indicates that earnings most likely have not fallen greatly. This number translates into a $1.55 per outstanding unit on an annualized basis. This is approximately a 10% dividend for GSJK. Actual Q4 2011 earnings will be announced on Feb. 27, 2012. If you wanted to be safer, you could wait to see the effect of the downturn in natural gas prices on GSJK. This is a new company that just began trading on the NASDAQ on June 15, 2011. This makes it seem risky, but it does seem to have good potential. It has a market cap of $239.37M. It trades at a PE of 55.63 and an FPE of 14.01. It is forecast to grow EPS by 111.50% in FY2012.
The one year chart of GSJK gives some technical direction to this trade.
The slow stochastic sub chart shows that GSJK is near over sold levels. The main chart shows that GSJK fell after its IPO. It now seems to have stabilized, and it is starting to move up. There is good support only slightly below the current level, so the risk of buying in at this price is relatively low. If you wait until after earnings on Feb. 27, 2012 for the Q4 2011 earnings data, you will be able to assess how serious the effect of the cut in natural gas drilling is on GSJK's business. With the overall market over bought at this time, waiting until after earnings may be a good strategy. Alternatively you could start to average in now. Then you could buy more later (or not), after you assessed the information in the earnings news.
A few other oil well services companies with good dividends you could look at for comparison purposes are Regency Energy Partners LP (NYSE:RGP), Genesis Energy LP (NYSE:GEL), Blueknight Energy Partners LP (NASDAQ:BKEP), and Buckeye Partners LP (NYSE:BPL).
Good Luck Trading. 
Disclosure: I have no positions in any stocks mentioned, but may initiate a long position in GSJK over the next 72 hours.