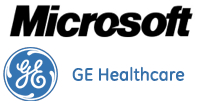 Microsoft (NASDAQ:MSFT) and General Electric (NYSE:GE) have begun finalizing the details for their healthcare IT joint venture called Caradigm. The venture is "aimed at driving a paradigm shift in the delivery of care by enabling health systems and professionals to use real-time, systemwide intelligence to improve healthcare quality and the patient experience." Originally announced in December, the new company will begin operations in the first half of this year.
Healthcare IT has become a buzzword over the last few years as the industry looks to improve patient results and reduce costs. The government, through the Office of the National Coordinator for Health Information Technology, has been a big driver behind the push. As a part of the American Recovery and Reinvestment Act (2009 stimulus package), grants of up to $63,750 are available for the implementation of electronic record systems.
By combining forces the two companies hope to "combine Microsoft's deep expertise in building platforms and ecosystems with GE Healthcare's experience in clinical and administrative workflow solutions." Each company is contributing its own intellectual property to the venture with Microsoft's healthcare division providing Microsoft Amalga, an enterprise health intelligence platform, Microsoft Vergence, a single sign-on and context management solution and Microsoft expreSSO, an enterprise single sign-on solution. GE Healthcare will provide its eHealth and Qualibria products. In addition to the joint venture, both companies will continue to sell their own independent healthcare solutions.
One major thing to note is the apparent commitment to keeping the jointly developed platform open source. While existing GE and Microsoft products will be fully integrated with the new platform and the joint venture will continue to develop new applications, the platform will also allow "healthcare providers and independent software vendors the ability to develop a new generation of clinical applications." This should reassure healthcare providers that the best technologies will be available for use no matter who makes them. It may also be a positive for developers who will now have one IT framework to develop around.
For Microsoft and GE it takes a lot to move the needle on revenues, but this new venture could easily provide a penny or two in additional EPS by 2013. While Microsoft does not break out their healthcare segment, according to Nate McLemore, the general manager of Microsoft's Health Solutions Group, it is one of the company's fastest growing segments with over 160,000 customers worldwide. And the potential for growth is enormous as more healthcare providers implement and expand their use of technology. Microsoft and GE will be showcasing their new venture and its platform at the Healthcare Information and Management Systems Society (HIMSS) conference February 20-24th.
For potentially more lucrative second derivative plays off this venture look for other healthcare IT developers who will be able to piggyback on the new platform, especially companies that have an existing relationship with either Microsoft or GE. Many of these companies are privately held, but some are publicly traded, including Perficient Technologies (NASDAQ:PRFT) and Computer Sciences Corporation (NYSE:CSC).
Healthcare IT will continue to be on the minds of healthcare providers, hospital executives, insurance companies, and the government as everyone looks for ways to deliver higher quality care at a lower cost. Someday soon every doctor will carry a tablet instead of a pad of paper. He or she will be able to pull up records from every doctor you have ever been to, your latest test results complete with notes from an offsite specialist, even heart rate information your watch collected, use it all to make a diagnosis, then electronically send a prescription to your pharmacist and send you on your way, automatically billing your insurance. This venture positions Microsoft and GE to be the ones to make that happen.
Disclosure: I am long GE, MSFT.