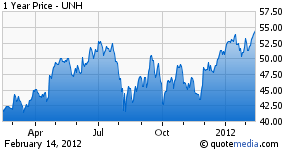 In journalism, as in investing, it helps to admit when you were wrong.
When I took on the health IT beat for ZDNet five years ago, it was with the assumption that this industry would act as every other industry had acted. That is, mainstream tech vendors would gradually take out the specialists.
It hasn't worked out that way. Last year Microsoft (NASDAQ:MSFT) got out in favor of GE (NYSE:GE), which has been involved all along. Google (NASDAQ:GOOG) simply bugged-out, a rare failure for the company. Siemens (SI), long an also-ran in most enterprise computing, has also been a big player in health IT thanks to its imaging unit.
But the big winner may turn out to be UnitedHealth (NYSE:UNH), a healthcare vendor based in insurance.
UnitedHealth has been buying health IT companies for a decade. Often the acquisitions have gone nowhere. But UnitedHealth has been learning all the while, and the 2009 HITECH stimulus, combined with the Affordable Care Act gave it an opportunity.
The stimulus pumped billions of dollars into health IT purchases, but also gave clinics and hospitals some serious deadlines. Failure to meet standards of "meaningful use" by fiscal 2014 - a little over 2 ½ years from now - would result in some meaningful hits to cash flow.
The healthcare law, meanwhile, will bring UnitedHealth and its competitors, like WellPoint (WLP) and Aetna (NYSE:AET), millions of new customers, but also a level playing field in many cases. It's an incentive for insurers to cut physician costs. That would translate into lower rates on health exchanges, thus more income.
While other insurers signed vendor deals, seeing IT as an obligation, UNH bought small vendors, seeing it as an opportunity.
Last year it rolled out a new brand, Optum, for its health services, and this week it rolled out what it calls the Optum Cloud, backed by a new data center.
Doctors and hospitals have resisted health IT, even after the stimulus, fearing that data might be used against them. Optum does just this, but given the coming deadlines it's proving irresistible. That's computer services revenue for UNH, but it's also data. And with that data it can, like a medical Santa Claus, tell "who's been naughty and who's been nice," cutting out those doing high-priced treatments in favor of those with lower costs.
The result is already starting to show up on the bottom line. And over the last year UNH has begun outpacing its peers in the market, up 27.5%, near an all-time high. (This is in contrast to a longer, 5-10 year view of the group, where AET performs much, much better than UNH.)
The question becomes, can UNH break out of this high? Well, consider that now it only has to execute on a strategy that has government approval, with new services and new platforms coming on quickly.
Signs point to yes. This administration has done UnitedHealth some big favors, no matter what its lobbyists say. And that market lead looks set to continue.
Disclosure: I have no positions in any stocks mentioned, and no plans to initiate any positions within the next 72 hours.