BP (NYSE:BP) appears cheap in the context of its post-spill recovery. It has not rallied with the oil/gas sector even after taking account of post-spill costs. Substantial legal risks remain, but BP appears to offer strong value within the oil and gas sector. Even after factoring in a relatively bad outcome from the upcoming court case BP has 34% upside.
Context
Before the rig explosion and subsequent oil spill in April 2010, BP was trading at $60. At the time there was major uncertainty caused by the Deepwater Horizon spill and the stock traded as low at $27 in late June 2010 vs. $47 today. Here we take a look back to assess whether or not BP's price is justified in the context of other market movements.
Below is a chart estimating the key drivers of BP's fair value on a per share basis since April 2010 (further explanation of these assumptions follow):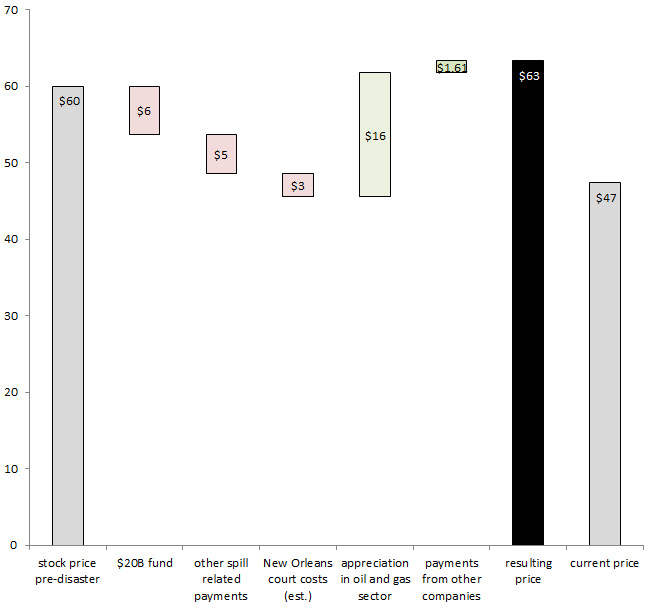 The Costs
There are 3 major costs BP post-spill. The first is the establishment of a $20B fund. The second is other spill-related costs. Together these cost BP $11/share. I am assessing these costs on a cash flow basis, but BP's provisions have been similar at roughly $10/share.
The third cost, which BP disputes, may come from civil court case that will start in New Orleans in late February (MDL 2179) this case will likely take years unless a settlement is reached. Previously large class actions results have been Exxon Mobil charged $5B for the Exxon Valdeez spill (though this was subsequently reduced to $500M) and 0.2 million barrels vs. 4.1 million estimated for the Deepwater Horizon spill.
Early estimates suggest that the court settlement could cost BP $4B to $15B under the Clean Water Act, at the higher end of the range if BP is found to be "grossly negligent." I take the average of $4 and $15B to arrive at an averaged value of $9.5B or $3/share.
The Benefits
The main "benefit," (it can be called that) of the BP post-disaster is that the oil and gas sector has rallied 24% from the date of the spill to now. That would be worth $14/share to BP if it had moved in line with its peers. The other benefit to BP is that various other companies have contributed to the costs of the spill, for example companies that made components of the blowout preventor etc (these companies are Weatherford, Mitsui, Anadarko and Cameron).
The Major Unknowns
There are several unknowns remaining. Firstly, Halliburton (NYSE:HAL) and Transocean (NYSE:RIG) have no settlement with BP, and Transocean are also subject to the New Orleans legal proceedings. Whereas other companies have contributed to the $20B fund these companies have not, and could potentially share some of the liability.
Secondly, BP made significant asset sales to cover the cost of the fund and clean-up. In this analysis, I assume that those $20B of sales were at fair value, but if they were not (given pressure to raise cash) then BP's value would be reduced. Getting 25% less than fair value on these assets would have reduced the share price approximately $1.50.
The Result Of The Analysis
BP might be worth closer to $63 rather than $47 it currently trades at.
Conclusion
BP's share price has not recovered to the extent one would have expected after the disaster in April 2010; specifically, BP has not benefited from the rally in oil and gas from April 2010 to now, even after adjusting for spill costs.
Asset sales to raise cash are unlikely to account for all of this gap, which I estimate at $16/share or approximately $51B of market cap. It is probable the market is concerned about the upcoming trial, but the market is likely over-stating the risk of a bad outcome for BP, especially given a $20B trust fund has already been established in addition to substantial other payments, and early quantification of the worst case for BP, which BP intends to fight, is a cost of $15B.
I believe BP is still cheap after the disaster and have a long position in BP based on this potential upside and the recent increase in the dividend to over 4%, I would likely sell in the low $60s.
Risk factors and other comments
The trial starting later this month will likely result in bad publicity for BP; its brand is already weakened and the trial may drag for months, if not years if a settlement is not reached. This could weigh on the share price.
In addition, you might argue that BP should not have rallied with the oil/gas sector as it's a UK company and more subject to the weakness of the European markets, but BP's price has more closely followed Transocean than, for example the European Royal Dutch Shell (NYSE:RDS.A) which rallied in line with the sector, so currency/geography does not appear to be a factor as you might expect with a multinational oil firm such as BP.
Using this sort of "event-based" analysis assumes that BP was trading at a fair price in April 2010, pre-disaster.
I also don't try and quantify the "brand" hit to BP from the spill. That is clearly a negative for the stock, but I avoid quantify it in this analysis.
Finally, I am focusing on the major events for BP since April 2010, there may be other significant factors for the valuation that I've overlooked (e.g. TNK negotiations).
Disclosure: I am long BP.