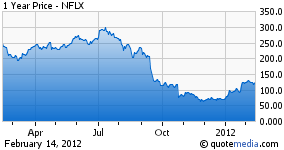 This past week marked a turning point for Netflix (NASDAQ:NFLX) as it rolled out season one of its internally developed television series Lilyhammer, starring former Soprano's gangster Steven Van Zandt. In the show's first week, AMC's Walking Dead season premiere is out-buzzing Lilyhammer on Twitter. However, while Lilyhammer hasn't spread virally .. .yet ... Netflix has high hopes Lilyhammer and the company's upcoming House of Cards series - starring Kevin Spacey - catapults the company to must see status.
Netflix's challenge going forward won't be providing easy access to widely available content. It will be differentiating itself in an increasingly crowded field. So far, the company has done an excellent job lining up distribution across television, gaming consoles, set top boxes, mobile devices and PC's. This strategy was critical to building streaming subscription growth and coveted eye-share.
However, competition from Coinstar (NASDAQ:CSTR) and Verizon's (NYSE:VZ) recently announced partnership, along with threats from Amazon (NASDAQ:AMZN), Google (NASDAQ:GOOG) and traditional cable companies like Comcast (NASDAQ:CMCSA), continues to pose significant risks for the company.
To make matters worse, a slew of Internet connected TV's will be hitting living room's this year, making it increasingly difficult to capture fickle viewers. As a result, margin busting, hit-or-miss content becomes a necessity rather than a luxury.
The uncertainty surrounding monetizing such content, alongside costly overseas expansion, means Netflix won't reward shareholders with earnings this year. But, analysts are optimistic Netflix's spending will produce the scale necessary to drive profits in 2013.
Current forecasts call for earnings of $2.59 per share, which means shares are trading nearly 48x forward earnings. Unfortunately, given Netflix did a poor job of forecasting its 2012 loss to the street last year, it's safe to assume analyst estimates will remain a moving target this year.
At the same time Netflix wrestles with reinventing itself, the company desperately wants to reset subscriber and investor perception. The company's heavily reported miscues, which included a poorly calculated price hike and short lived spin-off, infuriated subscribers. And investor's were not only surprised by C-level misjudgment, but disappointed as the company's content and expansion expenses led Netflix to the untimely idling of its share buyback last quarter.
As content providers move beyond cable and satellite to over-the-top video it's going to get even more difficult to compete. Apple's (NASDAQ:AAPL) heavily rumored TV set, Google's embedded TV strategy and Comcast's Xfinity platform all aim to disrupt how we watch video in the coming year.
Much like a similar strategy succeeded for HBO, Netflix is confident developing exclusive content will prove savvy. If Lilyhammer rekindles viewers love, subscription growth may give Netflix profit friendly scale. In the meantime, investors should enjoy Mr. Van Zandt's wonderfully quirky character and position to trade the stock.
Disclosure: I have no positions in any stocks mentioned, and no plans to initiate any positions within the next 72 hours.