In a recent article, "These Dividend-Paying, Recession-Proof, Bond Substitute Stocks Are Underperforming," the author, who identifies himself as "The Financial Lexicon," sets the tone for his article when he opens with this statement:
Last year, investing for dividends seemed to be all the rage. I read and heard a lot about investors substituting bonds with the stocks of companies expected to be 'recession proof' or companies that would supposedly pay out ever-higher amounts in dividends. At the same time, it was often argued that because investors would be purchasing stocks instead of bonds, the amount invested would surely grow over time as the stock market does what history says it must do: Go higher.
The article goes on to identify a number of wildly held Dividend Growth stocks, that this year, seem to be struggling. In fact, over the last 6 weeks, these 11 stocks are underperforming the S&P 500, as the author points out.
The List of Underperformers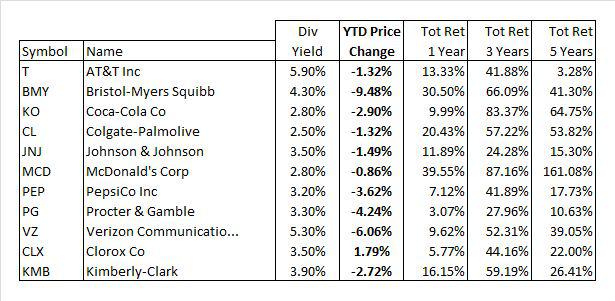 With the exception of Bristol-Meyers (NYSE:BMY), every one of these companies is a Dividend Champion, Contender, or Challenger. It's a fairly straight-up list. What's interesting to note is that these companies, YTD, are all down, with the exception of Clorox (NYSE:CL), which is actually up. This in reference to the price change YTD.
But, there is a component to DG stocks that have to be considered in addition to price change. These stocks also pay dividends. So now we need to take a look at total return (TR) (stock appreciation plus dividends paid).
When we look at the longer term -- the 1 Year, 3 Year, and 5 Year time frames -- we see a much more interesting picture that what the article is presenting.
What do the TR numbers tell us? Very simply, they tell us that buying any stock that first and foremost, we need to be buying at a value price. Second, we need to reinvest dividends to increase total return. Third, we need to be investing for the long haul, not for immediate gratification.
Something of Interest

At the specific moment in time that I wrote this article, I ran a stock screen. If we take the time to look at that screen and collect information on all the stocks that make up the S&P 500 index that have performed better than the index itself, we come up with 55 companies.
These 55 companies pay a dividend of at least 2%, and while many are names that you would recognize, I decided to cut the list down to just 20 companies--those that can be found on David Fish's CCC stock lists.
I have color shaded the stocks to represent those that are Champions, those that are Contenders, and those that are Challengers. Here is the list of the CCC stocks outperforming the S&P 500 Index, year to date: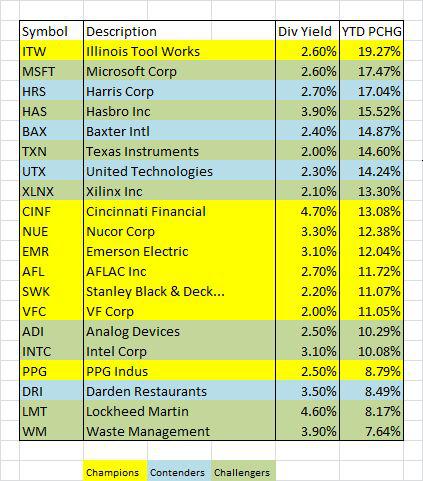 Back in December, I wrote an article that talked about a few of these companies. ITW, EMR, AFL, HRS, and INTC were five of the companies that the Retirement Portfolio for DIYs was adding in January.
As you can see, these Dividend Growth stocks have done very nicely year to date, but that isn't what DG investing is about. It's not about short-term gains in positions bought. It's about buying companies that are going to pay dividends and that will help you create an ever increasing income stream. The growth in these companies is great, but guess what? I'm not planning on selling them anytime soon.
What You Need To Know

Dividend Growth Investing is not dead. In fact, Dividend Growth Investing is very much alive and well. It is very easy to have a thesis and then arrange the data to support that thesis. It's not a fair way of doing it, but it happens all the time.
DG investing is not a short-term strategy. It is a long-term process where the investor reinvests dividends, makes additional purchases of quality holdings over time on dips, balances his portfolio to maintain balance, and most importantly, plays an active role in managing the portfolio.
Do not be discouraged when a great company has a rough period of time, price-wise. Try to look inside the reasons for the price decline and determine if now is a buying opportunity or not.

Stocks go up and stocks go down. Good companies, whether up or down in price, remain good companies. Every investor has got to determine what makes up a good company and a company that he wants to own in his portfolio.
If you are going to be concerned about the YTD performance of a particular holding, then you need to find another activity other than investing in the stock market. Maybe you need to look at collectibles or something else. You will not be happy here.
If on the other hand, you are investing to grow an income stream and investing for the long haul, then short range fluctuations in price should not bother you in the least.
Had you invested in any of the 11 stocks that The Financial Lexicon highlights, then at some point in the last 1, 3, or 5 year periods of time, you would have bought the company at a value price--as evidenced by the Total Return column.
I own all 11 of the stocks mentioned in the first article. Every one of those companies is in positive territory for my portfolio--because I bought them with value first and foremost in my mind and secondly, I have held them for a long period of time and reinvested dividends on a regular basis.
DG Investing is here to stay. It has been with us for as long as stocks paid dividends and it will be here as long as they continue to pay dividends.
Disclosure: I am long T, BMY, KO, CL, JNJ, MCD, PG, VZ, KMB, ITW, MSFT, HRS, HAS, EMR, AFL, INTC, WM, LMT.