Some stocks are smoking but others just smolder along year after year, which is what Altria Group (NYSE:MO) has been doing for a long, long time. The tobacco industry is having trouble in the US but is still growing in the emerging countries as disposable income there increases. As this graph provided by Barchart shows, the stock price is steady and persistent: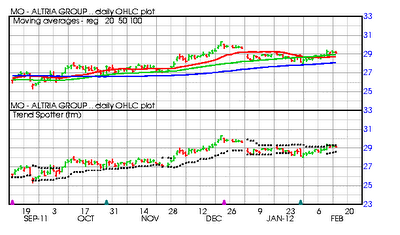 Altria Group, Inc. , through its subsidiaries, engages in the manufacture and sale of cigarettes, smokeless products, and wine in the United States and internationally. It offers cigarettes under the Marlboro, Virginia Slims, Parliament, Benson & Hedges, Basic, and L&M brands; smokeless tobacco products under the Copenhagen, Skoal, Red Seal, Husky brands, and Marlboro snus brands; and machine-made large cigars and pipe tobacco.

The company also produces and sells blended table wines under the Chateau Ste. Michelle and Columbia Crest names; and distributes Antinori and Villa Maria Estate wines and Champagne Nicolas Feuillatte in the United States.

In addition, it maintains a portfolio of leveraged and direct finance leases in rail and surface transport, aircraft, electric power, real estate, and manufacturing. The company sells its tobacco products to wholesalers, including distributors; large retail organizations, such as chain stores; and the armed services. Altria Group, Inc. markets its wine products to restaurants, wholesale clubs, supermarkets, wine shops, and mass merchandisers. The company was founded in 1919 and is headquartered in Richmond, Virginia. (Yahoo Finance profile)
Factors to consider:
Barchart technical indicators:
56% Barchart technical buy signal
Trend Spotter hold signal
Above its 20, 50 and 100 day moving averages
The price is up 19.07% in the past year and only 4.08% off its 1 year high
Relative Strength Index 57.14%
Barchart computes a technical support level at 28.95
Recently traded at 29.16 with a 50 day moving average of 28.93

Fundamental factors:
Wall Street brokerage firms have long considered the growth days over in the tobacco industry but still looks to stocks like Altria to pay steady dividends to their income investors
9 brokerage firms have assigned 13 analysts to monitor the company's numbers
Analysts still project growth in sales of 3.90% this year and another 1.60% increase next year
Earnings are estimated to grow 7.30% this year, and additional 7.70% next year and compound annually for a steady 8.03% for at least the next 5 years
These consensus numbers result in a strong buy, 4 buy, 8 hold and no under perform or sell recommendations to their clients
The P/E ratio of 14.39 is less than the market's P/E of 15.8
However, the dividend rate of 5.61% is above the market's dividend rate of 2.10% and is about 77% of projected earnings
The analysts project that high dividend rate is offset by mild increase in sales and earnings and will probably result in a very lackluster annual total return of about 6.5% over the next 5 years

General investor interest:
Even though the analysts project a low total return many of the general investors as measured by the readership of Motley Fool follow this stock
8,932 readers voted 96% that the stock will beat the market
The more experienced and savvy All Stars voted 99% for the same result
The Wall Street reports Fool follow were 90% positive
Some pundits liking this issue are Jim Cramer, Pat Dorsey, Chris Davis, Tom Gayner and Charles Payne

I always like to see how a featured stocked performed when compared with others in the same sector. Altria was up 11% in the last 6 months, with Reynolds (NYSE:RAI) up 8%, Lorillard (NYSE:LO) up 11% and paper product supplier to the tobacco industry Schweitzer-Maudit (NYSE:SWM) up 16%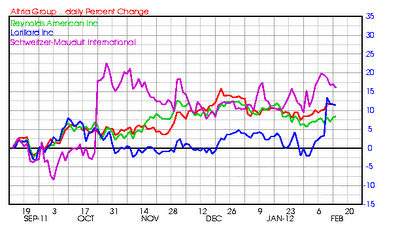 Summary: Income investors might want to consider Altria Group for its slow and steady dividend. For me personally, I like stocks that have projected increases of at least 10% in both sales and earnings increases so I personally will pass on this issue.
Disclosure: I have no positions in any stocks mentioned, and no plans to initiate any positions within the next 72 hours.