On February 14, 2012, Warren Buffett's Berkshire Hathaway (NYSE:BRK.B) reported its 13F for the fourth quarter of 2011. Four times a year, Berkshire must state what public equities it is holding. This provides investors with a snapshot of the investments made by the major holdings conglomerate.
Below are some of the highlight transactions reported by Berkshire, and a recent performance chart for the company's A-class shares (NYSE:BRK.A).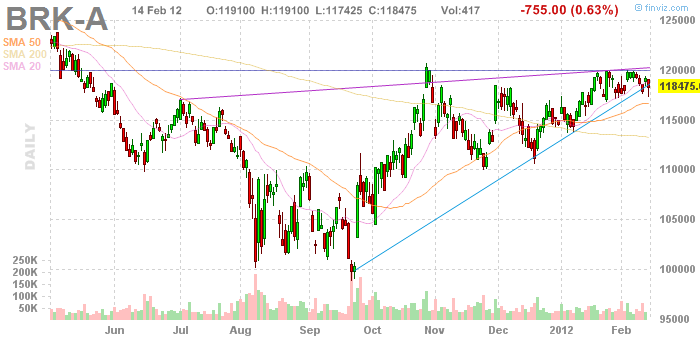 Click to enlarge
Berkshire reported that it purchased over 16 million shares worth of DIRECTV (DTV), nearly quadrupling its position from Q3 of 2011. The DTV position is now valued at around $930 million.
Berkshire also reported it increased its Wells Fargo (NYSE:WFC) position by 6 percent to over 383.7 million shares. The added stock is worth $680 million based on current WFC prices, and Berkshire's total WFC position is valued at about $11.67 billion.
Berkshire reported it sold about 23 percent of its position in Johnson & Johnson (NYSE:JNJ). Berkshire sold 8.4 million shares of JNJ, but still holds about 29 million shares, worth about $1.87 billion. Berkshire also sold about $100 million worth of Kraft (KFT), or about 5 percent of a stake now valued at about $3.35 billion. Both are still top ten holdings of Berkshire, with KFT ranked sixth and JNJ ranked tenth.
Berkshire's largest single holding continued to be Coke (NYSE:KO), worth about $13.7 billion, which is now followed by IBM, worth about $12.2 billion, and then WFC, worth about $11.7 billion. These three companies make up about fifty percent of the publicly traded equities that Berkshire holds, though the company also wholly owns many businesses such as Geico and Burlington Northern Santa Fe Railroad.
Berkshire's 13F included a new position in Liberty Media (NASDAQ:LMCA), worth about $145 million, and in Davita (NYSE:DVA), worth about 230 million. Based on the small size of these new positions, they are probably made by Todd Combs, Berkshire's newest major portfolio manager.
The DTV investment may also be made by Todd Combs, though such is not clear given the significant position increase during the past quarter. DTV is now Berkshire's twelfth largest equity investment.
Berkshire also reported it owned 63,905,931 shares of IBM (NYSE:IBM), an increase in what the company reported at the end of Q3 2011, but in line with what Buffett represented Berkshire owned as of mid November 2011.
Berkshire also increased its investments in General Dynamics (NYSE:GD), CVS Caremark (NYSE:CVS), Visa (NYSE:V) and Intel (NASDAQ:INTC), adding about $55-65 million worth of each, based on current values.
Disclosure: I am long KFT.