Sydney, Australia-based hedge fund Platinum Investment Management Ltd., led by co-founder and portfolio manager Kerr Neilson, manages in excess of A$15 billion in global investments, mostly invested in equities, including $3.49 billion in 13-F assets per its latest filing with the SEC today.
A native South African, Neilson started his career in London, then moved back to South Africa, and then to Australia where he established Platinum Investment Management Ltd. with initial backing from another hedge fund billionaire George Soros. He is estimated to be worth $2.2 billion, ranking him as the eighth richest person in Australia. Neilson is a value investor and has been called by the Financial Times as Australia's own 'Buffet' for his ability to consistently select high-performing stocks, and like Buffett, he too avoids "fashionable stocks" investing instead in "good companies, relatively cheap, over the long-term."
The fund holds a moderately diversified portfolio of over 75 positions, with 60% of its holdings in large-caps, 30% in mid-caps, and the remaining 10% in small-caps. The following are select major buys in Q4 based on that analysis, that Platinum is most bullish about (see Table):
Ciena Corp. (NASDAQ:CIEN): CIEN is a designer of Ethernet transport and switching systems used in network infrastructure by telecom and cable service providers. Platinum added $24 million in Q4 to its $142 million prior quarter position. CIEN seems to be a favorite with many institutional leading institutional investors lately, as recently in the last two months, we have seen 13D/G filings from several leading institutions indicating that they increased their stakes in CIEN. This included Kenneth Griffin's Citadel, a leading Chicago-based hedge fund company with over $22 billion in 13-F assets, that we covered earlier, as well as Soros Fund Management and Loomis Sayles & Co (with $142 billion in assets under management).
CIEN shares, down about 45% in 2011, have staged a strong rally since the beginning of the year, up about 40% YTD, powered by expectations of higher revenue and profits based on the company's strong market position in the fast-growing 40G and 100G segments of the optical transport market. Its shares currently trade at 17-18 forward P/E compared to the 12.4 average for its peers in the fiber-optics group, while earnings are projected to rise strongly from 25c loss in 2010 to 53c profits in 2012 to 98c in 2013.
Halliburton Company (NYSE:HAL): HAL provides a variety of equipment, and maintenance, engineering and construction services to the oil and gas exploration and production (E&P) industry, including reservoir completion and drilling services. Platinum added a new $51 million position in Q4. HAL is undervalued, trading at 7-8 forward P/E and 2.6 P/B compared to averages of 14.2 and 3.3 for its peers in the oil field services group, while earnings are projected to increase at a compound 17.1% annualized rate from $3.35 in 2011 to $4.59 in 2013.
Bank of America (NYSE:BAC): BAC is a global financial services company providing banking and financial services to individuals, small- and middle-market businesses, corporations and governments primarily in the U.S., and also internationally in over 40 foreign countries. Platinum added $51 million in Q4 to its $231 million prior quarter position. BAC recently reported its Q4, in mid-January, with earnings in-line and revenues slightly beating estimates. The stock has recently run-up over 50% from December lows, and trades at a discount 7-8 forward P/E and 0.3 P/B compared to averages of 9.6 and 0.7 for the major regional banks group, while earnings are projected to fall from $1.30 in 2011 to $1.09 in 2013.
Sina Corp. (NASDAQ:SINA): SINA is a Chinese internet portal offering media content and services for China and global Chinese communities. Platinum added $83 million in Q4 to its $61 million prior quarter position. SINA trades at a premium 48-49 forward P/E and 4.8 P/B compared to averages of 26.1 and 3.3 for its peers in the internet content group.
Other major buys by Platinum in Q4 include (see Table):
Stillwater Mining Co. (NYSE:SWC), engaged in the development, processing, and refining of palladium, platinum, and other associated metals, in which it added $25 million to its $147 million prior quarter position;
Trina Solar Ltd. (NYSE:TSL), a vertically-integrated Chinese manufacturer of mono-crystalline ingots, wafers and cells to the assembly of high quality solar modules, in which it added $11 million in Q4 to its $66 million prior quarter position; and
Nexen Inc. (NXY), a Canadian company engaged in the exploration and production of crude oil, natural gas, sulphur and chemicals, in which it added $37 million in Q4 to its $215 million prior quarter position.
Select Stocks that Platinum is most bearish on based on its moves in Q4 includes (see Table):
Table
click to enlarge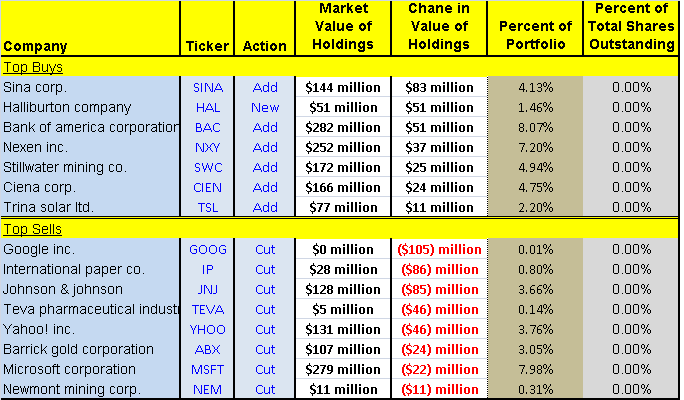 Credit: Historical fundamentals including operating metrics and stock ownership information were derived using SEC filings data, Zacks Investment Research, Thomson Reuters and Briefing.com. The information and data is believed to be accurate, but no guarantees or representations are made.
Disclosure: I have no positions in any stocks mentioned, and no plans to initiate any positions within the next 72 hours.
Disclaimer: Material presented here is for informational purposes only. Nothing in this article should be taken as a solicitation to purchase or sell securities. Before buying or selling any stock you should do your own research and reach your own conclusion. Further, these are our 'opinions' and we may be wrong. We may have positions in securities mentioned in this article. You should take this into consideration before acting on any advice given in this article. If this makes you uncomfortable, then do not listen to our thoughts and opinions. The contents of this article do not take into consideration your individual investment objectives so consult with your own financial adviser before making an investment decision. Investing includes certain risks including loss of principal.