By G C Mays
On the strength of strong pricing, demand and accretive earnings from an acquisition, Agrium Inc (NYSE:AGU) reported consolidated net income of $193 million on revenues of $3.17 billion for the fourth quarter of its fiscal year 2011. Consolidated annual earnings of $1.37 billion or $8.68 per diluted share for the year were almost double last year's earnings.
The company believes that the underlying fundamentals remain strong due to low crop inventory levels for most crops. We know this thesis isn't true for wheat as grain silos around the globe are bursting at the seams as wheat stocks stand at all-time highs. Can the company keep up this revenue growth with already weakening demand in North America and so many uncertainties around the world?
Retail
Fourth quarter sales in the retail segment were up 38% to $1.8 billion. For the full year sales were $10.3 billion, 48% higher. The large increase was primarily due to the accretive revenues and earnings of the Landmark retail operations that the company acquired as part of its December 2010 acquisition of AWB Limited. The company sold its stake in AWB Limited's commodity Management Business to Cargill, which recently divested its 64% interest in Mosaic (NYSE:MOS).
click to enlarge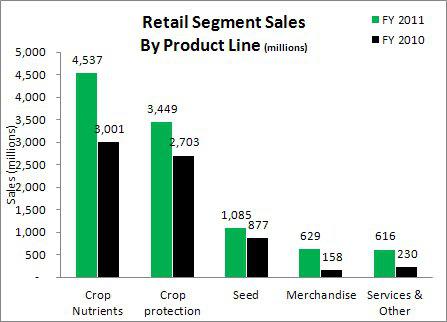 Source: The Mays Report
All retail product lines had increases in sales during the quarter and for the full year. Gross profit was up 28 percent year on year. However, gross margins were down in every product line except merchandise, where Landmark merchandise has higher margins. Lower margins in the crop nutrient business were due to higher input prices & costs. The margin decline in the crop protection business was due to lower margin products acquired from the Landmark business. The company did not offer a reason for the margin decline in its services and other or seed businesses.
In 2010 the company said it expected to create 40 million in annual synergies from its Landmark retail business after FY 2011. They only expected 17 million in synergies in 2011, however, the company fell short of its expectations, capturing only 10-12 million during the year. The company expected this acquisition would be accretive to earnings as well as its strategic positioning in the Southeast Asian region going forward. You can always tell how confident management is about an acquisition by looking at how they pay for it. An all cash offer indicates that management has confidence in its ability to realize the expected synergies while an all stock offer shows a lack of confidence and offers a motive to share that risk with the target companies shareholders.
Wholesale
The company's wholesale segment also reported energetic sales. Sales for the fourth quarter surged 25% to $1.45 billion with higher prices and margins across all three major crop nutrients despite economic uncertainty that rocked the globe during the quarter. For the full year, sales topped $5.5 billion.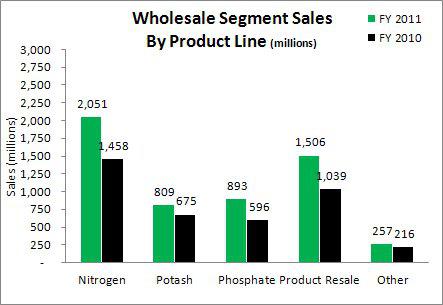 Source: The Mays Report
Tons sold were higher for nitrogen and phosphate while potash tons sold declined by 8.3 percent. While potash tons sold were lower primarily due to falling domestic demand, revenues and gross profit margins for the mineral were higher during the quarter and the full year. Significant price gains was a key driver of higher sales. As has been well documented, farmers have held back on orders and distributors responded by selling out of inventory and not replenishing stocks during the quarter.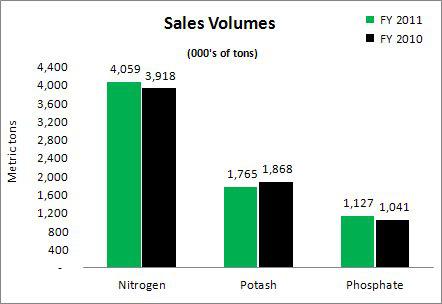 Source: The Mays Report
Gross profits and margins were up for all the major fertilizers as higher prices ruled the day. However, the company took a hit with regards to gross profits and margins on its products purchased for resale. The sudden decline in crop nutrient prices during the quarter left the company holding product with a higher cost basis than they would have liked. It's unclear if the company did an inventory valuation write-down during the quarter.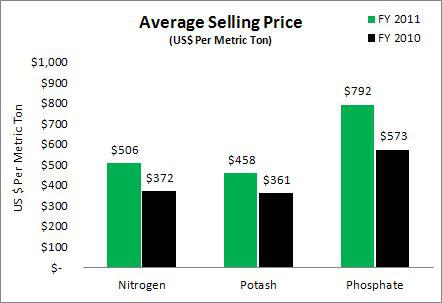 Source: The Mays Report
Falling natural gas prices are benefiting the company as well. The company's average natural gas cost in cost of product sold dropped to $3.47/MMBtu versus $3.70/MMBtu a year ago. The company also hedges its natural gas costs, losses from these hedges are the primary contributor to the doubling of the segments expenses to $49 million. Hedging is a necessary function to give a level of certainty. However, given natural gas inventory levels with no catalyst to stimulate demand its pretty clear that prices are not going higher anytime soon.
We may see a some softness in the wholesale segment early in 2012 as farmers and distributors struggle to find a market price they can live with.
Advanced Technologies
Representing 3 to 4 percent of revenues, advanced technologies is Agrium's smallest operating segment. Sales of $146 million are 47% higher compared to the same quarter a year ago. For the year, revenues surged 28 percent to $510 million, gains were also due to higher prices received and strong demand for Environmentally Smart Nitrogen in particular.
However, the company reported an operating loss of -$56 million in this operating segment due to their decision to write-down the value their 19.6 percent investment in Hanfeng by $61 million to $29 million. The company stated in their press release that Hanfeng is not integral to the company's strategic growth plans in China. What's important to note about an asset impairment is not whether the asset being impaired is of strategic importance to a company but whether any decline in value of the asset is other than temporary or put another way, is it most likely permanent. The company plans on maintaining its equity investment in Hanfeng.
On a relative basis Agrium Inc. looks fairly attractive compared to other fertilizer companies as well as the peer group.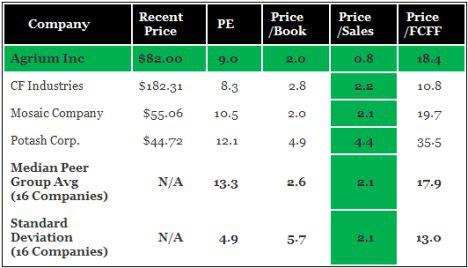 Source: The Mays Report
Companies in this peer group price most closely by price to sales as illustrated by the peer group only having a standard deviation of 2.1 when viewed on a price to sales basis. The stock now trades about in the middle of its 52 week range of $60.15 - $99.14 a share. I like the stock at these levels on a relative basis but still see the fertilizer business at the peak of this short-term business cycle. It's also important to note that a very large part of the Ginormous jump in revenues was due to the 2011 acquisition of the Landmark retail business. According to the company same store sales increased 10.8 percent in 2011. In 2012 year-on-year comparisons will be challenging to say the least.
Fertilizer stocks in general have traded closely with the S&P 500 over the last few weeks while largely ignoring the agricultural fundamentals of wheat, corn, & soybeans as well the European debt crises.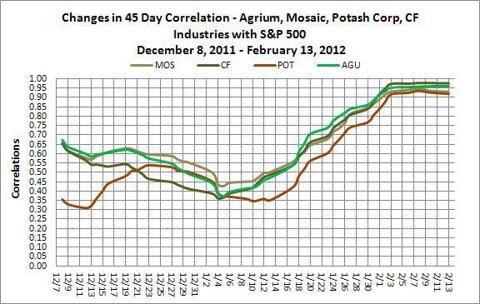 Source: The Mays Report
With a recent 45 trading day correlation with the S&P 500 of 0.96, Agrium is no exception. If you are a long-term investor this could be a place to start acquiring shares, but bear in mind that the shares may go on sale in the foreseeable future. As we have seen recently, European sovereign debt issues can rear their ugly heads at anytime.
Disclosure: I have no positions in any stocks mentioned, and no plans to initiate any positions within the next 72 hours.