Chesapeake Energy (NYSE:CHK) has been an exciting company to observe over its almost 19 years as a public company. Having come public at a split-adjusted $1.33 a share, the company has remade itself several times over. Founded by landmen, Chesapeake experienced a historic boom and bust in the Austin Chalk in the 1990's. It was early to recognize important industry developments in the last decade, beginning with the structural rise in conventional natural gas drilling costs. Chesapeake then won the natural gas shale land grab and has been in the thick of the shale and horizontal oil land race. Chesapeake innovated the now common use of large scale joint ventures to fund drilling.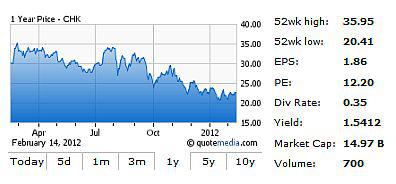 Co-founder and CEO Aubrey McClendon can be described as visionary, articulate and flamboyant. Mr. McClendon has been at the helm through all the success and turmoil in Chesapeake's history. He was early to understand the idea of the land grab and led Chesapeake to capitalize on it. The company's quarterly conference calls show his deep understanding and ability to clearly pontificate on the industry. All the while Mr. McClendon's aggressive nature can be summed up in a personal margin call in 2008 reminiscent of something out of a 19th century stock speculation biography.
The shale gas revolution has led to the current natural gas predicament. The production boom with the ever increasing productivity has produced a supply glut. For the last several years the industry has hidden from this reality with strong hedges, loose money and cold winters. But the hedges have rolled off, the big money wants oil and this winter has been remarkably warm. While Chesapeake has been obtaining a liquids and oil asset base, changing the production mix will take many years. Chesapeake is still primarily a natural gas producer.
This past fall, when markets were volatile and falling Chesapeake lifted its natural gas hedges to 'take advantage of market turbulence.' The company did this previously two winters ago only to re-hedge in short order during a cold snap. You know, flamboyancy. But the black swan always gets its man. The cold snaps failed to materialize this winter and it's too late for meaningful cold to save natural gas pricing this year. Storage will fill well in advance of the next withdrawal season beginning in November. Current prices and the strip is forcing producers to drop natural gas rigs. The washout will be painful, though necessary for the long term health of the industry. Raymond James thinks dry gas drilling will collapse and the industry will still be a mess. Low prices solve the problem of low prices, especially in an industry with high natural decline rates of production. However, expect this cycle to bring much pain between here and there for natural gas producers.
Current Chesapeake operations require spending far beyond cash flow and utilize complicated asset monetization transactions like joint ventures, natural gas VPP's and now debt royalty deals. For shale acreage to command rich pricing, time value must be maximized with large capex drilling. And there is the rub for Chesapeake. Losing the recent gamble to un-hedge natural gas production leaves difficult choices. Chesapeake has already announced production curtailments but that is not relevant. With capex curtailments unlikely, Chesapeake's only other choice is additional asset sales.
The asset sales themselves appear an opportune avenue for the company to leverage expertise in finding and leasing large swaths of hydrocarbon producing land. The trees are attractive; the forest is a mess. The latest plan to sell upwards of $12 billion in assets occurs with depressed natural gas prices. The off balance sheet financing has become cumbersome to calculate. With the large portion of production and reserves natural gas, Chesapeake may be getting out in front of problems with their bank borrowing base. Remember, management's attitude is to treat the hedging production as a speculative activity, as opposed to insurance to protect the drilling program.
Mr. McClendon once sarcastically commented out of frustration about how management just wouldn't run the company out of money. Ironically with Chesapeake having the largest and best asset base in the United States it could run themselves out of money, go through bankruptcy and come out the other side with still meaningful equity for shareholders ala General Growth (NYSE:GGP).
Chesapeake Energy shares already represent deep value. Look for specific outstanding well results to be highlighted when fourth quarter results are released February 21, particularly in the Utica and Williston Basin. On Wall Street the sharks circle and attack when liquidity issues and rumors come to the forefront. With luck, Chesapeake will navigate this stretch unscathed. But keep Chesapeake on the radar screen. Perhaps at some point this year, bad press regarding funding capex will haunt the company. This would be the point where the big money is made. Not for the faint of heart, such an opportunity may be outstanding for the patient, prepared and courageous.
Disclosure: I have no positions in any stocks mentioned, and no plans to initiate any positions within the next 72 hours.