Early last week, Canadian Natural Resources Limited (NYSE:CNQ) announced it is shutting the Horizon Oil Sands Plant, due to unplanned maintenance. The Horizon facility produced about 103,000 barrels of oil per day in the fourth quarter of 2011.
Late on February 13, 2012 the company announced that the problem appears to be more "extensive" than initially estimated and that production in the facility will not resume full production until late March.
The Horizon facility experienced difficulties in the past. Early last year, fire broke out at the facility in which five workers were injured. However, that incident did not cause a significant freeze in production. Since the time frame amounts to about a month and a half, the incident essentially encompasses half of the first quarter of this year. Therefore, shareholders should expect some justified selling pressure. This unplanned maintenance activity should be followed by cuts to Q1-2012 analyst earnings estimates. Also note that current oil prices might compensate for some of the missed production.
Lastly, watch for some upward pressure on North American oil prices as this supply comes off the market until late March.
Canadian Natural Resources Limited trades on the NYSE and has a market capitalization of $41.87 billion. It is one of Canada's largest oil producers, along with Suncor Energy (NYSE:SU), Imperial Oil (NYSEMKT:IMO) and Cenovus Energy (NYSE:CVE).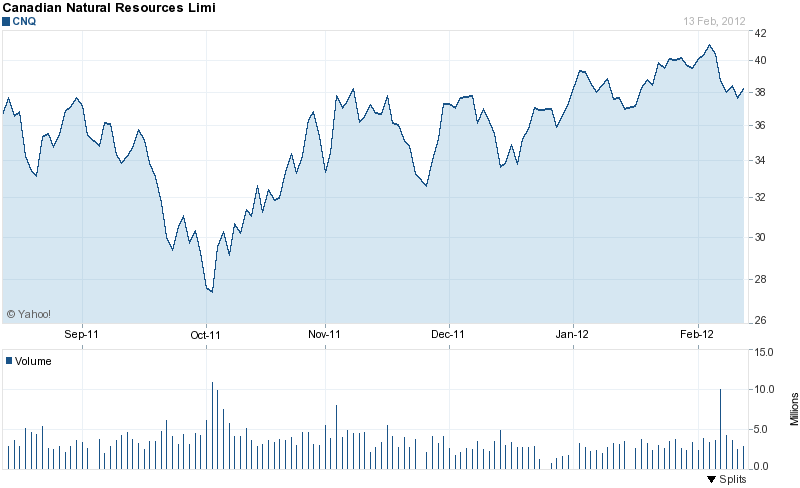 Disclosure: I have no positions in any stocks mentioned, and no plans to initiate any positions within the next 72 hours.