Macro View
Despite the recent rally in U.S. equities to start the year, we think investors should remain cautious due to the underlying economic headwinds the U.S. continues to face. We think that the economy will continue to see subpar growth that will hinder the employment market and continue to create uncertainty. The current headwinds include:
High levels of unemployment

Weak housing market

Subpar economic growth

Rolling European debt crisis

Uneven growth rates in China

Unsustainable U.S. debt levels

Increasing cutbacks on state and local government spending

European austerity measures
That said, the S&P 500 is up over 7% year-to-date and it seems to continue to grind higher every day (albeit on low volume).
click to enlarge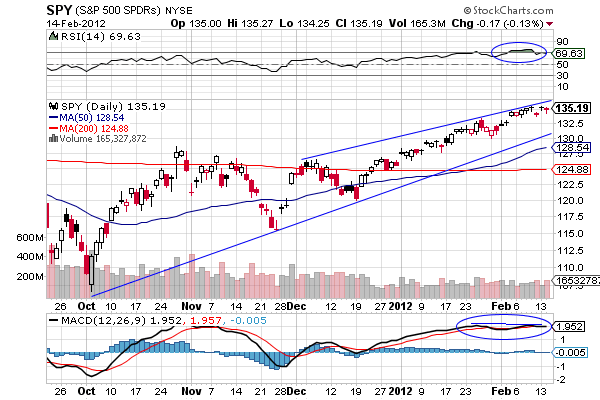 Click to enlarge
While our thesis for a significant pullback in equities is built on the fundamentals mentioned above, we always look to the technicals for confirmation. As shown in the chart above, the S&P has been forming a rising wedge recently. In addition, the index is currently overbought (RSI of 70) and there has been some recent divergence in the MACD indicator. All three of these indicators are bearish technical signals and we think that a near-term pullback is imminent.
In anticipation of this pullback, we suggest that investors raise some cash and patiently wait for better entry points on stocks that they are following.
Stocks with Strong Trends to Consider on a Pullback
For us to consider buying a stock on a pullback, it must have strong fundamentals and it must be in a strong up trend that we feel will continue after the dip. The table below highlights a few of the stocks that are currently on our watchlist.

Click to enlarge
As indicated by the fundamentals above, there is clearly a good reason why these stocks are in a strong up trend. All of the stocks above have very strong balance sheets and are trading at reasonable forward P/E ratios (< 22.0x). These stocks have debt-to-EBITDA ratios less than 0.25x (essentially no debt) with high current cash balances.
Tactical Strategy
Due to the current market rally (which we believe will be short lived), investors should consider waiting for a pullback in these stocks to enter a new position or to add to an existing position.
Most of the stocks above are currently in a positive uptrend. As such, investors should be looking for near-term areas of support as potential entry points.
Click to enlarge
Akamai Technologies (NASDAQ:AKAM) gapped higher last week (on strong volume) after their earnings announcement. The stock is in a very strong uptrend since the recent low in October and we think the stock will get significant support around the 200-day moving average ($28.13) on a pullback. Buy Zone: $28.00-$30.00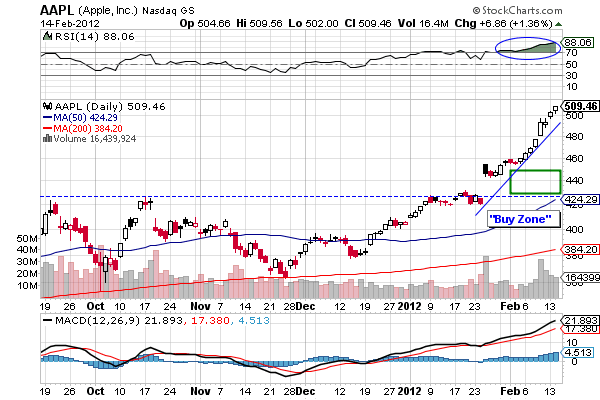 Click to enlarge
Apple (NASDAQ:AAPL) has been just incredible lately...not sure what else to say. The stock is up over 20% since its recent positive earnings announcement. We do think that the stock will pullback some from current levels though and we would be a buyer on any meaningful dip. Our "buy zone" is right around the level of the recent gap ($450.00). Buy Zone: $425.00-$450.00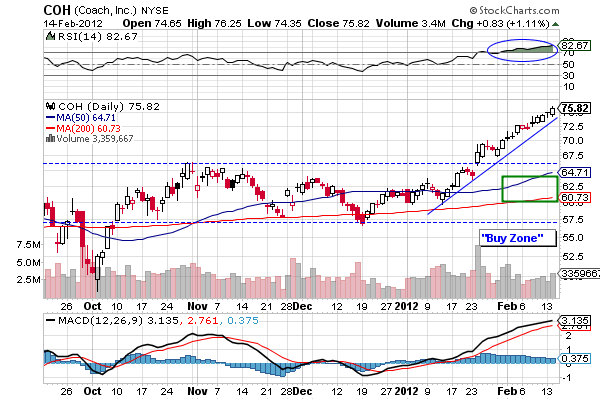 Click to enlarge
Coach (NYSE:COH) broke out of its recent range (on high volume) in late January and the stock has not looked back since. However, given the cyclical nature of the company, we believe that it will trade back down into this range on a pullback...and we'll be waiting with open arms. Buy Zone: $60.00-$63.00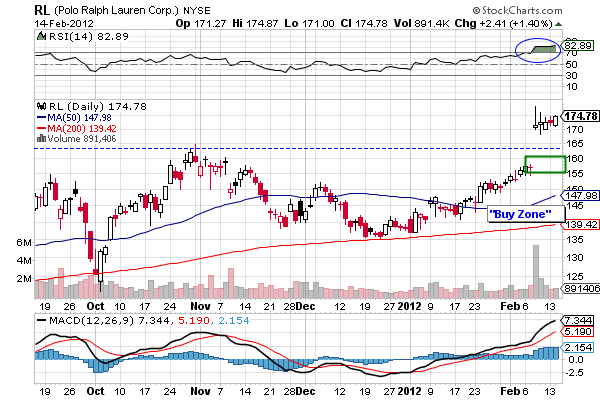 Click to enlarge
Polo Ralph Lauren (NYSE:RL) has been in a very strong up trend for the past several years and we believe that the trend will continue in 2012. The stock recently gapped higher on a positive earnings, which was a very bullish breakout. If the stock dips back to the pre-gap level ($156.00), we would be a buyer. Buy Zone: $155.00-$160.00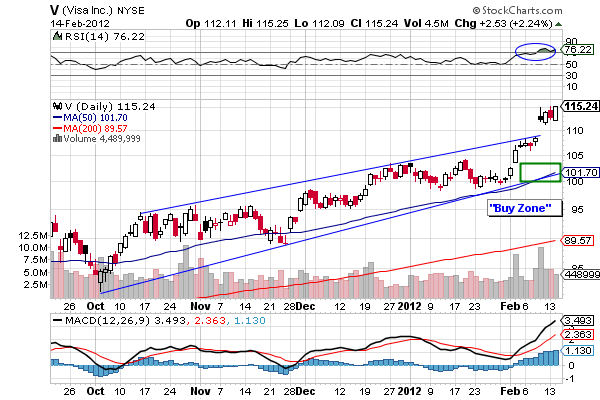 Visa (NYSE:V) was up over 50% in 2011 and is up another 15% YTD. The trend is clearly strong and we believe that the stock will continue to move higher in 2012. We think that the stock will get very strong support around the 50-day moving average ($101.70) and we would be a buyer at that level. Buy Zone: $100.00-$103.00
Disclosure: I am long AAPL.