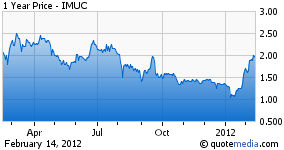 The recent run of Immunocellular Therapeutics (NYSEMKT:IMUC) nearly reached the two dollar mark on a few occassions last week, and eyes will be on the stock this week to see if that barrier can again be taken down.
IMUC has just about doubled in a short period time and the quick rise was fueled by new institutional interest as well as attention being put on the company's pipeline, led by ICT-107, an immunotherapeutic treatment for glioblastoma.
Immunocellular also issued a 'Letter to Shareholders' earlier this month, which emphasized some key factors, including the fact that the company should be expected to remain on solid financial footing for the duration of 2012, and well into 2013 - thanks to the financing agreement announced earlier in the year. With the financing out of the way, investors are free to look past the immediate risk and concentrate on the release of interim results from the ongoing Phase II ICT-107 trial, which can be expected to start trickling out within a year.
Immunocellular has also benefited from a general resurgence in the cancer immunotherapy sector as a whole. Thanks to a resurgence in the Dendreon (NASDAQ:DNDN) share price as the result of rebounding Provenge sales, companies such as CellDex Therapeutics (NASDAQ:CLDX), Cel-Sci Corp (NYSEMKT:CVM) and Oncothyreon (ONTY) - in addition to Immunocellular - have all seen their share prices rise during the opening weeks of 2012.
As potential investors investigate the sector again, IMUC has certain benefits that carry more potential than what even Provenge has brought to the table. Considered a "next generation" immunotherapeutic treatment, IMUC's ICT-107 requires less cell harvesting from a patient than Provenge, and therefore comes with logistical and manufacturing advantages that could lead to a lower cost of treatment, if approved by the FDA and commercialized. Since it was issues of cost and reimbursement that led to a Dendreon death spiral last summer, it's safe to assume that Immunocellular will not encounter those woes.
These positive factors could have contributed to the decision by Ayer Capital to become a significant holder of IMUC stock this year, now with a seven percent total position. As discussed earlier, Ayer is one of the better known healthcare-related hedge funds and holds - or has held - positions in many of the better-known companies in the healthcare/biotech sectors, such as Teva (NYSE:TEVA), Dendreon , Celgene (NASDAQ:CELG) and Oncothyreon .
All of these recent developments and the push towards two dollars makes IMUC a stock to watch.
Keep watching for developments.
Disclosure: I am long CVM.