In spite of all the celebrations taking place in the stock market, based on the theory that economic growth is accelerating all over and China will have a soft landing, developments in the non-speculated markets continue to unfold unfavorably.
In just the last week, iron ore import prices in China have plunged by more than 5%. They can be checked here.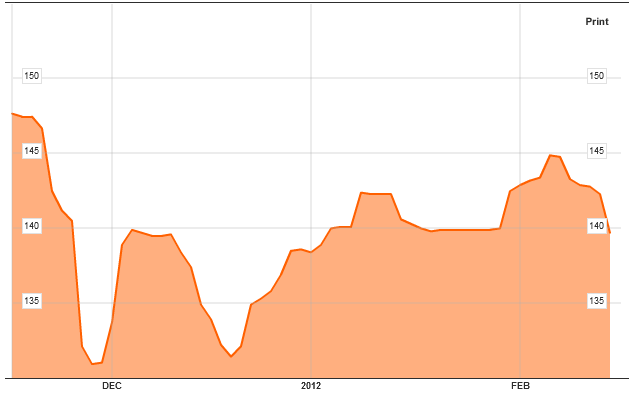 At the same time, steel prices on the LME continued their unrelenting downward trend, and are now down almost 14% since 2011 year end: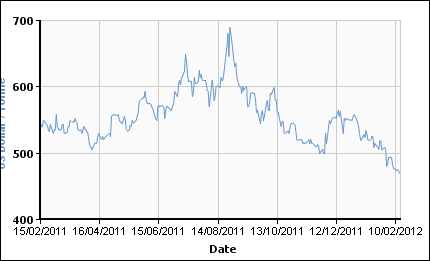 DRAMs have confirmed a new downtrend as well (source here).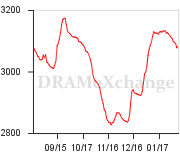 At the same time, flash memory just accelerated its previous downtrend, which had never been broken.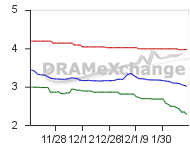 Copper, which has benefited from large speculative long flows, is nonetheless close to a breakdown as well.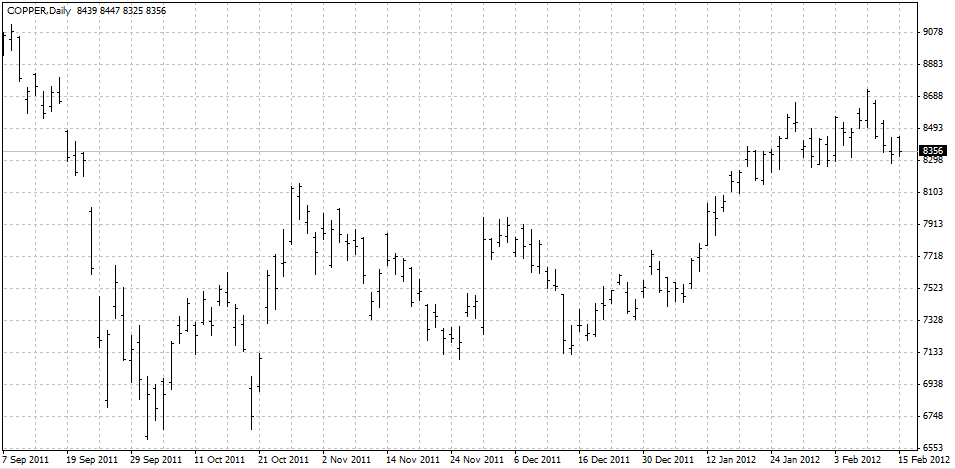 These developments are not surprises. I have been chronicling their causes for a while. In short, these are:
China's automobile production is down 6.5% year on year, as of December 2011;
China's residential home prices have been falling for five months now on most Chinese cities. It's to be expected that following these falling prices, construction activity will drop as well. To put things in perspective, I estimated that China is presently building 48 million dwellings - just compare that to less than 3 million at the top of the U.S. real estate bubble, and you'll have a feel for the potential impact;
Given very low freight rates (as evidenced by the Baltic dry index), it is to be expected that shipbuilders will receive very few orders for new ships, and will build very few ships.
Conclusion
Many basic materials are already under pricing pressure and will continue to be under pricing pressure given the problems with end demand that result from the developments described. Some of these developments might be short term (auto production), but the others are clearly medium term (shipbuilding, residential construction), so the downward pricing pressure on materials should last at the very least, 1-2 years.
Given this expectation, some of the U.S. quoted stocks I would expect to continue their present downward trends would be:
Iron Ore
Rio Tinto (RIO), VALE S.A. (VALE) and BHP Billiton (BHP).
Copper
Freeport McMoran (FCX).
Steel
United States Steel (X), AK Steel Holding Corporation Co (AKS), Arcelor Mittal (MT) and Nucor (NUE).
Addendum
It might seem I've been pressing this basic materials key a tad too often. There are at least two reasons I've been writing so much on it:
1) It's the most important fundamental development in the market right now;
2) There's been little coverage and knowledge that this is actually happening, indeed some are promoting just the opposite view even against the concrete facts taking place in the ground.