It gets very difficult to evaluate a currency like the euro, especially when it's been under such turmoil lately -- not just in recent weeks, but going back a year or more. Currencies don't usually fluctuate so dramatically. Before the 2008 financial crisis, it was rather unusual to see a currency move 1% in one day, but it's not so unusual anymore.
Will the euro go up or down? Personally, I think the eurozone can't survive in its current state, but that doesn't mean it's going to fall apart in the next three months either. But if it just seems like it will, then out-of-the-money puts on the CurrencyShares Euro Trust ETF (FXE) would be a good buy.
First, here's a chart showing the price of at-the-money options as a percentage of the value of FXE shares, weighted to both a theoretical 30-day and 90-day expiration.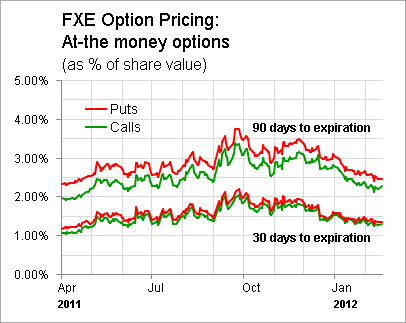 Obviously options with 90 days to expiration have higher prices than those that will expire in 30 days, but you can see that overall, option prices are coming down to levels we haven't seen in several months.
But at-the-money options don't show the relative "panic" or "complacency" that you can see in out-of-the-money options, especially the puts.
Here's a chart that shows the theoretical value of both a call and a put option that expires in 90 days and is 10% out of the money.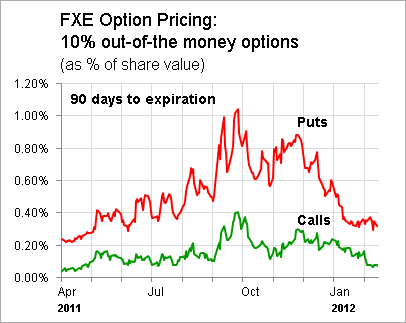 A 10% move would seem to be huge, sending the euro either well south of 120 or well north of 140 based on its 130.64 close on February 14. But you don't need that kind of move to make money on those options.
For example, a 117 put for June would have cost about 67 cents as of February 14.What would its value be a month from now with no price movement and no change to volatility? I'd say around 40 cents.
But if volatility moves back up the levels like we saw in December, those puts would be worth about 85 cents, a 25% gain and that's if the price doesn't fall at all. If FXE breaks below 125 by mid-March and volatility rises, those puts could easily double to $1.40 or so.
Could the euro actually go up instead? That's possible. But somehow I predict headlines like "Eurozone contagion fears spread" to be a lot more common than headlines like "Eurozone leaders finally solve debt issues. Crisis over. It's Done. Put A Fork In It."
So I don't think these options will stay cheap for long. Here's a price chart of FXE: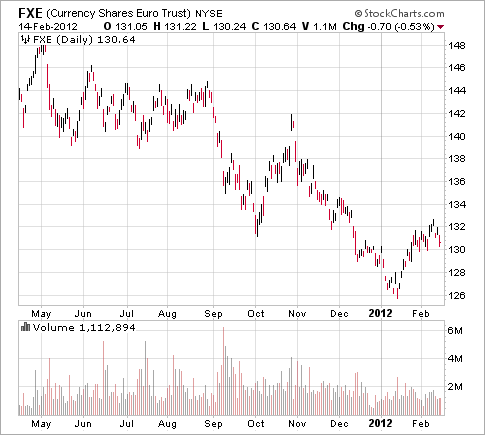 And here's something that may be even more relevant - a Google Trends chart for the query "eurozone"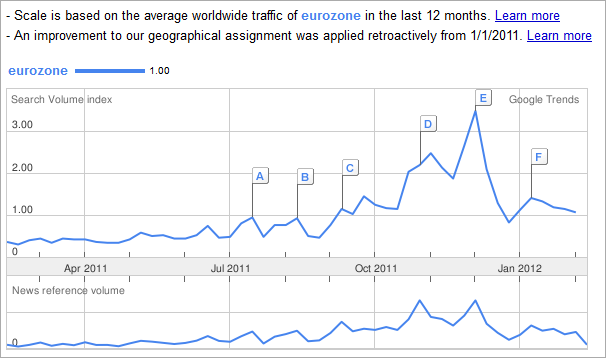 You know something? That Google Trends chart bears a striking resemblance to the chart of those out of the money options above. Hmmm ... I guess Google could be a new tool for options research.