An exercise I went through yesterday, using hypothetical Sirius XM (NASDAQ:SIRI) earnings-related option trades, warrants further attention because there are several sides to every coin.
If you are looking to get into options or are simply learning the ropes, keeping things as simple and straightforward as possible works best. That often means playing it safe, however, just like you should make room in your portfolio for speculation with stocks, it can pay to do the same with options.
I feel like I kept things as "clear-cut" as possible when illustrating why, ahead of earnings, smart traders used the SIRI February $2.00 calls to follow bullish conviction, not out-of-the-money February $2.50 calls:
Heading into Sirius XM's earnings report, I am almost certain that some of the more ardent SIRI bulls opted for the February $2.50 calls over the $2.00 contracts ...


The smart long option play in this case, pre- or post-earnings, are the $2.00 calls, not the $2.50s, simply because the $2.00 calls have a much better chance of being ITM on opex day ...

So back to the hypothetical $1,000 investment to support those points. For the sake of argument, let's say you bought the top in each call:

35 contracts of the SIRI Feb $2.00 call at $0.28 each = $980 investment.

250 contracts of the SIRI Feb $2.50 call at $0.04 each = $1,000 investment.

You held through earnings. You go to sell today:

You receive $0.13 each for the $2.00 calls, bringing in $455, equal to a loss of 53.6%.

You receive $0.01 each for the $2.50 calls (assuming you will actually being able to unload all or part of the position), bringing in $250, equal to a 75% loss.

Very simple lesson. The intrinsic value in the $2.00 calls saved you about $205.

Now, let's pretend things worked out well and SIRI surged an incredible 20% on earnings and traded for $2.58 right now. Assuming you have intrinsic value only remaining, the $2.00 and $2.50 calls would be worth $0.58 and $0.08, respectively. That's good for the following outcomes on the going $1,000 example:

You bring in proceeds of $2,030 on the $2.00 calls, good for a gain of $1,050 or 107%.

You bring in proceeds of $2,000 on the $2.50 calls, good for a gain of $1,000 or 100%.

I know which one I would have gone with. Keep it safe and keep it simple.
Let's consider similar examples, with different outcomes, on two other stocks traders and investors like to play using options.
Last May, I offered ways to play Netflix (NASDAQ:NFLX) bearishness via put options:
I will look for a price of about $67 for the NFLX January 2013 $260 put. If you believe Len Brecken's bold prediction of bankruptcy or sub-$5.00 status for NFLX in 2012, you have very little to lose (about $450 per contract) by taking a chance on the NFLX January 2013 $85 put. While it's tempting - I have fallen in this trap before - to put all of your eggs in the so-called lotto ticket's basket, the more conservative plays, like the in-the-money put, usually have a much better chance of working out.
With hindsight as our guide, it's instructive to see how each of those contracts sits today after two major NFLX implosions and a rebound past $100. Think about this ... two months after I suggested considering those trades, NFLX hit an all-time high ($304.79), before crashing to as low as $62.37 and propping itself back up to its present $125-$130-ish level. Unreal.
In any event, the Jan '13 $260 put has traded as low as $42.18 and as high as $196.45. It finished Tuesday's session at $169.00. If you bought it at $67.00 last May and sold anywhere near the top you turned a five-figure profit on just one contract. But, because you bought yourself what amounts to some protection by going ITM, you would not have given up most of the gains seen from that contract, even after all NFLX has been through.
The Jan '13 $85 put, which was way, way OTM last May (and it's pretty deep OTM now), has traded between $1.70 and $32.50. In early May, you could have picked it up for $4.50 per contract. On Tuesday, it closed at $10.80. Consider this comparison between the $260 and $85 put whether you timed the top or stayed in the position to this day.
| | | |
| --- | --- | --- |
| Contract | % Gain, Sold At Top | % Gain, Holding 2/13/2012 |
| Jan '13 $260 Put | + 193% | + 152% |
| Jan '13 $85 Put | + 622% | + 140% |
*Entry price in each position, as of 5/10/2011
Again, this is in hindsight. Odds are, like me, you would have been shook out of this position at some point between May and July 2011 when NFLX zipped past $300. Even if you had held, you likely would not have timed the top and you probably would not be holding now. But, this exercise does illustrate two key points - you can hit home runs with deep OTM options; therefore, a time and place to use them does exist. However, you can protect yourself by buying contracts that have some intrinsic value in them to start with. The gains you see in them are much less volatile than the ones deep OTM contracts produce as stocks move wildly. Another contributing factor - using LEAPS options. In this hypothetical, we have held those contracts for nine months, yet time decay will not become a significant factor for several more months.
Getting back to something with a closer resemblance to the SIRI example - a pre-earnings option trade on Apple (NASDAQ:AAPL). That was definitely all the rage.
Even though I am not a fan of contracts with near-term expirations, let's compare the AAPL February 2012 $400 and $500 calls.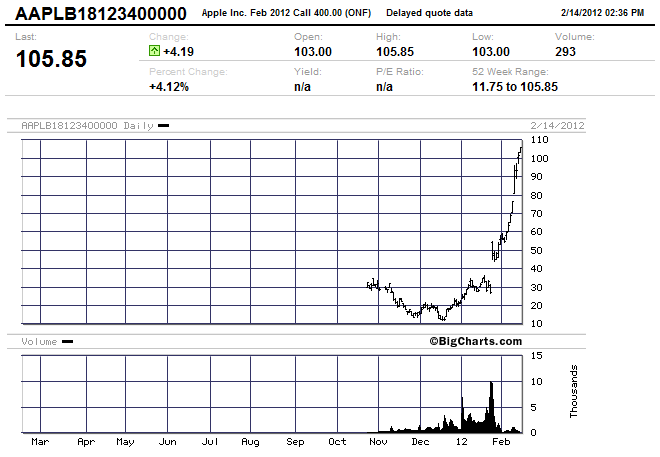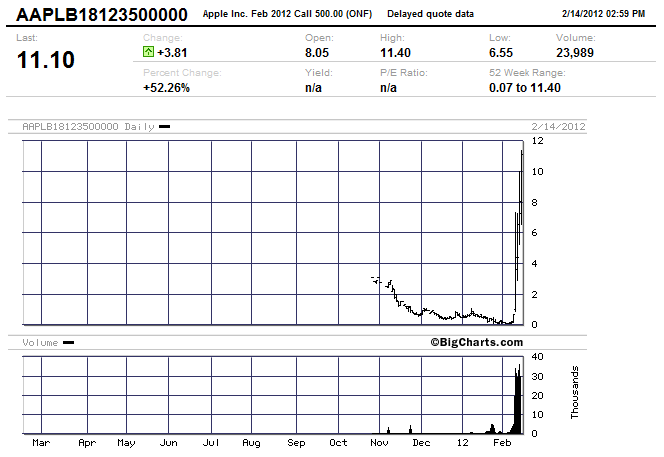 Had you drilled into the long-time ITM $400s prior to earnings at around $30.00 per contract, you would be sitting on more than $75.00 ($7,500!) profit per call today. That's a percentage gain of roughly 250%.
If you opted for the once deep OTM $500 calls at around $1.00 a pop, you would be sitting on approximately $10.00 in gains or 1,000% appreciation. Another example where going OTM would have reaped superior rewards had you played things nimbly. Granted NFLX is a bit more challenging than AAPL has been, but you still would need to be paying attention.
I like to show both sides of the coin, as I do not believe there's only one way - my way. You can hit a home run. And it's probably a good idea to try from time to time. That said, the SIRI example will occur quite a bit more frequently than these extreme examples of NFLX (to the downside and back up) and AAPL (to the upside).
Success stories like some of the massive percentage gains I showed here or lore about people becoming penny stock millionaires (e.g., on SIRI) can be counter-productive. These relative anomalies often prompt people to dream too big. And, while I am not trying to say you should never swing for the fences, a more disciplined approach that goes with the odds - as in, which contracts are more likely to end up ITM - tends to work for most traders and investors over the long haul.
Disclosure: I am long AAPL.
Additional disclosure: I am long NFLX June $40 put options.