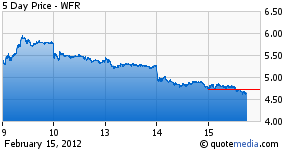 MEMC Electronic (WFR) is expected to report Q4 earnings after the market close on Wednesday, February 15, with a conference call scheduled for 5:30 pm ET.
Guidance
The consensus estimate is (6c) for EPS and $769.49M for revenue, according to First Call. Following MEMC's negative pre-announcement during mid-Jan, analysts made major downward movements in their estimates. Given weak demand trends, MEMC lowered its EPS and revenue guidance during its major restructuring last December. The company expects Q4 non-GAAP EPs (23c)-(17c) and non-GAAP revenue of $753M-$792M. The estimated non-GAAP EPS range is below the previously estimated range primarily due to solar energy project timing and largely non-cash adverse tax effects associated with world-wide income distribution. Excluding these unfavorable tax effects, non-GAAP EPS for the quarter is expected to be in the range of (11c)-(5c).
Analyst Views
Expectations going into earnings are low, but Deutsche Bank expects the earnings call to act as a modestly positive catalyst for the shares. The firm expects the focus to be on 2012 EPS guidance and other performance metrics. Despite conservative assumptions, Deutsche sees 2012 EPS guidance at least in-line with consensus of 34c with upside potential to 50c-60c. In general, Deutsche sees upside risk to SunEd and some downside risk to semis -- with slower than-expected improvement in demand and greater-than-expected price decline. Consensus for Q1: 96c on $611.94M in revenue. Consensus for 2012: 28c on $3.06B in revenue.