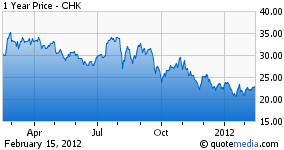 Chesapeake Energy (NYSE:CHK) has recently come under pressure from shareholders over compensation and balance sheet concerns. Having worked in the activist investing space, I find that the Street has become myopic of late and remains overly focused on quarter to quarter business. Chesapeake is expected to give its fourth quarter earnings call on February 21st, but that's not the point. The point is that Chesapeake's great promise lies in secular trends. And the company's leverage has been a bet of confidence - it comes from management that has deep industry knowledge and tremendous scale. CEO McClendon has created billions for shareholders and deserves, if anything, greater compensation than what he is earning right now for creating the foundation for even greater growth.
From a multiples perspective, Chesapeake is exceptionally cheap. It trades at only a respective 12.2x and 11.3x past and forward earnings with a dividend yield of 1.5%. Linn Energy (LINE), on the other hand, trades at a respective 19.7x and 16.5x past and forward earnings. Smaller scale Panhandle Oil & Gas (NYSE:PHX) trades yet higher at a respective 23.7x and 25.5x past and forward earnings. In short, Chesapeake is 73% of the industry PE multiple.
At the third quarter earnings call, the firm's Billionaire CEO highlighted a skilled ability to flip assets for a profit while remaining solidly invested in core value drivers:
"As promised, our oil and natural gas liquids production continues on its strong and steady ascent, while we are delivering yet again another impressive JV transaction.

If you are keeping track, this new JV would make our seventh. We started with the Haynesville in July of 2008, and in the 3 years since then, we have also brought in partners on the Fayetteville, Marcellus, Barnett, Eagle Ford, Niobrara and now into 1 phase of the Utica play.

In these 7 JV areas, the company initially acquired approximately 5.1 million net leasehold acres at a cost of $11.1 billion. That's around $2,200 per net acre overall on average.

We then sold 1.5 million of those acres for total consideration of $16.4 billion in cash and carries, meaning we recovered 150% of our total leasehold costs in all the plays combined, while leaving ourselves with 3.6 million net acres in 7 of the nation's very best plays, at a negative leasehold cost of $5.3 billion".
Gas prices may be uncertain in the near-term, but secular trends are, in my view, pointing nowhere but up. Even President Obama in his State of the Union speech addressed the critical need to focus on natural gas. The resource is both incredibly efficient and clean, giving off between 30 - 45% less CO2 emission than coal or petroleum burning. Manufacturers are responding accordingly by designing an increasing amount of cars to run on natural gas. And as much as Chesapeake has transitioned over to liquids, a strong portion of its production still comes unhedged in natural gas.
The firm has diverse exposure to liquids plays with around 3.5M acres. This excellent scale is complemented by its equally excellent early mover advantage. Since unconventional liquids require greater capital intensity to develop, Chesapeake benefits from strong barriers to entry in an industry that consists largely of independent producers.
Consensus estimates for Chesapeake's EPS forecast that it will decline by 5.4% to $2.79 in FY2011, decline by 28.7% in FY2012, and then grow by 70.4% in FY2013. Modeling a 3-year CAGR of 4.7% for EPS and then discounting backwards by a WACC of 9% suggests that the company may nearly double in the long-term. Uncertainty over natural gas prices in the short-term will cause volatility, but a little more than half a decade from now the company is well positioned for this return. I have since boosted my price target given improvements in macro outlook.
Linn, which is rated a "strong buy" on the Street, has less upside. Having succeeded in its capital program and Granite Wash activity, Linn recently guided above expectations. Management is anticipating a 43% y-o-y growth in production and $880M worth of capital expenditures to be focused on liquids.
Consensus estimates for Linn's EPS forecast that it will grow by 18.8% to $1.83 in FY2011 and then by 20.2% and 17.3% in the following two years. Assuming a multiple of 18x and a conservative FY2012 EPS of $2.15, the rough intrinsic value of the stock is $38.70, implying 6.8% upside.
Disclosure: I have no positions in any stocks mentioned, but may initiate a long position in CHK over the next 72 hours.
Disclaimer: We seek business relationships with all of the firms in our coverage, but research covered in this note is independent and prospectively commissioned. The distributor of this research report is not a licensed investment adviser or broker dealer. Investors are cautioned to perform their own due diligence. Always discuss investments with a licensed professional before making any financial decision. Statements made within this report may include "forward-looking statements" as stipulated under Section 27A of the Securities Act of 1933, Section 21E of the Securities Act of 1934, and the Private Securities Litigation Reform Act of 1995. Since these statements are uncertain, actual results may be materially different from those expected.