Comcast (NASDAQ:CMCSA) wants your money.
Good to hear.
It's great news for the whole market that public companies are now willing to do a little financial engineering in order to make their shares more attractive. Making an investment in creating shareholder value, and the success of such investments, is great evidence for a bull market with legs.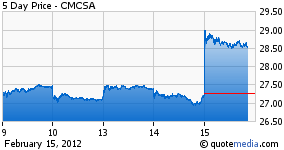 Consider. Comcast is worth about $75 billion. It puts in a $3 billion stock buyback for 2012 and the stock goes up almost 7% in pre-market trading. The money has already come back. The dividend raise, from 11 cents to 16.25 cents, should cost less than $600 million/year.
Supporting the price of a stock creates a virtuous cycle in a rising market. It helps make your stock a more valuable currency when doing acquisitions. And in a rising market the money comes back right away.
Comcast could afford this because its free cash flow is up, profits are up, growth is up. Its acquisition of a controlling interest in NBC Universal seems to be working, its cable delivers a lot more digital capacity to homes than either of the phone networks, and frankly it's hungry for more.
So Comcast is pounding the table for investment, and promising to support the stock price with dividends and share buybacks. It opened today at $28.93 and euphoria over these moves could drive the stock toward $35 fairly quickly. Every dollar spent supporting the shares is going to come back, many fold.
Other companies that are growing are going to see this and consider doing the same thing. This will be of great benefit to investors.
And a quick look at the numbers shows that, if we are in a real recovery, there should be a lot more growth to come. Ad revenue was down nearly 10% for the quarter, video revenue showed little growth. The fastest growth is in the "business services" segment - selling broadband capacity to enterprises - and that more than made up for the ad shortfall.
The movie and TV businesses were the laggards, with movie revenue way down for the quarter, TV ratings down, but Comcast works this game like News Corp. (NASDAQ:NWS), only using its national cable channels rather than over-the-air TV stations. You charge the stations for running the programming, all the money stays in-house, and it's almost impossible to lose.
Point is that even with many parts of the business not firing on all cylinders, Comcast turned in a good quarter and a solid year. It chose to share those gains with shareholders. And what comes back gives it the opportunity to turn around the lagging businesses and keep moving forward.
This should be a good investment for the next several years.
Disclosure: I have no positions in any stocks mentioned, and no plans to initiate any positions within the next 72 hours.
Additional disclosure: I might pick some up one day, but since I don't have any right now I'm going to wait at least the requisite 72 hours before following my own advice.