Since 2006, AngioDynamics (NASDAQ:ANGO) has had considerable cash on its balance sheet with a negligible amount of debt. While spending $265 million on acquisitions from 2007-2011, the company's cash balance continued to grow from $90 million to $130 million. In the same period of time, there have been three different CEOs. While there has been some operating income growth in that period, it has been sporadic.
(Click charts to expand)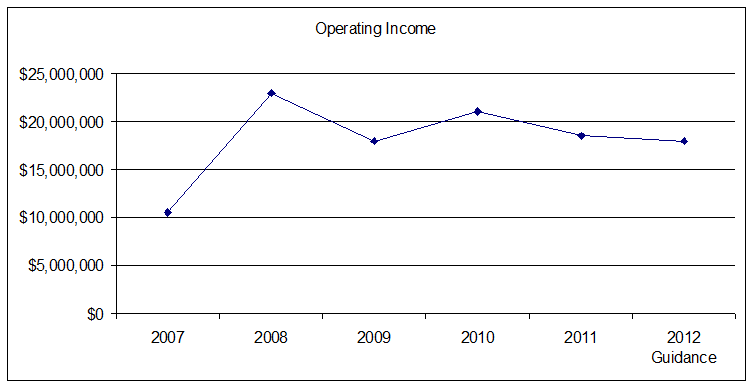 The company's long-term investors have stuck with the stock because the company produces significant free cash flow and has recently sported a conservative Enterprise value/Free Cash Flow valuation when compared with peers. Part in parcel, investors have anxiously waited to see what the company would do with its significant cash and free cash flow.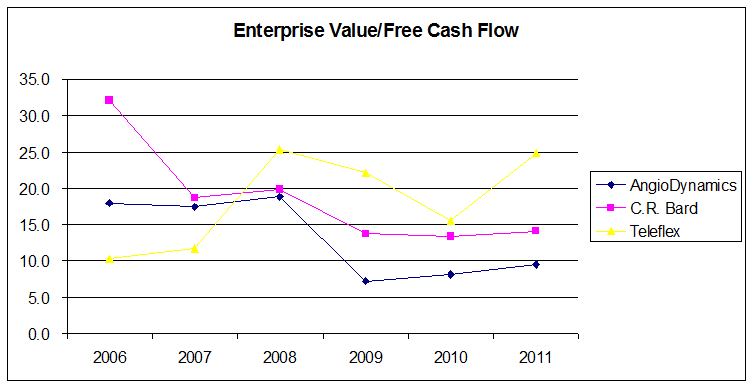 *Enterprise Value = Market Capitalization - Net Cash
* Free Cash Flow = Operating Cash Flow - Capital Expenditures
On January 31, 2012, the company announced the $372 million acquisition of Navilyst Medical, a private company with a focus on vascular access and fluid management. The morning that the acquisition was announced, the stock went up, but as the day wore on, it appeared that investors began to question whether the acquisition of Navilyst was the best use of the company's cash. Working against it, the company being acquired has had an annualized 2% decline in sales since 2009. That being considered, some investors saw the purchase price of 14x estimated 2011 EBITDA as excessive. In management's presentation (pdf) to shareholders, there were multiple points cited to counter the negatives.
First, the Navilyst acquisition comes with an estimated $80 million in tax assets that can be used to offset future income. Further, management has cited $74-$90 million in estimated savings from the combination through Fiscal 2015. I have never heard of a company basing an acquisition multiple on predicted savings, however, companies frequently include tax assets as they are of real immediate value. Even when tax assets bring down the purchase price, the multiple, at 11.2x, is still higher than all publicly traded peers, but in the middle of prior deal multiples.
The fund I manage has been a holder of ANGO for over a year and we have been waiting for a deal such as this. While the deal multiple is high, it still leaves the company with ample liquidity. In fact, the company should be able to pay off debt associated with the acquisition in less than two years. In our opinion, this is exactly the kind of deal AngioDynamics needs to boost its clout on the street and drive sustainable earnings growth.
As can be heard on the conference calls of two of its larger competitors, C.R. Bard (NYSE:BCR) and Teleflex (NYSE:TFX), pricing in the vascular segment has been competitive over the past few years. Currently Bard has about a 65% share. With operating margins 3x what ANGO has been running at and about 10x total sales, Bard has had the ability to run a leaner vascular business. With ANGO's purchase of Navilyst, it claims to have around 20% share of the vascular market, which should give it better pricing leverage going forward. Additionally, all redundant R&D activities will likely stop soon after the merger takes place. The combined company will have a stronger, more focused and more efficient sales force to go to the marketplace with. Also, sales calls will be more lucrative with a greater depth of product offerings. The combined company will be able to run plants at a higher combined utilization rate and create a leaner corporate structure.
On the revenue side, management, in a bold move, provided guidance of annual sales growth in the mid-to-high single digits from F2013-F2016, which, when combined with annual cost savings from the merger, should provide for even greater earnings growth. With greater numbers in sales, earnings and market capitalization, in addition to the promise of consistent growth prospects, there should be greater interest in the company from analysts and investors, which could provide for a sustainably higher valuation going forward.
| | | |
| --- | --- | --- |
| | Pre-Merger | Post-Merger |
| Annualized Sales | $220,000,000 | $375,000,000 |
| Enterprise Value | $220,000,000 | $562,000,000 |
| Diluted Shares Outstanding | 25,500,000 | 35,500,000 |
| EBITDA | $26,500,000 | $60,000,000 |
In addition to all of the positive factors the acquisition could provide the company, the company's NanoKnife system, being studied for the treatment of cancer, provides the company a $500 million market opportunity. Currently, ANGO is running a study focused on pancreatic cancer, one of the most deadly and hard to treat cancers in existence. The technology uses a minimally invasive technique to treat tumors. There are also discussions of running tests for other types of cancer. While this is a long-term opportunity, it could prove lucrative for the company and provide a real boost to valuation.
Of note, after the stock went down following the merger announcement, the company's CEO stepped in and purchased 3,000 shares. While not a huge buy-in, it does show leadership's confidence in the deal. After all, the current CEO has extensive experience leading companies in the medical industry. With the company having a significant net cash position for more than five years, management has seemingly been taking its time in picking the right deal at the right time. Based on the analysis, it looks as though it has found the right deal and shareholders should be rewarded.
Disclosure: I am long ANGO.