T. Boone Pickens is one of the most popular businessmen in the U.S. He frequently can be seen on TV, particularly when it comes to energy-related issues. Pickens, who became a billionaire through his oil investments, has a vast amount of business experience in the energy sector. He was the king of takeovers and acquisitions during the 1980s. After taking over the Hugoton production company, Pickens led the acquisitions of Pioneer Petroleum and of Tenneco's mid-continent assets.
Pickens is an activist; he introduced the Pickens Plan, which aims to reduce America's dependency on foreign oil. It is among his primary intentions to achieve self-sufficiency through efficient use of alternative energy sources, such as wind and natural gas. While his plan is not well-supported by the Congress, I agree with T. Boone Pickens. There are millions of natural gas vehicles that operate around the world. Almost every gas station in Europe offers liquid natural gas as an alternative energy supply to automobile users. On the contrary, only a small fraction of vehicles in the U.S. run on natural gas. Most of these vehicles are partially subsidized by local state institutions.
While Pickens has his own private investments in the alternative energy sector, his hedge fund is still heavily weighted towards traditional oil companies. BP Capital, founded by T. Boone Pickens, is a relatively small hedge fund that specializes in mainly energy stocks. Energy investments amount to near 88% of BP Capital's portfolio. According to the latest filings of BP Capital submitted to Edgar-Online, Pickens made 2 new purchases, and sold out his position in 1 stock. I have examined these transactions from a fundamental perspective, adding their year-to-date return where possible:
| | | | | |
| --- | --- | --- | --- | --- |
| Company Name | Shares Held | Change in Shares | % of Portfolio | YTD Return |
| Transocean Ltd. (NYSE:RIG) | 162,000 | New Position | 5.28% | 26% |
| Golar Ltd. (NASDAQ:GLNG) | 49,000 | New Position | 1.53% | 5% |
| EOG Resources (NYSE:EOG) | 0 | Sold Out | 0% | 15.6% |
Data obtained from Finviz/Morningstar and is current as of February 15.
Transocean
Transocean is among the top buys of T. Boone Pickens. Mr. Pickens is pretty bullish on the company as he initiated a new purchase of 162,000 shares in the last quarter. 5.28% of his portfolio is invested in Transocean.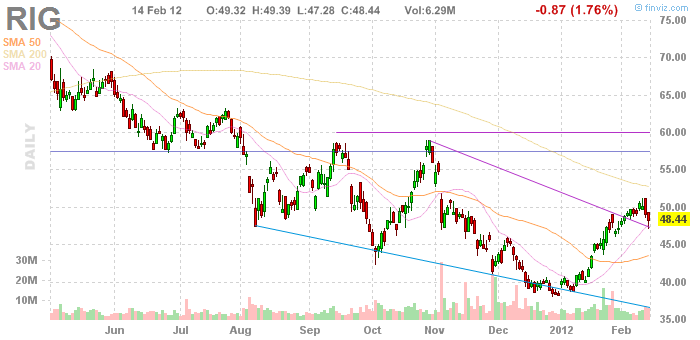 (Click to enlarge)
After a disappointing year, RIG is on the move. The stock returned almost 26%, since the beginning of this year. Back in October, Jim Cramer suggested to replace Transocean with Ensco (NYSE:ESV). While I agree that Ensco has a great moat in the oil exploration business, I suggested Transocean as a hold, since the stock was trading at the bottom of its valuation range. The stock dropped a little bit, until it reached the absolute bottom of $40 in late December. Realizing that it is in the oversold region (due to a recent lawsuit from Brazilian government), I recommended it as a contrarian buy for big profits in 2012. Since then, it returned almost 30%. However, it still trading way below its 52-week highs.
Compared to Ensco, Transocean still looks like a better deal. Ensco's yield of 2.5% is much lower than RIG's yield of 6.5%. Both companies have significant piles of cash, but Transocean is trading at half of Ensco's valuation based on the book value. Each RIG shares come with cash and equivalents of $10.27 per share, and that offers a great margin of safety for the dividend. HSBC has an overweight rating with a target price of $76. While that sounds like a pretty bullish target, it is attainable from my point of view.
Golar Limited
Golar is another stock BP Capital is bullish at. Mr. Pickens initiated a new purchase of 49,000 shares and invested 1.53% of his portfolio in the company. Golar is listed as a shipping company headquartered in Bermuda. It owns and operates several carriers that is capable of transporting liquid natural gas.
The stock has been an outperformer, returning 155% in one year. Its year-to-date return is also in the positive territory. Golar is pretty profitable, but I think the stock is a bit on the pricey side of the market. It is trading at 6 times the book value and almost 100 times the earnings. Golar's balance sheet also shows significant amount of debt to be paid in future.
While, I like the fact that Golar is in the business of natural gas transmission through a shipping fleet, I think there are cheaper stocks in the shipping business.
Dryships (NASDAQ:DRYS) is among one of them. Even after returning almost 87% in this year, it is still trading almost 30% below its 52-week high. Compared to Golar, Dryships is trading at very attractive ratios. It was able to create a cash flow of $400 million from sales of $960 million. At a market cap of $1.58 billion, Dryships is trading at 0.39 times the book value and only 3.2 times the cash flow. As fellow SA contributor, Alex Shadunsky suggests, Dryships is an attractive stock at $3. Surely, it looks a bit scary after almost doubling in such short period, but the current price is way below the stock's heyday valuation of above $100.
If you ask me which stock you would choose? One based in Bermuda? Or the other based in Greece? I would choose the Greek one, as everyone is watching their next move. Besides, almost all Greek stocks are way undervalued, although several of them operate on a global basis. I also recommend investor to consider other Greek shipping companies such as Navios Maritime (NYSE:NM), Navios Maritime Partners (NYSE:NMM), and Safe Bulkers (NYSE:SB) that offer nifty dividends, and are priced with low valuations.
EOG Resources
EOG Resources is the only stock T. Boone Pickens is bearish about. In the last quarter he sold out his holdings. Too bad for the BP Capital, the stock is up by 15.6% since January.
The Houston, Texas-headquartered EOG is in both oil and natural gas business. It explores for these products in North America, United Kingdom, as well as China. EOG Energy is also among the leading players in the Eagle Ford Shale Area in Texas.
While most energy companies are trading at a discount, EOG is a relatively expensive one. The stock is trading with a premium trailing P/E ratio of 29. However, I think this premium is quite justified, since analysts have pretty bullish growth expectations. Deutsche Bank has a buy rating with a target price of $125. If EOG can keep up with analysts' growth estimations, the stock might reach to new highs in this year.
Disclosure: I have no positions in any stocks mentioned, and no plans to initiate any positions within the next 72 hours.