Walgreen (WAG) has sold off quite substantially from $45 dollars a share in July to under $35 today. The focus of this article is to draw attention to the compelling value that WAG now offers to income and growth investors. This article will offer four points to consider.
For a quick primer on their business, WAG operates 8256 total stores comprising mainly of retail pharmacy locations. (store count). The business is viewed as recession proof as evidenced by consistent increases in revenue. Intuitively, this makes sense since demand for pharmaceuticals is inelastic. (Example is one is a diabetic you won't forgo your insulin just because times are tough).
The first reason I will cite is the stable and rising dividend paid by the company. WAG has more than doubled the dividend paid since 2007 from $0.345 per share to $0.8 per share in 2011. For 2012, at the current rate of $0.225 per share an income investor can expect $0.9 per share for a current yield of 2.57% (using $35 per share). The yield earned is significantly better than what is currently offered by money market rates and short term government bonds.
The second reason for consideration is the pending patent expiration of a significant amount of branded prescriptions. Pharmacy margins are significantly higher for generic medication dispensing. This should provide a nice tailwind and help margins improve. I anticipate at least a 1% margin improvement which will bolster the bottom line tremendously. Please see chart below for some examples of major drugs coming off patent.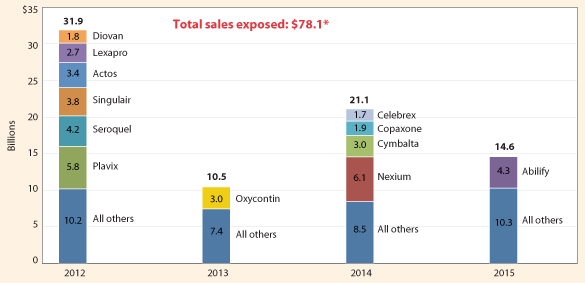 *Some of these totals differ from the sum of the columns because of rounding.
Source: IMS Health and T. Reinke
The third reason is valuation. WAG is trading at 13 times last year's earnings (using $2.64 a share which excludes WHI sale and $35 per share) which is less than a market multiple for a stable low beta stock. Management has actively shrunk share count via share buybacks the last two years which will help support the share price.
The fourth reason I will cite is the contract dispute with Express scripts (NASDAQ:ESRX). In late June of 2011 WAG warned on the third conference call they would no longer accept ESRX reimbursement rates (presentation). As evidenced by the chart below the stock price dropped to reflect the realities of losing the revenue provided by this contract. WAG management has refused to budge from their contract demands and the loss of revenue has been felt as evidenced by the 8.6 percent decrease in prescriptions filled. In my view management will eventually settle the dispute and will recoup most if not all the volume they have lost due to the dispute.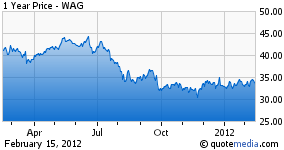 In summary three reasons stated (the dividend, valuation and coming patent expiration wave) make WAG a compelling buy. The ESRX dispute is fully factored into the stock price and in my opinion won't be a factor going forward. If management sees that it will have a detrimental impact on the business they can simply accept the contract and the script volume will return. The ongoing uncertainties arising from the contract dispute in my opinion is the sole reason for the lower share price. I have decided to take advantage of the sale at WAG and am long the shares. Thanks for reading and I look forward to your comments.
Disclosure: I am long WAG. I have no position in ESRX.