Solar stocks were off to the races again en masse, only to come down again. We will look at some individual companies in more detail a follow-up article, but note that many solar companies tend to move in lock-step as a result of the industry forces discussed below, with differences in movements largely the result of different short positions, with companies having larger short positions, like Trina Solar (NYSE:TSL) moving more dramatically.
The rally is reminiscent of a strong rally a month ago on surprising figures out of Germany, where a whopping 3GW of solar panels were installed in December, taking the yearly total to 7.5GW. This matters as Germany is still the world's largest market for solar installations.
The German installation boom is mostly the result of a feed-in tariff cut in January, so projects were rushed to take advantage of the old tariffs. This was always going to slow things significantly in January.
Indeed, after that hectic rally a month ago, rationality returned to the market when Germany announced it would accelerate tariffs and make these a monthly, rather than bi-annual feature in order to avoid the rush of installations just before tariff cuts. It remains to be seen how the new German regime is going to play out.
The second hectic rally in solar stocks the last couple of days isn't centered on Germany or Europe, but we'll look here first, as it is still the biggest market with some margin.
Europe Still Dominates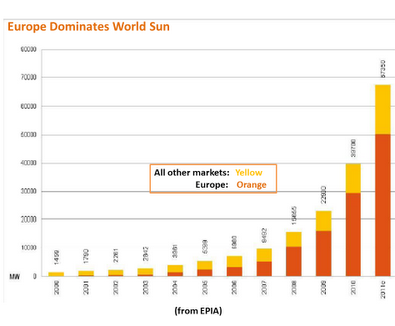 You see above that Europe counts for roughly three-quarters of the world PV market. Somewhat surprising was how Italy developed:
Italy became for the first time the top PV market with 9 GW of newly connected systems in 2011 (compared to 2.3 GW in 2010)…[A] decree allowing for systems installed by the end of 2010 but connected by mid-2011 to benefit from the more advantageous 2010 Feed-in Tariffs (FiT)… allowed 3.5 GW of installations to benefit…
France also developed strongly but this was mainly because of the 1.5GW of new systems connected, 90% were actually installed in 2010. The new policy framework sets out to limit new installations to 500MW a year.
Overall, the European market grew 18% in 2011 and is expected to grow 10% quarter over quarter in Q1 2012. The question is, is this going to last?
Well, it won't come as any surprise that Europe is in a spot of bother. This isn't likely to pass the solar sector by completely:
Spain halted subsidies for renewable energy projects to help curb its budget deficit and rein in power-system borrowings backed by the state that reached 24 billion euros ($31 billion) at the end of 2011…The government passed a decree today stopping subsidies for new wind, solar, co-generation or waste incineration plants.
Also, the inherent variability of alternative energy creates problems. Basically more back-up capacity has to be build to substitute for when the sun doesn't shine and/or the wind doesn't blow. But exactly as countries come to depend more on these variable forms of alternative energy, this becomes more of a problem as the financial returns for building that back-up capacity disappear.
But for the overall European market, Germany still matters by far the most, and there seems little reason to be overly optimistic with respect to the German market.
Two of the key markets in Europe, Germany and Italy, face a marked decline in 2012, with a reduction of 37% in their combined market size.
If true, that doesn't bode well for Europe. However, there is other good news.
Other Good News
The American market grew 60% last year. There are the record low inventory levels, and there was a rumor that tier 1 Chinese manufacturers predicted module shortages by the end of this quarter. The latter might just be that, a rumor, but there is more reason for optimism about pricing. The 40% decline in module pricing last year might finally have come to an end.
Disappointing global demand for solar energy (in relation to capacity build-out) has created a glut in solar panels and production capacity, and steeply falling prices. As we predicted earlier, this would be the moment for China to start embarking on its own domestic solar market. Not only as an alternative energy program, but also as an industrial policy.
Indeed, the whole Asian market grew a whopping 165% last year, with the Chinese market taking the biggest slice, with 2.9GW in new installations. But with 6GW of installations, it is still smaller than the German market alone, and it is expected to grow by a much more moderate 40% this year.
However, Wednesday's and Thursday's optimism (with shares in Trina Solar, TSL, up by 30% at the moment of writing) is based on a re-assessment of growth prospects in China, particularly from Polavarapu from Auriga.
China plans to develop three gigawatts of solar capacity this year, double its existing capacity, the National Energy Administration said on its website on Jan. 11. Installations in China may reach four gigawatts this year, Zhenrong Shi, Suntech's chief executive officer, said in a Bloomberg TV interview in Davos on Jan. 25. The addition of three to four gigawatts in installations annually is not enough for China, according to Auriga's Polavarapu. Installations may reach as much as seven gigawatts this year, and the annual level should be 10 gigawatts in the next five years should the government provide support to the industry, he said.
Will this time be real? We have heard these stories about a Chinese take-off of the solar market for a number of years and we always argued that this will not happen to the degree that the bulls expect unless solar can compete with the grid and/or demand falls away elsewhere and China embarks on solar energy to save their own solar companies.
Since there is a bit of both in present conditions, we take these bullish notes on the Chinese solar market a little more serious this time. But prices of solar stocks are shooting through the roof, meanwhile, so much of this optimism is being priced in as we speak.
Investors are likely to get starry eyed by all the market growth numbers. One has to keep in mind that the industry basically produces a commodity, has low barriers to entry, fierce price competition, bouts of overproduction and overcapacity, and threats of disruption from innovation.
Solar stocks are unlikely to enjoy either high margins, or high valuations as a consequence. Most of these issues were on full display in 2011. It's possible 2012 will be better, but for solar stocks to return anywhere near their former stock prices, there is a very long way to go. We think that after this bout of optimism has settled one has to assess the upcoming Q4 figures before taking positions as a lot of optimism is already being priced in.
Some Company Figures
We'll have a brief look at some metrics of Trina Solar, Suntech (NYSE:STP), LDK Solar (NYSE:LDK), JinkoSolar (NYSE:JKS), and Yingli Green Energy (NYSE:YGE).
While some companies are more efficient than others, one can see the rather devastating effects of ASP declines:
Volume increases can't compensate
Leading to margin reductions
And inventory write-downs
Shipments
| | | | |
| --- | --- | --- | --- |
| Company | Shipments Q3 2011 | Shipments Q2 2011 | Shipments Q3 2010 |
| STP | +18%/+36% | -18% | -36% |
| TSL | 370MW | +6.6% | -27.5% |
| LDK* | 192.1MW | | |
| JKS | 257.7MW | 254.1MW | 134MW |
| YGE | +21.9% | | |
*LDK 292.5MW of wafers, 192.1MW of modules, 296MW of cells.
Note: some companies provided partial shipments numbers and increases or decreases over previous quarters in percentages. For instance, the -27.5% in Q3 2010 for TSL shipments means that in Q3 2011 shipments were 27.5% higher compared to Q3 2010.

Revenue
| | | | |
| --- | --- | --- | --- |
| Company | Revenue Q3 2011 | Revenue Q2 2011 | Revenue Q3 2010 |
| STP | $809.8M | $830.7M | $743.7M |
| TSL | $481.9M | +16.8% | +5.2% |
| LDK | $471.9M | $499.4M | $675.6M |
| JKS | $279M | +21.4% | -23.8% |
| YGE | RMB4258.6M | RMB4398.8 | RMB3284.2 |
Gross Margin
| | | | |
| --- | --- | --- | --- |
| Company | Gross Margin Q3 2011 | Gross Margin Q2 2011 | Gross Margin Q3 2010 |
| STP | 13.3% | 4.1% | 17.9% |
| TSL* | 14.8%/18.3% | 20.4% | 37.6% |
| LDK | -3.6% | 2.2% | 22.2% |
| JKS | 18.4%** | 30.5% | 38.6% |
| YGE* | 10.8%/19% | 22.1% | 33.3% |
Gross margins include write-downs; some companies provided figures excluding these:
*TSL margin Q3 2011 14.8% including the write-down of inventory, 18.3% without it.
**YGE margin Q3 2011 10.8% including write-down, 19% excluding inventory write-down.
Inventory Write-Downs
| | | | |
| --- | --- | --- | --- |
| Company | Q3 2011 | Q2 2011 | Q3 2010 |
| STP | $37.7M | $91.1M | |
| TSL | $19.1M | | |
| LDK | $47.3M | | |
| JKS | $26.8M | | |
| YGE | $40.6M | | |
*STP Q2 2011 $91.1M write-off of long-term supply contract impacting the gross margin. STP Q3 2011 $20.2M inventory provision and $17.5M German court ruling provision included.
**JKS Q3 2011 included a non-cash inventory provision of RMB170.9 million (US$26.8 million), compared with an inventory provision of RMB26.8 million in the second quarter of 2011 and a utilization of inventory provision of RMB0.9 million in the third quarter of 2010.
Outlook
In this near commodity industry, the key figure is the ASP, the average selling price. If that doesn't stabilize, many companies are doomed, even some of the first tier ones discussed here. Not only will that lead to further margin reductions (some already operate on negative gross margins, quite extraordinary), but further inventory write-downs as well.
However, the following shake-out will reduce capacity (both through reduced investment plans as well as companies going bankrupt), bring it more in line with demand. This will stabilize ASP, and might even bump it up a bit. That would also sharply reduce or even eliminate those inventory write-downs, leading to much better financial performance from companies.
There are some signs of a stabilizing ASP, but it's early days yet. Too many people are focused on increased demand, while that is quite helpful as it reduces the overcapacity and helps stabilize the price, the outlook is still quite murky. The violent swings between optimism and pessimism (Tuesday) testify to that. Better get used to it.
Disclosure: I have no positions in any stocks mentioned, and no plans to initiate any positions within the next 72 hours.