Here I will be analyzing two educational companies. One based in North America and the other in China. I will compare the companies' balance sheets and income statements.
Corinthian Colleges (NASDAQ:COCO) is one of the largest post-secondary education companies in North America. The company's program areas include health care, business, criminal justice, transportation technology and maintenance, construction trades and information technology.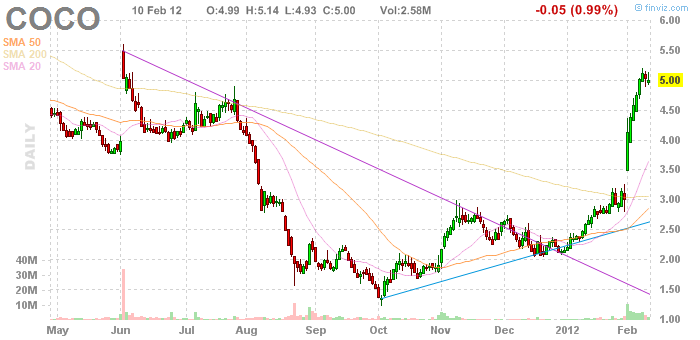 On February 1, 2012 Corinthian Colleges reported financial results for the second quarter, ended December 31, 2011. The results for the quarter exceeded previous guidance ranges for earnings per share and were within previous guidance ranges for revenue and new student enrollment.
"As anticipated, the rate of decline in new student enrollment growth improved significantly in the quarter," Massimino said. "The improvement is the result of several factors, including a less challenging comparable from the second quarter last year, gradual stabilization in ground school new enrollments and continued strong growth at Everest University Online. In the last half of fiscal 2012, we expect new enrollments to be slightly positive.

To help offset recent declines in student population, over the past 18 months we have reduced annualized operating expenses by approximately $150 million," Massimino said. "We also continue to pursue several growth initiatives, such as introducing new program offerings, opening new campuses, and growing our exclusively online enrollments."
Comparing the second quarter of fiscal 2012 with the same quarter of the prior year:
Net revenues were $415.5 million versus $481.7 million, a decrease of 13.7%.
The total student population at December 31, 2011 was 94,860 versus 105,210 at December 31, 2010, a decrease of 9.8%.
New student enrollments totaled 25,951 versus 26,758, a decrease of 3.0%.
Diluted earnings per share were $0.02 per share versus a diluted loss per share of $(1.94). Excluding impairment and severance charges of $0.02 per share in Q2 12 and $2.17 per share in Q2 11, diluted earnings per share were $0.04 in Q2 12 versus $0.23 in Q2 11.
Cash and cash equivalents totaled $38.4 million at December 31, 2011, compared with $107.4 million at June 30, 2011. The decrease results from the repayment of debt, partially offset by cash flows from operations.
Total debt and capital leases were $135.3 million at December 31, 2011, compared with $331.8 million at June 30, 2011.
Cash flow from operations was $137.2 million in the first six months of fiscal 2012, versus $4.0 million in the same period last year. The increase in cash flow is primarily related to the timing of cash payments and receipts related to working capital.
Capital expenditures were $20.1 million for the first six months of fiscal 2012, versus $65.8 million in the same period last year. The decrease is primarily the result of opening fewer new campuses.
Guidance
The company expects revenues of $430 - $440 million for Q3 2012 and EPS of $0.15-0.17.
Noah Education Holdings (NYSE:NED) is a leading provider of education services in China. The company's brands include Wentai Education, Little New Star and Yuanbo Education. Wentai Education operates and manages high-end kindergartens, primary and secondary schools; Little New Star provides English language training for children aged 3-12 in its directly owned and franchised training centers; Yuanbo Education operates premium kindergartens under the Qingan brand.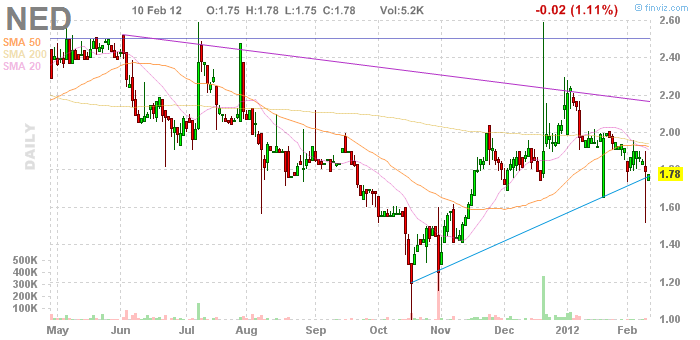 On November 18, 2011, the company announced first-quarter fiscal 2012 results.
Net revenue for the first quarter increased 73.8% to $5.4 million from the first quarter of fiscal 2011, driven mainly by the strong growth in existing Wentai and Little New Star (LNS) business and two months contribution from the newly acquired Yuanbo. Net income for the first quarter was $0.3 million.
As of September 30, 2011, the company had $2.15 cash per share. Real estate value is $0.51 per share. Cash plus real estate value per share is $2.66. For the three months ended September 30, 2011, the company generated $8.2 million in cash from operations.
Financial Outlook for Full Fiscal 2012 and for the Second Quarter of Fiscal 2012
Based on current estimates and market conditions, for the first quarter of fiscal 2012, Noah expects to generate net revenue in the range of $5.5 million to $5.8 million. For the full fiscal 2012, the company continues to expect to generate revenue between $22.7 million and $24.3 million representing a 55% to 66% year-over-year growth. The company is expected to be profitable in fiscal year 2012 following completion of ELP business sale in June 2011.
Noah is currently trading below net cash and is profitable. Corinthian Colleges is currently trading at more than 10 times its cash position and has $135.3 million in debt but is profitable. Corinthian Colleges has already reported results for the quarter ended December 31, 2011, but Noah is yet to report its. I recommend buying Noah at current prices and Corinthian Colleges at around $3 if we do get a pullback.
Disclosure: I am long NED.