With Apple (NASDAQ:AAPL) approaching $500/share and a $500 billion market cap, it is time to look elsewhere for better investment opportunities. As we will show, Apple is so massively overvalued on a relative basis that the same $460 billion that make up its market cap could instead be used to buy a handful of the biggest companies in the world, a broad basket of industry-leading companies across all sectors of the economy. The same amount of money could even "buy" the 10 richest people in America - including Bill Gates, Warren Buffett, and Mark Zuckerberg.
If you want to see why I think Apple is an amazing company but could see some tough times ahead, keep reading. If you'd rather just see some more telling examples of what you could buy instead of Apple, skip to "What Apple's Market Cap Could Buy You."
Why Apple is Amazing
Apple is now the largest company in the world and arguably the biggest success story of the past 10+ years. It has completely dominated nearly every market it entered - from music players (iPod), to smart phones (iPhone), to tablets (iPad). It consistently beats earnings estimates, even shattering them; it continues to ramp up its customer base and rapidly gains an army of devout fans and believers. It is expanding into China and emerging countries and markets all over the world and has approximately $100 billion in cash alone. Apple could potentially increase its dominance through its new iCloud, Apple TV, and other initiatives that haven't been made public yet.
Apple's stock is up 15,728 percent from its $3.16 low on July 1, 1997. Apple is undoubtedly the most dominant company around, and it seems as if nothing will stop it from conquering everything in its path. Many investors continue to believe in the Apple story, and who can blame them? Apple has shown some of the most amazing growth by any company in history, it never ceases to impress and introduce top-notch innovative products, and expectations about its future are sky-high.
Investors even have the most promising fundamental reasons to support their decision to buy Apple stock: Its products dominate the market and continue to show tremendous growth. Its profits continue to grow at remarkable rates. Plenty of consumers are still available to be "converted" to Apple. Millions of investors and institutions are strong believers in the company, and there seems to be much more growth ahead.
Just to understand how outstanding Apple's performance has been, and how appealing its valuations seem to be: Apple has $128 billion in revenues, $44 billion in gross profits, and $100 billion in cash; its quarterly revenue growth is over 73 percent, and its quarterly earnings growth is over 117 percent. Perhaps most shocking - even with the tremendous run-up in its stock, its price-to-earnings (P/E) ratio is still extremely appealing, at 14 trailing and 10.5 forward. Such massive growth selling at such low multiples is nearly unheard of.
Why Apple Could Fall
But Apple faces some major hurdles that may derail its success and could even send its stock crashing as investors have to reconsider the company's future prospects and revise their forecasts to better reflect future expectations.
Strong Overhead Risks and Potential Global Recession. Though economies have improved from the 2009 lows, and stocks continue to rise in the face of very threatening news, the risks of a renewed recession are still very high. With Europe in the midst of a major banking crisis, the Middle East undergoing massive political upheaval, the threat of war consistently a looming threat, and emerging markets undergoing economic slowdowns, a global recession could easily be triggered by one substantial shock (See: 2012: On The Verge Of A Global Recession?).
If a recession ensues, Apple could fall sharply together with the broader stock market. Since approximately 70-90% of stocks trend together with the overall direction of the market, Apple will most likely be negatively affected by a drop in stocks. Not only is Apple a major barometer of the future direction of the overall market (since it holds a nearly 4 percent weight in the S&P 500 and over 12 percent weight in the Nasdaq 100), but its fall could even trigger or exacerbate a recession as it drags down the broader stock market.
Even more, a renewed recession would take a toll on consumers, who would then decrease their spending. A decrease in spending would almost certainly hurt Apple, as consumers buy less of Apple's products. Moreover, Apple will not only fall due to lower demand for its products, but will also take a major hit as the massive expectations by investors are not met. Since Apple has carried the stock market on the way up, it will likely follow it or even drag it on the way down.
Renewed Technology Bubble? With extreme euphoria over the future success of the hot new IPOs of 2010-2012, such as Groupon (NASDAQ:GRPN), LinkedIn (NYSE:LNKD), Zynga (NASDAQ:ZNGA), and Facebook (NASDAQ:FB), we could be in the midst of another technology bubble. A renewed technology bubble, especially when the valuations of these companies are completely unsupported by strong financials and revenues, could result in a major drop in stocks. Even large and strong established companies like Apple and Google (NASDAQ:GOOG) could take a significant hit to their stock prices if the overheated technology space enters a slowdown,
Massive Expectations. Apple has earned its success and still shows little or no weakness, as it is expected to continue to outperform and even dominate. However, after years of rapid growth and constant earnings beats, Apple is setting up for a major disappointment. Apple has consistently outdone itself, but it is approaching peak enthusiasm and a major turning point as it fails to meet expectations. The bar has been set so high after the recent earnings report, that any slip-up or failure to exceed expectations will send Apple's stock down sharply. Investors have been right so far, for years, but we are likely nearing maximum saturation levels.
Some proof: out of 54 analysts covering Apple, 50 have a "Buy" rating, 3 have a "Hold" rating, and only 1 has a "Sell" rating (Yahoo Finance). Moreover, analyst price targets are almost euphoric, expecting Apple to hit or even exceed $700/share. It seems as if almost everyone is bullish on Apple and expects it to continue its outstanding run. However, with buyers potentially running out and with expectations higher than ever, Apple is more likely to disappoint than to outdo itself.
The Loss of Steve Jobs. Apple owes much, if not most, of its success to the visionary leadership of Steve Jobs. Though Jobs left a road map for Apple to follow in his absence, Apple will still likely struggle without him. Even if Jobs was still around, the continued dominance by Apple would still be an extraordinary task; but the loss of Steve Jobs could be a big hit to Apple's leadership and continued innovation.
Growing Competition. Apple's massive profits will not be easy to maintain. As Apple continues to outperform and see success across multiple product lines, the competition will increase. When other companies see that money is being made in a certain niche of the market, they attempt to enter it and compete for some of the market share. Apple has been very dominant until now, but the competition is growing. It may have complete control of music players with its iPod, but other companies are gaining momentum against the iPad and iPhone.
Amazon's (NASDAQ:AMZN) Kindle Fire has done very well, and other companies have introduced or are gearing up to introduce competing tablets. Moreover, iPhone sales were exceptional to say the least, but Google's Android still has nearly 50 percent market share, and could pose a big threat to Apple if it is able to gain more traction. Apple has been able to essentially control service providers like Sprint (NYSE:S), Verizon (NYSE:VZ), and AT&T (NYSE:T), by pushing some of the iPhone costs onto them; but the time may be approaching when Apple needs to lower prices to remain competitive. Regardless, Apple has monopoly-like powers but is facing growing threats of competition, which could lead to a loss of market share or a failure to meet sales targets.
Steep and Unsustainable Rise in Stock Price. Apple's meteoric rise in stock price since its July 1997 low has been supported by very strong fundamental catalysts, such as incredible growth and earnings. However, the stock has risen at such a tremendously steep angle since the 2009 lows that the parabolic and almost-vertical rise is not sustainable. After such a massive rise in price, Apple looks due for a sharp pullback.
Just look at how sharply Apple has risen: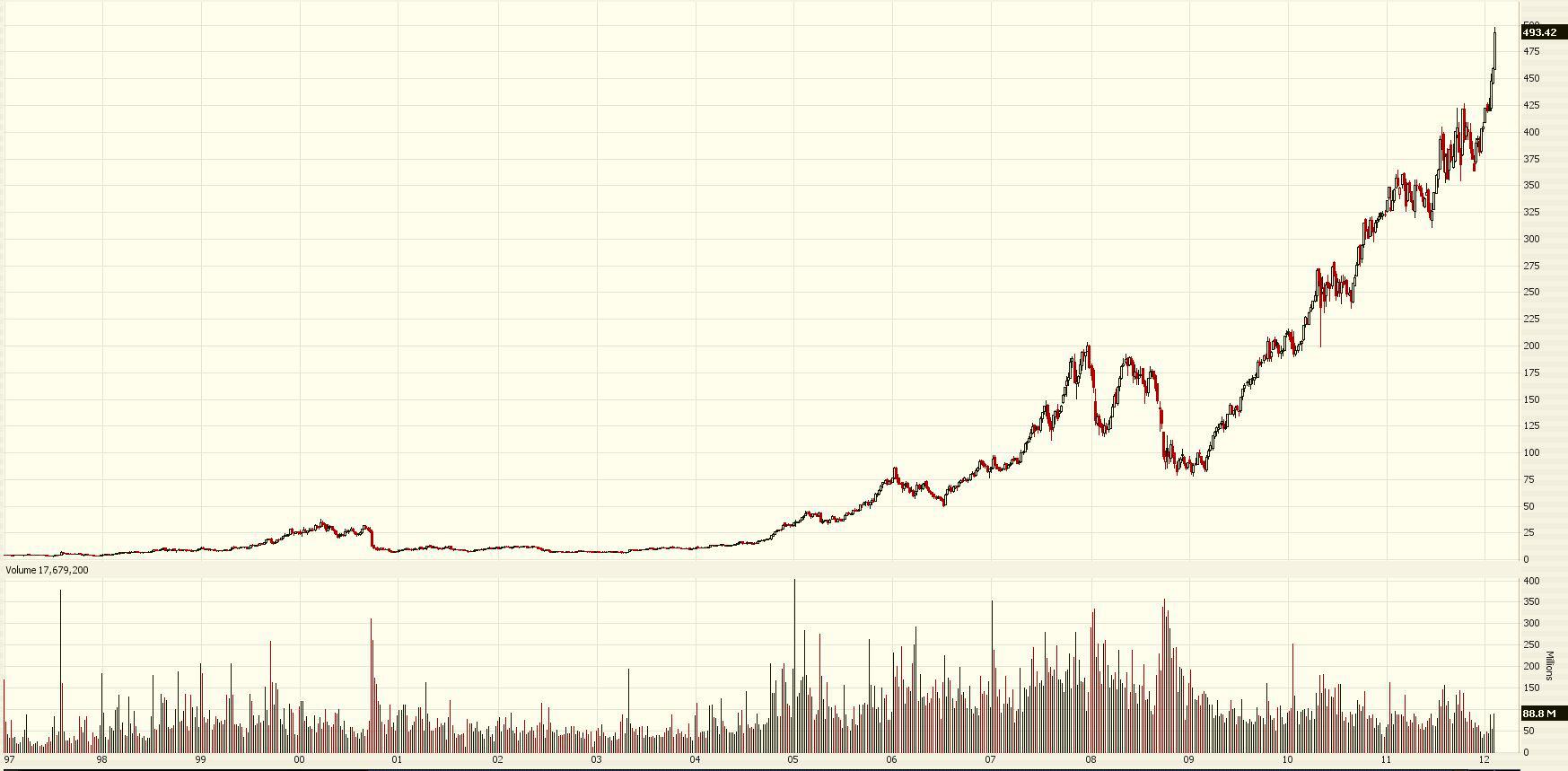 Furthermore, when viewed on a logarithmic scale, Apple's rise has formed what appears to be a diagonal: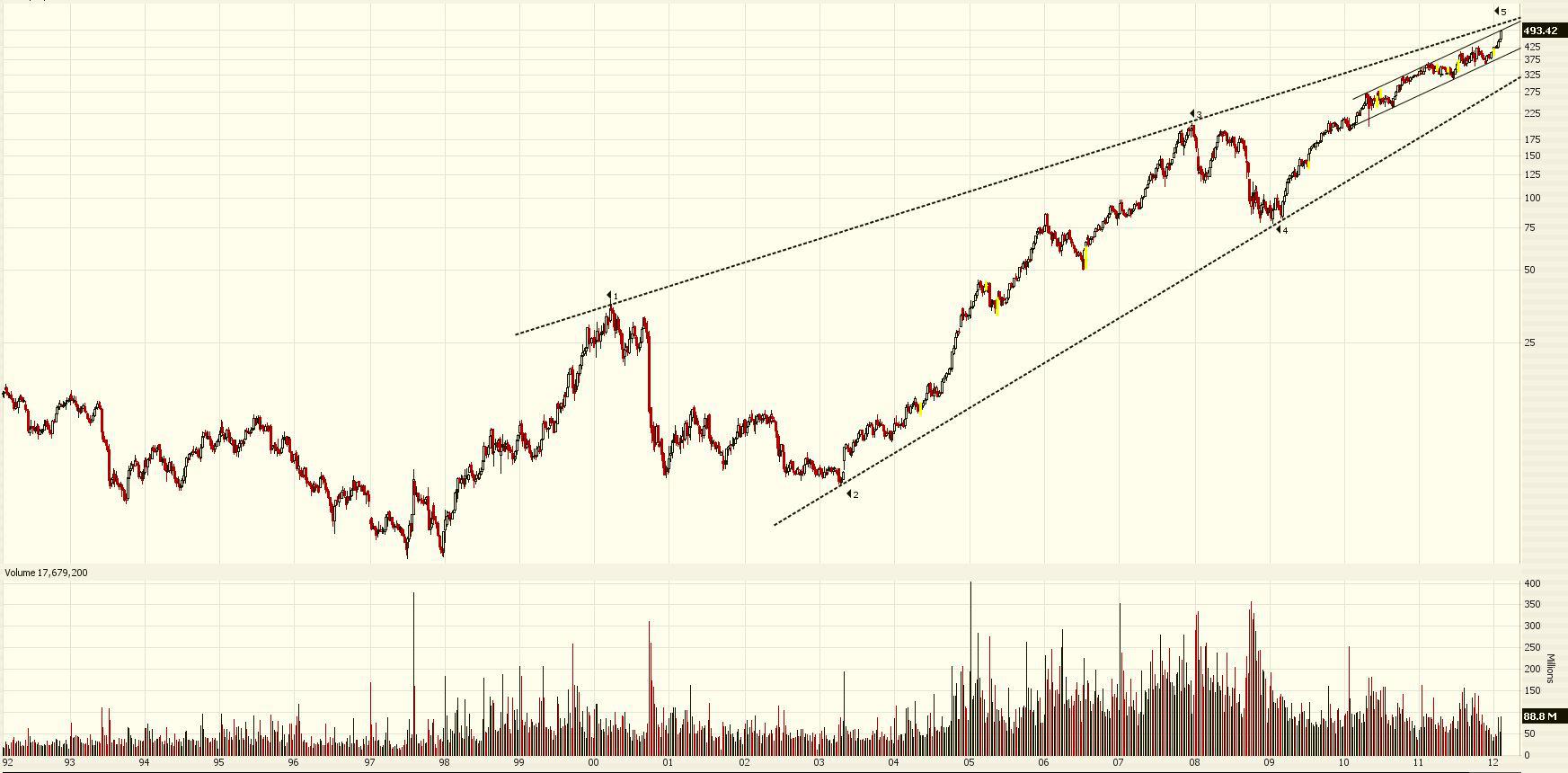 Not only are we approaching the end of the rise, but the 5-step count of Apple's rise bodes very poorly for the future of Apple's stock. Apple now has two main options: It could either fail here at $500 and begin its drop through the bottom trend line of the diagonal, or it could shoot up through the top trend line to mark a final "blow-off top" before falling sharply back down and through the bottom trend line. Apple could still shoot up for a brief period here, but the final outcome is the same - it is ultimately due for a sharp drop as it corrects the massive 15,000+ percent rise.
What Apple's Market Cap Could Buy You
Why is Apple so tremendously overvalued if looked at on a relative market-cap basis? How does Apple's market cap compare to other companies? What could you buy instead of Apple?
Apple's outstanding performance, consistent growth, and appealing valuations make it a great fundamental investment choice. And Apple investors have great reason to buy Apple stock because Apple's earnings seem to justify the investment. However, with Apple's market cap at over $460 billion, it looks absurdly overvalued when we look at what $460 billion could buy.
In order to compare Apple's value to other companies and the rest of the market, we can compare market caps and see what Apple is worth in terms of other companies. As you will see below, the $460 billion market cap of Apple is equal to a huge portfolio of the world's top companies. If investors had the ability to buy one Apple or a broad basket of top companies, they would be much better off diversifying their investment across a wide range of companies in multiple sectors. A broad basket of companies will likely not only outperform Apple over the next 2-10 years, but would also greatly decrease the risk associated with investing in one company, presents the ability to dominate or control a number of industries, offers plenty of cash to match Apple's cash pile, and even offers dividends (something that Apple doesn't yet have).
I first got the idea when I compared Apple to Google. Apple and Google were equal in size until 2009 when Apple took off. Apple is now twice as big as Google! I therefore asked the question: Would You Rather Own 1 Apple Or 2 Googles?
But the comparison gets even more absurd. On February 9, New York Times' David Leonhardt pointed out that "Apple's total market value is now higher than that of Google, Goldman Sachs (NYSE:GS), GM (NYSE:GM), Ford (NYSE:F), Starbucks (NASDAQ:SBUX) and Boeing (NYSE:BA) combined."
Ask yourself this question: If you had $460 billion, would you rather own 1 Apple and take a huge risk that something goes wrong and the company struggles or its stock fails to perform, or would you rather own Google, Goldman Sachs, General Motors, Ford, Starbucks, and Boeing?
It seems completely absurd to think that instead of 1 Apple you could own Google (arguably the #2 or #3 technology company), Goldman Sachs (the #1 financial powerhouse), GM and Ford (the top 2 automakers in the US), Starbucks (the #1 premium coffee chain), and Boeing (one of the largest companies in the US, the #1 aerospace and defense company, and one of the 30 companies in the Dow Jones industrial average). Instead of owning 1 Apple, you could dominate 5 sectors of the economy, diversify your investment, and leave much more room for growth in case Apple stumbles. It really just doesn't make sense to buy Apple.
Apple Versus Alternatives
In order to truly present how enormous and potentially absurd Apple's market cap is, here are some other combinations of what 1 Apple is worth (numbers in billions).
Combination #1
For one Apple, you could:
Control the Gaming Industry (Entertainment)
With the first $41.65 billion, you could control the gaming industry by buying Activision (NASDAQ:ATVI), EA Sports (NASDAQ:EA), Nintendo (OTCPK:NTDOY), and Sony (NYSE:SNE). That would give you access to the top video games, like Warcraft and Call of Duty, top sports games through EA Sports, and top gaming systems makers in Nintendo's Wii and Sony's Playstation. Sony also sells televisions, video cameras, digital cameras, Blu-ray and DVD players, home theatres and audio systems, portable audio and car audio products, recording media, and other electronics. The combination of these four companies would be a powerhouse, especially considering they have decent P/E ratios and excellent Price/Sales ratios, and that ATVI and SNE pay dividends (1.3% / 1.5%).
Dominate US Auto Manufacturing (Cyclical / Industrial)
$87 billion would buy you both Ford and General Motors, a dominant combination of auto manufacturers. Both companies have very attractive PE ratios at 7.46 and 5.55, respectively. Though these companies are cyclical, and could take a hit in an economic slowdown, the ability to own both top companies for a fifth of Apple is shocking.
Fight Obesity (Biotechnology)
As a wild card, you could own three companies at the forefront of developing a weight-loss drug, for $1.5 billion - Arena Pharmaceuticals (NASDAQ:ARNA), Orexigen (NASDAQ:OREX), and Vivus (NASDAQ:VVUS). All three companies have been struggling to get their drugs approved by the FDA (since no weight-loss drug has ever been approved yet); but if one of them succeeds, you can bet that $1.5 billion will be worth a lot more.
Own a Majority of Public US Homebuilders (Housing)
With a potential housing recovery underway, owning homebuilders could really reap some great rewards. For under $12 billion, you could buy a portfolio of four companies that make up a huge chunk of US homebuilders - Hovnanian (NYSE:HOV), Lennar (NYSE:LEN), Pulte Homes (NYSE:PHM), and Toll Brothers (NYSE:TOL). Being able to dominate the homebuilding sector, and do it near a bottom in housing prices, is a huge opportunity - especially when done for less than 3 percent of Apple's value.
Dominate Online Retail Brokers (Financial Services)
For under $13 billion, you could then buy top online retail brokers in TD Ameritrade (NASDAQ:AMTD), E-Trade (NASDAQ:ETFC), and Interactive Brokers (IBRK). This not only gives you great exposure to the financial services sector, but also gives you room for a potential buyout or growth story in E-Trade and Interactive Brokers. Plus, AMTD and IBKR pay dividends: 1.4% and 2.6%.
Rule the World in Sneakers and Sports Apparel (Retail / Sports)
For about $52.5 billion, you could buy both Nike (NYSE:NKE) and Under Armour (NYSE:UA) - and rule the sneaker and sports apparel industry. Nike is the most well-known sports company, known globally for its clothing, sneakers, and accessories. It even sponsors Michael Jordan, Tiger Woods, top football players, and national sports teams from around the world.
Have Exposure to Coal and Solar (Energy)
For a little over $4 billion, you could then buy two good coal companies in Arch Coal (ACI) and Patriot Coal (PCX), and even get some exposure to solar energy through JA Solar (NASDAQ:JASO). Arch Coal pays a 2.9% dividend.
Still Afford Microsoft! (Technology)
All the above companies already in your pocket, and you could even still afford one of the biggest companies in the world - Microsoft! It not only has a very attractive valuation at 10-11 PE, but it has tremendous potential for growth as it attempts a comeback after being hated by investors for years. It also has exposure to a number of different market segments - including Windows, servers, Bing search, Microsoft Office, Xbox, and Windows Phone, among others.
Combination #2
For one Apple, you could:
Have a Major Foothold in Phones and Communication (Mobile/Technology)


Apple may dominate the smart phone industry and have significant leverage over the service providers, but for $140 billion you could buy two of the top three service providers in Sprint and Verizon while also betting on two recovery plays in Nokia (NYSE:NOK) and Research in Motion (RIMM). RIMM has a tiny PE ratio of 3.65, and Nokia and Verizon pay great dividends of 3.5% and 5.3% respectively.
· Own a Huge Player in Construction (Cyclical / Industrial)


For $72 billion, you could buy Caterpillar (NYSE:CAT) - a top play on industrials and construction. If you're a believer in continued economic growth, especially in China, CAT can gain big. Caterpillar is also one of the thirty companies in the Dow Jones Industrial Average, and pays a 1.6% dividend.
Dominate Payments and Credit Cards (Financial Services)


For less than a third of Apple's value, you could buy both MasterCard (NYSE:MA) and Visa (NYSE:V), and almost completely dominate the payments and credit card business. What do most people use to buy their Apple products? Visa or MasterCard.
Control Coffee and Donuts (Food / Restaurants)


$40 billion would then buy you the top two players in coffee, Dunkin Donuts (NASDAQ:DNKN) and Starbucks. This would not only give you nearly 10,000 Dunkin Donuts restaurants and over 6,400 Baskin Robbins, but also approximately 17,000 Starbucks stores across the globe.
· Own a Diverse Mix of Top Mining Companies (Commodities)


For less than 13 percent of Apple, you could buy a portfolio of top mining companies covering a wide range of resources. You get the top aluminum company in Alcoa (NYSE:AA), the top copper company in Freeport McMoRan (NYSE:FCX), a good steel and iron company in US Steel (NYSE:X), and exposure to rare-earth minerals through Rare Earth Elements (NYSEMKT:REE). These companies (excluding REE) offer attractive valuations in terms of PE and P/S, and even pay dividends.
· Have Exposure to Shipping and Airlines (Transports)



Finally, for less than $12 billion, you could get decent exposure to shipping and airlines by buying Dryships (NASDAQ:DRYS), Excel Maritime (NYSE:EXM), JetBlue (NASDAQ:JBLU), and Southwest Airlines (NYSE:LUV).
Combination #3
For one Apple, you could:
Control Aerospace and Defense (Cyclical / Industrial)


With the first $84 billion, you could control the aerospace and defense industry by buying Boeing and Lockheed Martin (NYSE:LMT). Boeing is one of the thirty companies in the Dow Jones industrial average, and both companies pay a dividend (BA: 2.3%; LMT: 4.6%).
Dominate Investment Banking and Stock Exchanges (Financial Services)

For a little over $66 billion you could then buy the top investment bank and financial firm in Goldman Sachs and NYSE Euronext (NYSE). Can you imagine that for 14 percent of Apple, you can get Goldman Sachs and the New York Stock Exchange (which also owns NYSE Amex and exchanges in Paris, Amsterdam, Brussels, and Lisbon)? Both companies have attractive P/E ratios and even pay a dividend. A sustained economic recovery will surely raise the market caps of both of these companies, probably at a greater rate than that of Apple.
· Dominate Consumer Goods and Staples (Non-Cyclicals / Food)

For under $200 billion, you can buy some of the biggest consumer staples names. You get Heinz (HNZ), Hershey (NYSE:HSY), Kraft (KFT), and Pepsi (NYSE:PEP). All of the companies sport very attractive portfolios of brands and products that consumers likely can't go without (that's why they're called "staples"). Pepsi alone owns brands like Lay's, Doritos, Tostitos, Cheetos, Fritos, Quaker, SunChips, Aunt Jemima, Cap'n Crunch, Life cereal, Rice-A-Roni, Near East side dishes, Ruffles, Moutain Dew, Gatorade, 7UP, Tropicana, Sierra Mist, and third party brands like Dr. Pepper, Crush, Rock Star, and Muscle Milk. This portfolio of companies would protect value much better than Apple in case of an economic downturn. And all of the companies pay dividends, averaging around 3%.
Own Big Department Stores (Retail)


For $20 billion, you get some exposure to retail and big department stores in Macy's (NYSE:M) and Sears Holdings (NASDAQ:SHLD). Both companies may be struggling in poor economic times, but for about 4 percent of Apple it's a good way to diversify.
Big Exposure to Oil and Natural Gas (Energy)

Finally, to round out this top-notch portfolio of cyclical aerospace/defense companies, financials, consumer staples, and retail, you get a major foothold in oil and natural gas for $104 billion by buying Anadarko Petroleum (NYSE:APC), Halliburton (NYSE:HAL), Weatherford (NYSE:WFT), and Chesapeake Energy (NYSE:CHK). If the economy continues to improve, energy prices will go up and these companies will benefit. Even if the economy falls, energy prices may still remain elevated while companies like Apple suffer due to a weak consumer.
Combination #4
For one Apple, you could:
Monopolize Books and Own Dominant Online Retail (Technology / Retail)


With the first $85 billion, you can get major exposure to technology and online retail by buying Amazon. Amazon gives you a diversified mix of online retail, books, shoes (Zappos), the Kindle and Kindle Fire, and a variety of other initiatives. Then, for pennies relative to Apple's value, you also get Barnes and Noble (NYSE:BKS) to bet on a recovery. Either way, this Amazon and Barnes and Noble combination gives you major control over books.
Dominate TV, Sports, Publishing (Entertainment / Media)


This combination may be a steal. For $128 billion, you could dominate TV, sports, and publishing by buying Disney (NYSE:DIS), Dish Network (NASDAQ:DISH), Madison Square Garden (NASDAQ:MSG), Time Warner (NYSE:TWX), and The NY Times (NYSE:NYT). Apple may be challenging these companies head-on, but if these companies were able to team up against Apple, it could be in deep trouble. Disney is a major player in movies and shows, owns theme parks and stores, parks and resorts, ABC TV, ESPN, a publishing division, and even a cruise line. Dish Network and Time Warner add a one-two punch in satellite and cable TV. Madison Square Garden owns MSG Networks, Fuse Networks, the Chicago Theatre, and leases Radio City Music Hall and Beacon Theatre (one Apple would actually buy nearly 200 MSGs). Time Warner owns a huge and very attractive portfolio including HBO, Cinemax, films, cable, television shows, TNT, TBS, CNN, Warner Bros., New Line Cinema, People, Sports Illustrated, and Time. Finally, NY Times is arguably the world's #1 newspaper and owns International Herald Tribune, Boston Globe, 14 daily newspapers in Alabama, California, Florida, Louisiana, North and South Carolina, About.com, and Caloriecount.com.
Own the #1 Fast Food Chain (Food / Restaurants)


For $102 billion you get one of the most recognized brand names in history - McDonald's (NYSE:MCD). The stock may need a breather here, but the company would still offer some good diversification in this portfolio. It also pays a 2.6% dividend.
Own a Top Player in Agriculture (Agriculture/Commodities)


For $38 billion you can buy Potash (NYSE:POT), a top player in agriculture and fertilizers. Not only did the company receive a buyout offer a little while back, which could boost its value in the future; but continued global growth would certainly boost the company's value as more fertilizer and agricultural products are demanded.
Have a Strong Foothold in Jewelry and Diamonds


For less than 2 percent of Apple, you can gain a strong foothold in jewelry and diamonds by buying Tiffany (NYSE:TIF) and Zales (NYSE:ZLC). With Tiffany's you get over 200 stores, and with Zales you get 650 Zales Jewelers, 168 Gordon's Jewelers, and nearly 700 mall-based kiosks. Regardless, these two companies offer growth from increased global demand for diamonds and fine jewelry.
Diversify With Technology, Toys, Housing, Drug Stores, and Language


Finally, with the remaining $92 billion you can buy a "grab-bag" portfolio of companies which offer some great diversification and good potential growth among various industries. You get Adobe (NASDAQ:ADBE), Advanced Micro Devices (NYSE:AMD), Build a Bear Workshop (NYSE:BBW), Home Depot (NYSE:HD), Rite Aid (NYSE:RAD), and Rosetta Stone (NYSE:RST).
Apple Is Worth More Than The Top 10 Richest People In America Combined
A second approach is to compare Apple's size in terms of purchasing power. When we compare Apple's market cap to the total net worth of America's top-10 richest people, Apple is bigger than all ten - combined! And not only is it bigger than all 10 richest people combined, it is actually more than 50 percent bigger.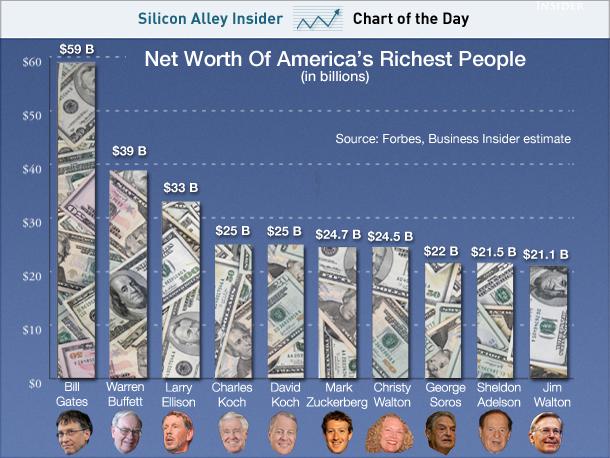 With Apple at a $460 billion market cap and the top 10 richest people in America adding up to $295 billion, Apple is approximately 1.56 times as big as their total net worth. It's crazy to think that even if Bill Gates, Warren Buffett of Berkshire Hathaway (NYSE:BRK.A), Larry Ellison or Oracle (NASDAQ:ORCL), Charles and David Koch, Mark Zuckerberg of Facebook, George Soros, Sheldon Adelson of Las Vegas Sands (NYSE:LVS), and Christy and Jim Walton of Wal-Mart Stores (NYSE:WMT) all teamed up - they would still not be able to buy Apple.
Conclusion
As we have seen, Apple is one of the greatest success stories and one of the greatest companies of all time, but it may be approaching peak popularity and is due for a pullback or even a sharp drop. Apple is approaching very important milestones of $500/share and a $500 billion market-cap. However, with expectations at such stratospheric levels regarding its future earnings, growth, product line, and world domination, Apple may be headed for severe disappointment as it fails to live up to those expectations or fails to outdo itself.
So far, Apple has succeeded in consistently showing great performance and continuously outdoing itself. But the time is approaching when Apple no longer exceeds what is expected of it. The stock is up nearly 16,000 percent from its July 1997 low, as it has skyrocketed from a company with a doubtful future to the world's largest and most dominant company. After years of massive growth and constant disproving of the doubters, however, Apple has reached a phase that could derail it from its nearly-untouchable position.
As it approaches a market cap and company size unseen since the days of Microsoft and the dot-com bubble, it may replay what took place at the turn of the century - such a market-cap is usually unsustainable; and even if it is sustainable, the growth that is expected of Apple is likely not to materialize. Instead, if investors have become too exuberant and even euphoric about Apple's future prospects, Apple could be due for a major drop.
And it is not only Apple's size that stands as strong warning of a reversal. The tremendous enthusiasm over technology IPOs such as Groupon, LinkedIn, Zynga, and Facebook all point to an overheated technology theme that Apple is no doubt a beneficiary of. Global stock markets and economies are also approaching major overhead risks that could plunge them into a renewed global recession and certainly hurt Apple, as falling stock prices and a weaker consumer negatively affect its sales and earnings.
Moreover, the growing competition throughout the technology and consumer space threaten to steal market share from Apple, as other companies like Amazon and Google attempt to introduce products that successfully compete with Apple's iPhone and iPad. Finally, and perhaps the most immediate threat, Apple is approaching very strong technical resistance at $500/share - a round-number psychological barrier that could see some heavy selling as earlier investors get out and lock in their profits.
The steep and unsustainable rise in Apple's stock price has shown signs of decelerating momentum, usually visible near peaks. Apple may be the greatest company around, but market weakness and a number of underlying risks could end Apple's extraordinary run and send its stock price falling as investors flee to the exits as they reconsider and reevaluate their investment in Apple.
Most shockingly, however, when we compare what you could buy instead of Apple, for the $460 billion that it is worth, Apple looks extremely relatively overvalued. Apple is not only worth more than the top 10 richest people in America combined, it is bigger than massive portfolios of some of the world's largest companies. Not only do the above-outlined portfolios of companies provide you with top companies in their respective sectors, but these portfolios would diversify the $460 billion and protect it from a slowdown in any one specific industry. If you own Apple alone and anything happens to it, its value could drop significantly. My choice would be to buy one of these massive portfolios of industry-leading companies instead of Apple. What would you do?
Disclosure: I am long JASO, ZLC.
Additional disclosure: Chart Prophet Capital may initiate any positions and create model portfolio based on article.