By Brendan Gilmartin
Overview
General Motors (NYSE:GM) is scheduled to report 4Q 2011 earnings before the opening bell on Thursday, February 16. The actual results are expected to come through at approximately 7:30 a.m. EST with a conference call to follow at 9:00 a.m. Given GM's size and influence, the company's earnings have the potential to influence the broad market gauges, including the S&P Index Futures and ETFs. Note that the shares were hit hard last quarter after warning that softness in Europe would continue to weigh on results in the 4Q 2011 period.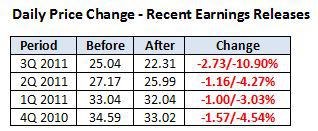 Outliers and Strategy
Key measures:
Earnings Per Share: Back in October, GM said it expects to record a special item in the fourth quarter to recognize a $800 million non-cash settlement gain related to a Canadian Health Care Trust settlement.
Revenues: Revenues are seen rising 3.6% to $38.21 billion.
GM results follow a somewhat disappointing report from rival Ford Motor (NYSE:F) last week.
GM is expected to earn $0.41 per share for the 4Q (range is: $0.24 - $0.58) on revenue of $38.21 billion. (Source: Yahoo Finance).
Back in October, GM cautioned that, based on the current industry outlook, it expects EBIT-adjusted results in the fourth quarter of 2011 will be similar to the prior year due to seasonal trends in North America and weakness in Europe.
Updates in the European business to impact the post-announcement drift. Last quarter, GM shares fell sharply after indicating it does not expect to achieve its target to break even on an EBIT-adjusted basis before restructuring charges in Europe
Recent News
02/06: According to a report on WSJ.com, GM could post 2011 net income of around $8 billion for 2011, fueled by growth in China and solid results in North America, aided by cost-cutting. The report added GM's profit margins could exceed 10% in several years.
02/01: GM reported total sales during January in the U.S. were down 6% compared with the prior year. The company did note however, that the "strength that the economy and the auto industry" during the fourth quarter carried into January.
01/19: GM said global sales exceeded more than 9 million vehicles in 2011, a 7.6% gain compared with 2010. Furthermore, market share increased to 11.9% of the global vehicle industry, pushing the auto giant back into the number one position.
01/04: GM said U.S. sales in December were up 5% compared with 2010.
Technical Review
GM shares are up more than 30% off the December low, but failed to hold the recent high near $26.50 (10/27 and 2/6), resulting in a bearish "Double-Top" formation. The shares are now struggling to hold the 200-Day SMA near $25.25, leaving potential downside risk to $24.00, followed by $23.50. Conversely, resistance is at the aforementioned highs near $26.50. (Chart courtesy of StockCharts.com)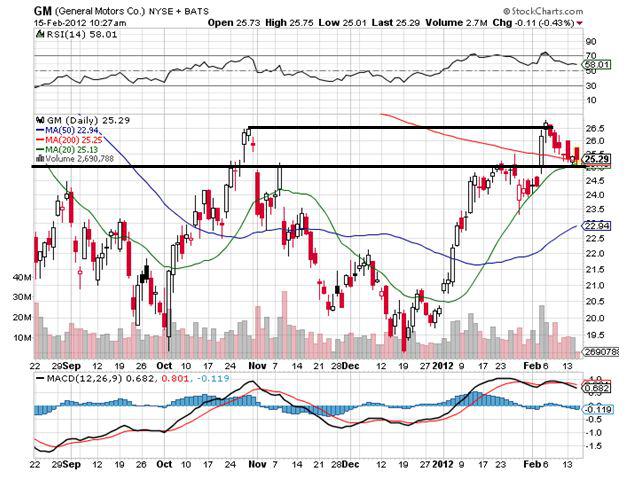 Click to enlarge
Summary
GM shares have been rallying in recent months as the auto giant reclaimed the number one position in global market share, led by growth in China and strength in the North American market. Technically, however, the shares recently failed at the late-October high, completing a possible "Double-Top" formation, with the shares now sitting on the 200-Day SMA. Concerns headed into the release also include weakness in key European markets, coupled with the seasonal softness expected in the U.S. With that being said, the Street is somewhat cautious coming into the release.
Disclaimer: By using this report, you acknowledge that Selerity, Inc. is in no way liable for losses or gains arising out of commentary, analysis, and or data in this report. Your investment decisions and recommendations are made entirely at your discretion. Selerity does not own securities in companies that they write about, is not an investment adviser, and the content contained herein is not an endorsement to buy or sell any securities. No content published as part of this report constitutes a recommendation that any particular investment, security, portfolio of securities, transaction or investment strategy is suitable for any specific person.
Disclosure: I have no positions in any stocks mentioned, and no plans to initiate any positions within the next 72 hours.