The market took a step backwards today as a number of catalysts for downside appeared. First, the market started to trade risk on with issues about Greece getting its second round of bailouts from Europe. The delay is definitely not a positive for the market, and the rally around Greece austerity would most likely be reversed. Additionally, the Fed came out with news today that they see little reason to support a QE3, which is definitely something that has held the market up as well. There were some positives like China supporting the eurozone and NAHB Housing Market Index as well as Empire Manufacturing improving, but Greece and the Fed outweighed those.
With the situation in the market starting to look a bit more dire, we think its time to take a look at a couple of bearish positions that can work in this market.

Two stocks we are looking at right now and actually have positions in that we think can work in this market are Ultrashort Proshares Crude Oil (NYSEARCA:SCO) as well as Halliburton (NYSE:HAL). For oil, we believe that this is the top of a range that is being set up by the fact that Iran is the only thing holding up this market. The country is mixing headlines saying they are going to do this and that, all in the name of making oil prices rise. That story can only last so long, and the true matter of fact is that oil above $100 is not good for our economy. The Middle East wants it below $100, and it has had major resistance in this area over the past several months. All in all, we think starting a position in SCO here is great. Additionally, we believe HAL is a great stock to place a bear call spread on right now. Oil looks to come down, and there is a lot of negativity surrounding oil service companies. We can make 10-15% selling premium on HAL in the 39/40 bear call spread for March expiration.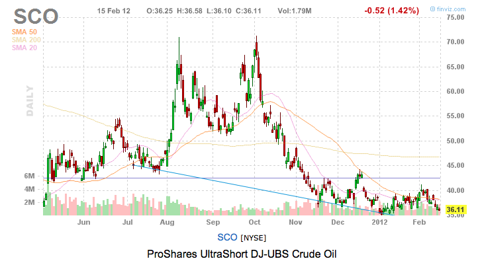 For tomorrow, the macro situation pins on developments with Greece and some economic data. We will be looking for how talks with Greece and Europe are progressing as well as several economic data points. The most important will be initial jobless claims here at home. Overseas, we get the ECB monthly report, which should be helpful. Further, we also have housing starts, Fed Chairman Bernanke speaking, and Mexican GDP.
We had a decent day as we exited one-third of a long-term position we have in Tesla Motors (NASDAQ:TSLA) before earnings tonight for a 9.5% gain at 34.00. We also entered two new positions in a bear call spread for HAL that was mentioned earlier as well as bull put spread for the weeklies in SPDR Gold (NYSEARCA:GLD).
We have the following positions. In our Short-Term Equity Portfolio we are long SCO and Baidu (NASDAQ:BIDU). In our Options Portfolio, we are long GLD, Apple (NASDAQ:AAPL), Priceline (NASDAQ:PCLN), Dollar Tree (NASDAQ:DLTR), Weight Watchers (NYSE:WTW), Nordstrom (NYSE:JWN), Bed, Bath, and Beyond (NASDAQ:BBBY), and Discover Financial (NYSE:DFS). We are short SPDR S&P500 ETF (NYSEARCA:SPY) and Halliburton. In our Earnings Portfolio, we are long CF Industries (NYSE:CF), Priceline, VF Corp. (NYSE:VFC), EOG Resources (NYSE:EOG), Oil States International (NYSE:OIS), and Fossil (NASDAQ:FOSL). We are short AOL (NYSE:AOL). We have reverse iron condor in WFM.
Chart courtesy of finviz.com.
Disclosure: I am long SCO.