Hewlett-Packard's (NYSE:HPQ) stock took a big hit in 2011 as the Leo Apotheker era ended poorly. With Meg Whitman now at the helm, the company has a better perceived stability to shareholders and is in much better hands going forward into a time where personal computers are becoming more commoditized. The company's stock has started rebounding since and with earnings supposed to have healthy growth, HP is a great value buy going into earnings on February 22nd.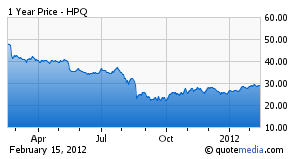 HP is supposed to have earnings per share of $4.09 at the fiscal year ended October 2012 and $4.48 in 2013. With its stock trading at $29.12 at the close of trading on February 15th, there is plenty of room for an upward trend.
The big concern with HP right now is its paper thin profit margins and the possibility of the company going into the red if component prices substantially increase or if PC pricing gets more competitive. However, if HP can successfully grab more market share in services and servers while improving the quality of its computers, HP should be able to stay profitable and at least meet its earnings.
Like many investors and analysts, I was very bearish on HP stock until recently. During its downward tailspin, the company looked like it was going the way of Research in Motion (RIMM). With its new found stability and strong leadership, the company should continue to post positive earnings going forward. If HP meets its earnings in FY 2012 and investors become more confident in the company, the stock could trade at $45 in one year, which would mean a return of 54.5 percent.
The stock is still high risk, but for investors with exposure to a lot of other assets, HPQ can make a good addition to a portfolio as it has a lot of upside potential.
Disclosure: I have no positions in any stocks mentioned, and no plans to initiate any positions within the next 72 hours.