Since financial stocks make up 14% of the S&P 500 Index, it is difficult to sustain a rally without strength in banks and financial services firms. With the Fed and ECB opening up the liquidity fire hydrant in late December 2011, bank stocks experienced another in a series of monster bailout rallies. As outlined below, the Financial Select Sector ETF (NYSEARCA:XLF) may be poised to give back some gains over the coming sessions based on numerous factors including reduced odds of QE3.
Unfortunately in the debt-saddled world we live in, central banks may be the most important driver of asset prices. Dallas Fed President Richard Fisher told reporters after a speech Wednesday:
There will be no QE3 I will support no QE3, no additional mortgage-backed securities, no additional Treasuries. Wall Street keeps dangling QE3 out there - I think it's a fantasy of Wall Street - it's not going to happen, it's not necessary.
It is not unusual for markets to hesitate at key Fibonacci retracement levels, such as 61.8%. Therefore, the comments below will take on more meaning if the financials ETF shows signs of a reversal. A close below 14.42 would increase the odds of more sustained weakness. The 61.8% retracement of the losses from the spring high to October low sits at 14.61 (see right side of chart below). One more push toward 14.91 would fit well into an intermediate-term topping process; the same can be said for an S&P 500 move toward 1,363.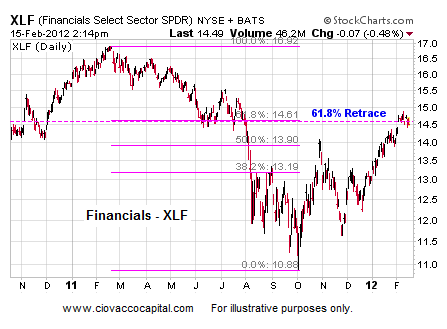 The chart of XLF below shows the ADX indicator at the top. When the black ADX line begins to roll over from high levels, it can be a warning of a possible trend reversal. On the left side of the chart (green arrows), ADX rolled over indicating the downtrend was losing steam - a sharp countertrend rally followed. We have the current ADX black line (red box top right) rolling over telling us to be open to a pullback in the financials.
Click on images to enlarge.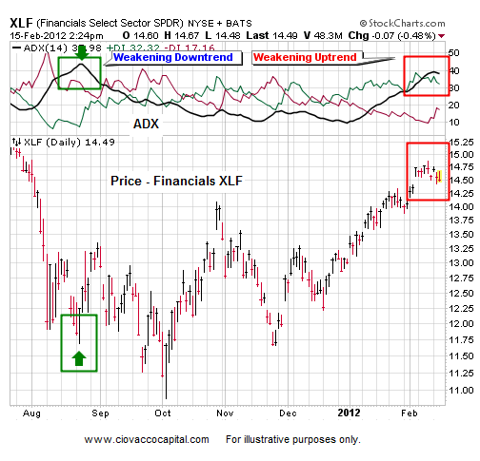 No need to sound an alarm at this point, but holders of XLF, Bank of America (NYSE:BAC), Wells Fargo (NYSE:WFC), J.P. Morgan Chase (NYSE:JPM), and U.S. Bancorp (NYSE:USB) may want to keep a closer eye on things over the next week or so. These comments align well with our big picture concerns relative to a possible pullback outlined on February 10.
Freeport-McMoran Copper & Gold Inc. (NYSE:FCX) engages in the exploration, mining, and production of mineral resources. The company primarily explores for copper, gold, molybdenum, silver, and cobalt. Obviously, copper is an economically sensitive commodity. Weakness in FCX, all things being equal, is a negative for the markets and economy.
Freeport-McMoRan's weekly chart is rolling over in a similar manner to July 2011, a period marked by risk aversion. The comments below only hold water if the negative setups hold through the end of the week. We all know weakness can turn into strength rapidly in a headline-driven environment.
Point C in the chart below highlights the price of FCX. Point B highlights the performance of the S&P 500. Compare points A and A2, which show weakness in the Full Stochastic indicator. Similarly, the MACD Histogram from last summer (point D) looks similar to the present day (point D2); both have "ticked down", which can foreshadow a change in trend. The same can be said for the slowing momentum illustrated with Williams % R (points E and E2).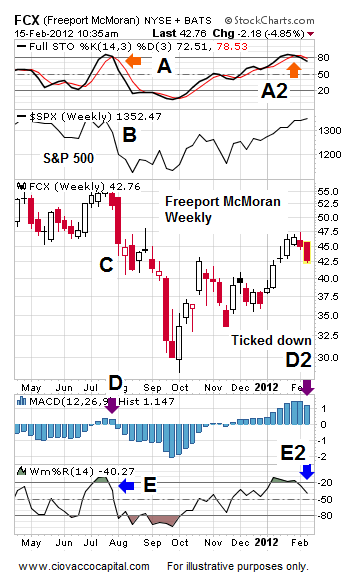 Freeport-McMoRan is also battling to stay above its downward-sloping 200-day moving average. The last time FCX failed to hold the 200-day it experienced weakness for two months, along with a general aversion to risk assets. The 200-day sits at 42.32.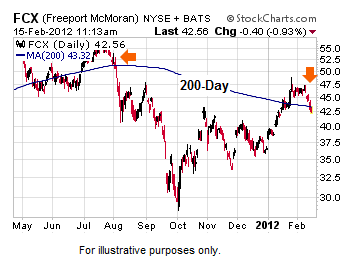 Germany has been a leader of the global rally in risk assets off the December 2011 lows. Sustained weakness in the Germany ETF (NYSEARCA:EWG) and the German DAX Index may foreshadow a correction in the S&P 500. Therefore, it is prudent to monitor German stocks over the next week or so.
German industrial output unexpectedly dropped the most in three years in December as Europe's debt crisis weighed on confidence and the global economic slowdown reduced demand.
The chart below, as of 11 a.m. ET 2/14/2012, shows the Germany ETF with the Relative Strength Index (RSI) and MACD. A break of an RSI trendline can foreshadow further weakness. When the RSI trend was broken from the September 2011 bottoming process (far left orange arrow top), weakness in price followed. RSI is trying to break the current trend from the December 2011 low in a similar manner.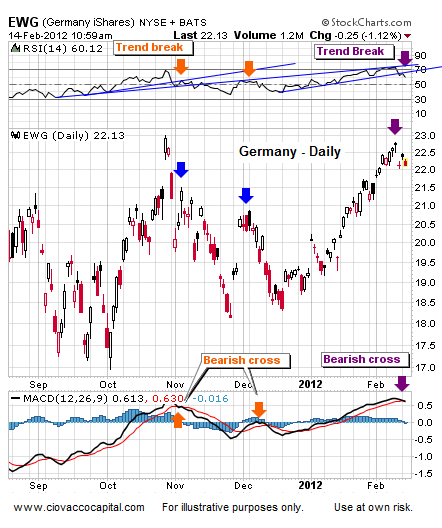 In the chart above, MACD is shown at the bottom. The last two bearish crosses (black below red) were followed by weakness in price (see orange arrows at bottom of chart above). The purple arrow above shows what appears to be a formation of another bearish MACD cross. This cross is only valid if it carries into today's close.
As we noted when outlining other concerns relative to a possible correction on February 10, if and how the markets come down will help determine if we have a buying opportunity or a resumption of a deflationary bear market. Given the current readings of proprietary CCM market models, the odds currently favor a correction followed by more liquidity-induced upside (a.k.a. a buying opportunity). The bearish case could follow the "decoupling path" taken by emerging markets in 2008.
Our approach will be flexible based on market action. During an orderly pullback, we will consider taking a stake in numerous markets, including Germany (EWG), gold (NYSEARCA:GLD), silver (NYSEARCA:SLV), agriculture (NYSEARCA:DBA) and Australia (NYSEARCA:EWA).
Disclosure: I have no positions in any stocks mentioned, and no plans to initiate any positions within the next 72 hours.