2012 should be a huge year for investors in Vical (NASDAQ:VICL). Vical has a broad, novel pipeline demonstrating "first in class" immunotherapy. The company has substantial commercial opportunity, a strong balance sheet and extremely impressive clinical data. Key catalysts that should drive the stock are as follows:
Release of pivotal phase 3 data on Allovectin followed shortly thereafter by FDA approval (45 days from receipt of letter per SPA)
Initiation of phase 3 trail for Astellas (a herpes vaccine) in transplant patients
Initiation of a human trial for a Herpes II vaccine.
Allovectin Cancer Immunotherapy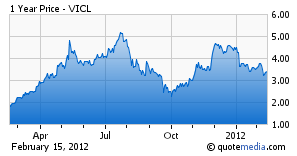 Allovectin is currently in a Phase 3 trial for use in melanoma and data is expected 2Q12. Allovectin's US Orphan Drug and Fast Track designations should subsequently expedite approval of the drug. The data has been so impressive that I believe there is very little chance of failure. Key highlights are as follows:
More than 900 patients dosed to date (0.3μg to 2mg) with no safety issues identified by SMB to date (5 reviews) per Phacilitate Cell and gene Therapy Forum Presentation on 1/30/2012.
Convenient outpatient delivery
Potential synergy with approved therapies
Unique mechanism of action drives systemic effect
Phase 2 trial results demonstrated safety and efficacy with no withdrawals for toxicity or adverse events. The representative survival data in the per VICL's Noble Financial Conference Presentation 1/17/2012 shows the impressive results of Allovectin against leading treatments by Bristol Meyers (NYSE:BMY) and Roche (OTCQX:RHHBY). The 18.8 months median overall survival of Allovectin is 1.5 to 2 times that of the competing treatments.
Vical has retained US and EU commercial rights to Allovectin and partnered with AnGes in Japan and Asia. Vical manufactured Allovectin® for all clinical trials and is preparing for the likely commercial launch. Currently, there are state-of-the-art licensed GMP facilities at Vical which have had multiple audits by customers and partners. The company has manufacturing capacity of up to 500,000 doses per year, has expansion capabilities and a relatively low cost of goods. Even with the current capacity of 500,000 doses per year, the company can generate tremendous revenue.
Consider Avastin which sells for approximately $50,000 per year USA Today. I'd expect that Allovectin which is dosed at once per week for six weeks could fetch a similar price tag. Assuming the six doses would retail for $50,000 and cutting 50% of the price tag for distributor margins, VICL could earn $2,083 per dose ($50,000 * 50% / 6 doses). Assuming they sell their current capacity of 500,000 doses per year, that equates to over $1 billion in annual revenue for VICL from Allovectin alone. Further assuming the stock trades at a measly 1 times sales, the stock would see a four-fold increase in the stock price to approximately $14 per share.
CMV (Herpes) vaccines
The Astellas Phase 3 trial initiation is expected 1H12 in transplant recipients and gives VICL an opportunity to expand into even larger commercial market. Additionally, on a February 8th conference call, Vijay Samant, President and Chief Executive Officer, stated
our Vaxfectin formulated vaccines against HSV-2 provides complete (emphasis added) protection in guinea pigs against both primary and recurrent HSV-2 disease…These data were among the best that were seen in a pre-clinical HSV-2 vaccine model. We believe the ability of our vaccine platform technology to induce both antibody and T-cell response is key especially in a therapeutic setting.
Mr. Samant indicated the company is now confident to proceed to human testing. This is one of the reasons why the corporation recently completed a $50 million follow-on offering that generated net proceeds of $46.6 million.
Conclusion
VICL is poised for extremely strong upside. The stock has sold off 25% this year, creating a tremendous buying opportunity. Given the strong balance sheet, the broad pipeline and the novelty of VICL's therapies, I think the risk/reward trade off is phenomenal. I expect the stock to double over the next few months and believe (as per my analysis above), the stock could reach $14 per share by the end of 2012.
Disclosure: I am long VICL.