Apple (NASDAQ:AAPL) on Wednesday saw a rare thing happen to its stock price. The day saw an enormous climb, with the stock up pre-market, and continuing to trend upwards by around 3% throughout the day until suddenly the price plummeted. Falling of a cliff, bursting of the bubble, call it what you will, but the Apple rally finally ended.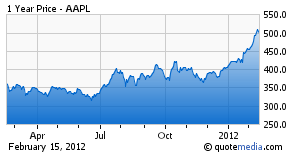 A couple of days ago I wrote this article about how it might be time to get out of Apple. Many more articles stating similar things have cropped up recently on the same topic, and sure enough, the inevitable happened. The parabolic growth was indeed an indicator that the rally was coming to an end and after one final boom Apple plummeted dramatically. The question is though, is this the start of a massive downturn, or is it an opportunity?
The key fact to consider here is that nothing fundamental has changed about Apple. Analysts still overwhelmingly predict a buy (although admittedly most won't have had time to change their minds) and the fundamentals are still the same. Greece appears to be gradually resolving, and there have been no serious news articles that should bring everything tumbling down.
With the annual shareholder meeting on 23rd February, it is likely that excitement about a potential dividend may increase again, and within a few days a rally will have reinitiated as investors 'buy the rumor'. The iPad 3 also still has strong release rumors and this will undoubtedly cause excitement and perhaps contribute to a rally. Stock prices are based on speculation and once the upward euphoria ends a catastrophic downturn is inevitable. In this case, it seems however, that the downturn is not based on anything to do with the company. Everything about Apple is still the same (apart from, of course, the billions wiped off its market cap).
The mean analyst price target for Apple is still 568.49 . Nothing has changed about the stock since its highs at $526. Let the downturn subside, perhaps wait until there has been a slight increase again, and then take the opportunity to buy back into Apple and ride out another rally.
Disclosure: I have no positions in any stocks mentioned, but may initiate a long position in AAPL over the next 72 hours.