The U.S. dollar and Japanese yen have played an up and down game of seesaw since July of last year. The USD/JPY, or the inverse of the Rydex Currency Shares Japanese Trust (NYSEARCA:FXY), has gone nowhere over this time. However, I still believe a more lasting change is brewing where yen weakness will be the bias over dollar weakness.
The U.S. dollar plunged against the yen after the Federal Reserve extended its window for ultra-low rates into 2014. It even appeared the dollar might set new historic lows against the yen in short order. Instead, USD/JPY made a sharp rebound leading into the Bank of Japan's (BoJ) monetary policy statement on Monday.
The BoJ fought off the Fed by introducing additional easing measures worth 10 trillion yen and by setting an inflation target of 1%. The net result so far is that the yen has pulled off a rare feat…it is now weaker than it was before the U.S. Federal Reserve's last efforts to weaken the U.S. dollar.
click to enlarge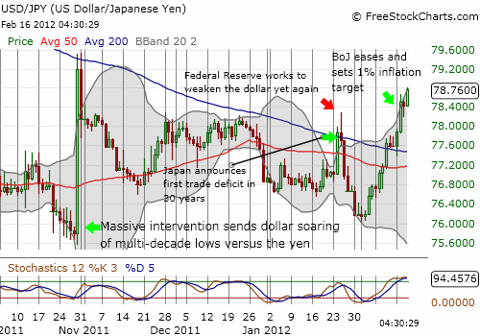 Click to enlarge
The U.S. dollar is gaining on the Japanese yen again
Source: FreeStockCharts.com
Once USD/JPY manages to break out above the highs from the last currency intervention, the U.S. dollar should finally be off to the races against the yen.
America's growing energy independence is currently a byline supporting future U.S. dollar strength, especially against major industrial countries with far fewer resources. I think the possibilities are currently under-appreciated, but I have to believe that energy independence gives America a distinct balance of trade advantage over resource-poor Japan.
Moreover, cheaper domestic input costs will also generate distinct manufacturing advantages for U.S. producers. While the currency markets ever so slowly price in this future potential, on-going efforts at competitive devaluation on both sides of the Pacific are likely to continue to make the path higher for USD/JPY a circuitous one.
Be careful out there!
Disclosure: I have no positions in any stocks mentioned, but may initiate a short position in FXY over the next 72 hours.
Additional disclosure: I am long USD/JPY