Trading off of headlines is often a great way to make profits. Investing off of headlines, however, is almost always a surefire way to lose. Knee-jerk reactions to headlines allow for little to no time for rational analysis.
On February 14, AllThingsDigital broke the news that Yahoo (NASDAQ:YHOO) plans to sell off its Asian asset holdings, comprising of a 40% stake in Alibaba (OTC:ALBCF) and a 35% stake in Yahoo Japan. Traders immediately reacted, sending shares of Yahoo down by more than 5%.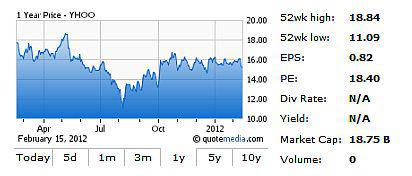 While we can see why investors would react negatively to such a development, we think this development is not as bad as it seems, and outline the reasons why Yahoo can still do just fine without an asset sale.
Normally, we begin our bullish articles by providing an overview of a company's business. But for Yahoo, that is needless. Investors have largely stopped caring about the actual Yahoo business years ago, instead viewing the company as a shell through which to invest in Alibaba and Yahoo Japan. Therefore, we will focus this article solely on the Asian assets and Yahoo's financials.
In a previous article on Yahoo from December 8, 2011, we stated that the stock was a buy, given the company's Asian assets and the stagnant, yet still profitable U.S. operations. Since then, Yahoo has lost around 3%, although that drop is due in larger part to the declines this week on word of a collapse in the Asian asset deal talks.
Click to enlarge:

While we, along with other investors would like to see a monetization of the Asian assets, the cash-rich split that was (and perhaps still is) being discussed may not be the best way to create value for Yahoo shareholders. As noted by Silicon Alley Insider, the great majority of the deal's benefits would not have been seen by Yahoo shareholders. Instead, the great majority of benefits would have gone to private equity firms setting up the deal, which would get fees from Alibaba for lending it the money to complete the deal, as well as being able to offload unwanted assets onto Yahoo.
Our prior article acknowledged the appeal of monetizing the Asian assets and/or going through with some sort of strategic transaction, while also acknowledging the myriad of risks and issues surrounding any deal. An investment into Yahoo by private equity companies, referred to as a private investment in public equity (PIPE) would give them far too much control. And selling the entire company to Alibaba would generate far too much reaction in Washington. No politician would ever let it go on the record that he or she approved a deal that allowed a Chinese company to take control of a company that has the emails of millions upon millions of Americans. A deal for all of Yahoo led by private equity firms, however, could remove that political risk. In our previous article on Yahoo, we discussed rumors that Blackstone (NYSE:BX) and Bain Capital were preparing a $25 billion bid for the entire company. That way, they can then negotiate a deal with Alibaba and Softbank (OTCPK:SFTBF) to sell back the Asian assets to them while retaining the U.S. operations for themselves.
While deal talks may have stalled for the moment, that does not necessarily mean that they are over. The AllThingsDigital report noted that sources close to Yahoo told the blog that Yahoo is still committed to doing some sort of deal. And with Dan Loeb ratcheting up his war of words with Yahoo by nominating himself and several other allies to the Yahoo board of directors, a continuing restructuring of the board could be just what Yahoo needs. The Yahoo board has long been seen as one of the most incompetent in corporate America, especially for turning down Microsoft's (NASDAQ:MSFT) takeover offer in 2008. But now, with Jerry Yang gone and Roy Bostock on the way out, the arrival of new faces on the board could herald a change in the company's direction.
In addition, Yahoo's new CEO, Scott Thompson is receiving at least some praise for what appears to be a scuttling of the deal (even if we do not think that this is the case). There is indeed some rationale to support the argument that a complex, multi-billion dollar deal is not what Yahoo needs right now.
Given all these dynamics, we still think Yahoo is a buy, for two reasons, which we outline below.
Asian Assets
Investors assume that Yahoo's stakes in Alibaba and Yahoo Japan do nothing for the company other than provide it with constant fuel to feed the rumor mill. That is simply not the case. The stake in Alibaba, according to the valuation assigned to Alibaba by Temasek in its last investment, is $12.8 billion. The stake in Yahoo Japan is reported to be worth around $6.4 billion. Yahoo carries these investments on the balance sheet at a value of just over $4.7 billion, a far cry from what it would receive in a sale of the assets, even if they were to be taxed.
Click to enlarge: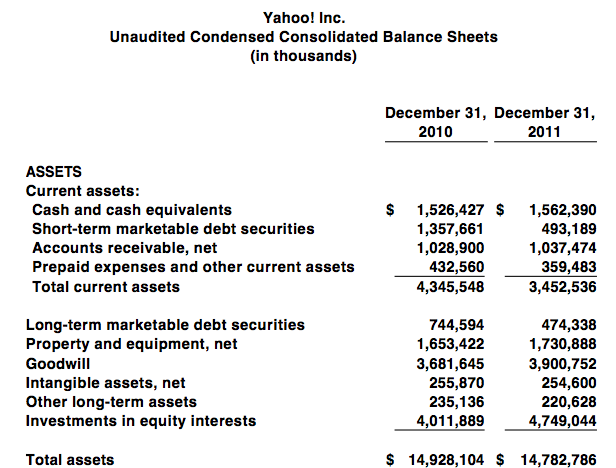 In 2011, the value of the Asian assets on Yahoo's balance sheet rose by over $700 million, quite an impressive sum. Furthermore, as per GAAP accounting rules, Yahoo is able to claim a pro rata share of Alibaba and Yahoo Japan's income.
Click to enlarge: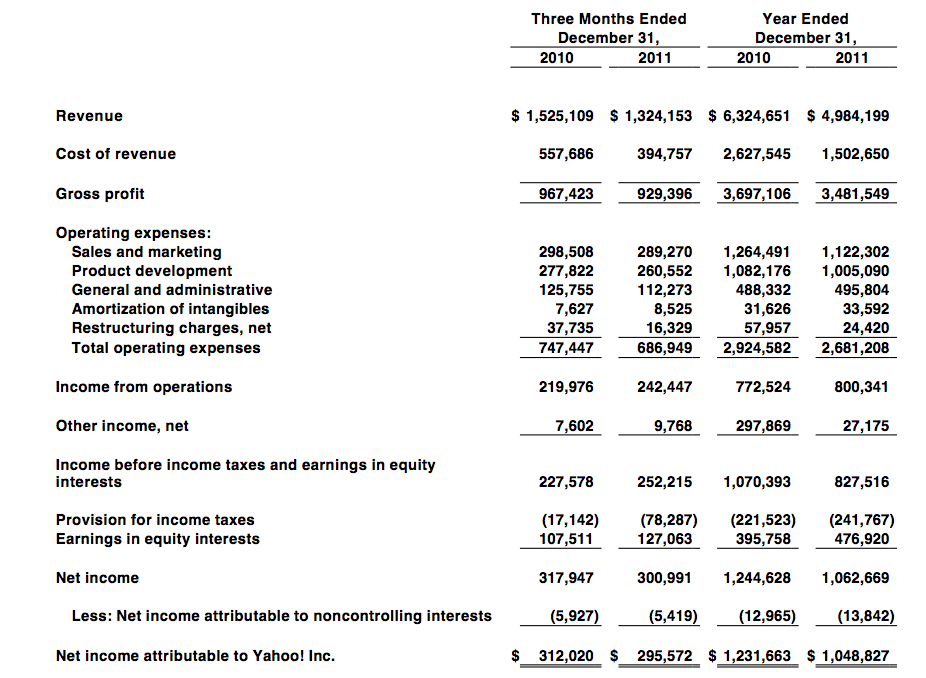 We think it is rather ironic that people are worried about Yahoo's earnings power going forward when the fastest growing source of income for the company is its Asian assets. Yahoo's income from operations (its core search and portal business) rose just 3.6% in 2011. Earnings from its Asian assets, however, grew over 20%. While we do continue to prefer a deal to divest the Asian assets to provide for a return of capital to shareholders, we reject the notion that the lack of a deal for the Asian assets is a negative for the deal. The benefits of retaining the Asian assets are clear. Investors simply see the benefits of divesting them as being better.
Core Financials
Structuring an argument to buy shares of Yahoo based on the "quality" of the core search and portal business is, quite frankly, a useless proposition, as almost no one cares about that business. However, when one looks at the financials of the business, without all the stories about the "demise" of Yahoo, it becomes clear the business is, at least for the moment, not in imminent danger of collapse. (As a side note, net income in 2010 was inflated by several divestitures Yahoo made, such as the sale of HotJobs, which appear in other income.)
As the income statement above shows, net income from Yahoo's core operations actually grew in 2011, despite assumptions that Yahoo would begin to collapse in 2011. Revenue did fall, but so did Yahoo's costs, as the dynamics of the search alliance with Microsoft began to fully show up on the income statement. Yahoo also slashed operating expenses, and has maintained great financial discipline throughout 2011.
Further adding to Yahoo's appeal is the great cash flow generation the company has. Further defying the bearish arguments for Yahoo is the fact that cash flow from operations, representing the core of the company, grew by over 6.7% in 2011, to over $1.3 billion.
Click to enlarge: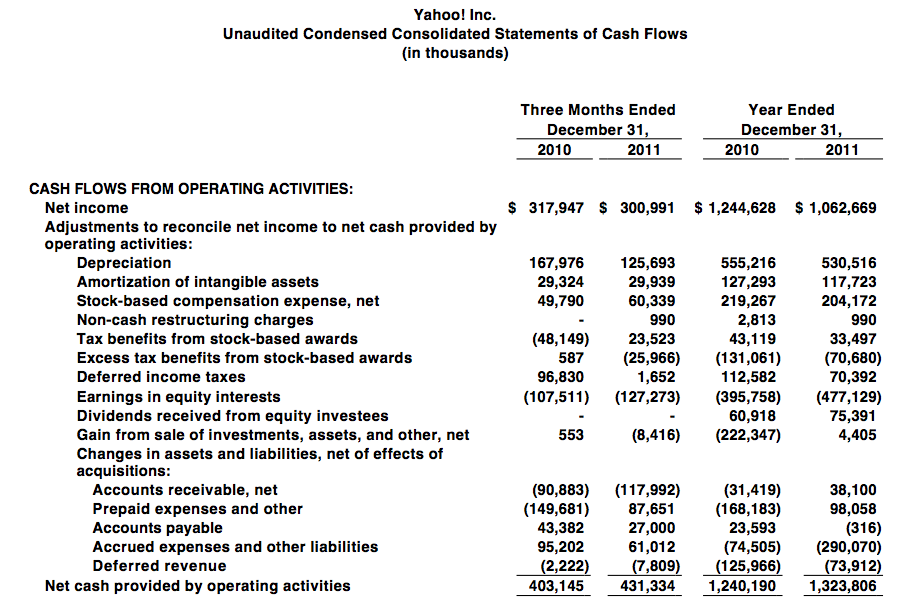 Yahoo is in nowhere near the kind of financial danger that many investors assume it is in. In addition, Yahoo posted free cash flow of over $725 million in 2011, not something you would see from a company in distress.
Click to enlarge:


A look at Yahoo's balance sheet further cements its appeal as in investment. The company is highly liquid, sporting over $2 billion in cash and investments on the balance sheet, and no debt. Yahoo has reduced the number of shares outstanding by over 82 million in 2011, and the company still has a good deal of authorization left on its $3 billion buyback that was launched in 2010.
Conclusions
We think that investors are misunderstanding Yahoo. While selling the Asian assets is a good thing, the manner in which they are sold is just as important. If Scott Thompson did indeed scuttle the deal because he saw the poor quality of the deal's structure, then he should indeed be praised. Investors must not assume that Yahoo needs to sell its Asian assets. Earnings from those assets are growing rapidly, and the company should not bend to the frenzy on Wall Street to sell them as quickly as possible. If the assets are never sold, then that is not a bad outcome at all. And while it may be futile to argue that Yahoo's core search and portal business is a quality one, ignoring all the opinions about it and instead looking at its financials proves that this business is not falling apart.
Scott Thompson has proven himself at PayPal, and it is still too early to write him off as CEO of Yahoo. He may very well be able to turn the company around. It will take a few quarters to determine how Thompson is performing as CEO. For the record, the Reuters average price target for shares of Yahoo is $17.46, representing upside of over 15% from current levels. And should a deal for the Asian assets materialize, or Yahoo be sold outright, the upside will be considerably higher. We think that at these levels, the upside potential in Yahoo is much greater than the potential downside, and that investors would be wise to consider adding Yahoo to their portfolios.
Disclosure: I am long YHOO, MSFT.
Additional disclosure: We are long MSFT via our holdings of the SPDR Dow Jones Industrial Average