Eni (NYSE:E) announced their fourth quarter and full year 2011 earnings results on February 15, 2012. Here are the highlights from the report:
The company reported an adjusted operating profit of 17.97 billion euro for the full year. This represents an increase of 4% over the previous year.
The company reported an adjusted operating profit of 4.26 billion euro for the fourth quarter. This represents a decrease of 10% from the prior year quarter.
Eni reported a net profit of 6.97 billion euro for the year, an increase of 9% from 2010. The company's net profit for the quarter came in at 1.32 billion euro, an increase of 141% from the prior year quarter.
The company's adjusted net profit for the full year was 6.97 billion euro. This represents a 2% increase from 2010. Adjusted net profit for the quarter came in at 1.54 billion euro, a decrease of 10% from the prior year quarter.
Eni proposed a final dividend of 0.52 euro per ordinary share (1.04 euro per ADS), reaffirming their dividend of 1.04 euro (2.08 euro per ADS) from earlier in the year. This represents a 4% increase in the dividend from the prior year.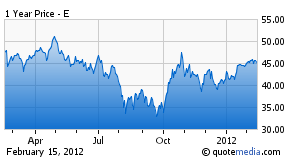 Overall, Eni's 2011 results were not as good as some of the other oil and gas companies that I follow. For example, Norwegian oil and gas giant Statoil (NYSE:STO) had a record-breaking year. This is not to say that these results were absolutely horrible. On the contrary, there are a number of promising things in the company's earnings report.
In an article published on December 7, 2011 on Seeking Alpha, I suggested that Eni has the potential to become a major supplier of natural gas to Asia. This is due to the company discovering an enormous natural gas field off of the coast of Mozambique. The company looks to still have this potential and stated that the natural gas field has exceeded expectations. The total potential of the area now exceeds 30 trillion cubic feet of gas as confirmed by exploration drilling wells.
The company is actively and quickly working to develop a full range of operating activities in the country. Management is incredibly optimistic about the Mamba North and Mamba South discoveries, stating that, "It promises to change the Group profile ensuring years of future growth and opportunities for investments and returns."
I also recently suggested that Eni could see increasing profits as Libyan production begins to come back online. The company saw great success in this during the latter half of the year and production in the country is now 80% of the levels that it reached prior to the conflict in that nation. Eni expects to have Libyan production back to 100% of pre-conflict levels in the second half of 2012. Thus, Eni managed to return to near peak production after only a few months following the crisis in Libya.
In December 2011, Eni signed a Production Sharing Contract for the exploration of Block 35 in the Kwanza Basin of Angola. This is a high potential offshore play that I discussed in my analysis of Statoil's 2011 results (linked above). As this is a new agreement for the company, we do not yet know the full extent of Block 35's potential but signs do point to it being quite promising.
Eni and its partner Repsol YPF S.A. (OTCQX:REPYY) of Spain signed a Gas Sales Agreement for developing the giant Perla gas field in Venezuela. The field is planned to be developed in three phases and produce approximately 9 trillion cubic feet of gas between now and 2036. Eni expects the field to have a peak production of 1.2 million cubic feet of gas per day.
Despite these promising developments, the company's management was not particularly optimistic about the short-term outlook. They made this statement in the earnings press release (.pdf):
Eni expects the 2012 outlook to be a challenging one due to continuing signs of an economic slowdown, particularly in the Euro-zone, and volatile market conditions. International oil prices will be supported by robust demand growth from China and other emerging economies, as well as ongoing geopolitical risks and uncertainties, partly offset by a recovery in the Libyan output. For investment planning purposes and short-term financial projections, Eni assumes a full-year average price of $90 per barrel for the Brent crude benchmark. Recovery perspectives look poor in the gas sector. Gas demand is expected to be soft due to slow economic activity and increasing competition from renewables; in the meantime the marketplace is seen well supplied. Against this backdrop, management expects ongoing margin pressures to continue in 2012, and reduced sales opportunities due to rising competition. Management foresees the persistence of a depressed trading environment in the European refining business. Refining margins are anticipated to remain at unprofitable levels due to high costs of oil supplies, sluggish demand, and excess capacity.
This short-term pessimistic outlook does not mean that Eni does not deserve a place in your portfolio, just be sure to consider it when you are performing your due diligence. There is a lot to like here. The company expects to increase its production of liquids and gas going forward. Given static or rising prices, this should increase revenues, cash flows, and profits. Eni is also well-positioned to become a major supplier of natural gas to the growing markets of the Far East due to their stake in the massive Mamba North and Mamba South fields.
Overall, though, these are longer-term investment theses. The short-term looks somewhat less promising. Zack's Investment Research has assigned a short-term sell rating on the stock, expecting it to go down over the next one to three months. Given the company's potential though, I may look to buy into it on dips for a longer-term holding but I do not expect the stock to deliver incredible returns over a shorter time frame.
Disclosure: I am long STO.