AT&T (NYSE:T) is one of the largest telecommunication companies in the world. The company is usually praised for raising dividends almost every year and having a larger than average dividend yield, however, I believe that more potential lays in AT&T's potential capital appreciation. In the last 10 years, AT&T's stock price moved from $37.12 to $29.84, a downward move of 19.61%. Compared to how much growth the company has seen in the last 10 years, it is safe to say that AT&T is undervalued.
Book Value
In 2002, the company's book value was $94.21 billion. Today the company's book value is $270.34 billion. In the last decade, the company enjoyed a book value growth of 187%.
Revenues
10 years ago, the company's revenue was $10.52 billion. Today, the company enjoys a revenue of $32.50 billion. This indicates a revenue growth of 209% in the last 10 years.
Cash and Equivalents
In the last 10 years, the company's cash and equivalents holdings increased from $830 million to $3.19 billion. This is a growth of 284%.
Earnings
In the last decade, the company's earnings increased to $2.45 billion, up from $2.07 billion a decade ago. This indicates an earnings growth of 18.3%.
The chart below shows 10 year growth comparison of the metrics mentioned above.
click to enlarge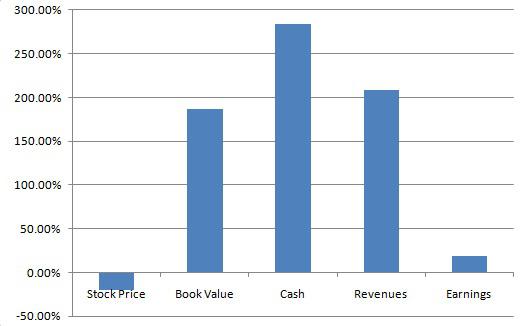 Conclusion
I believe AT&T is a great stock to hold in the long term, not only because of its generous dividends, but also because of the fact that it is deeply undervalued. With its current valuation, AT&T has a lot of upside in the future.