When it's all said and done, Arch Coal, (ACI) has good assets and a strong pipeline of coking coal projects, most notably the Tygart complex that Arch picked up in its acquisition of International Coal last year. Arch also booked over 1 billion tons of good quality reserves in that acquisition. I believe that the initial stage of Tygart could be worth an incremental $2-$3 per share, with upside if Arch fast tracks future stages of Tygart. I have no problem owning Arch for the long run, but I would only be a buyer upon weakness if/when Arch lowers guidance again.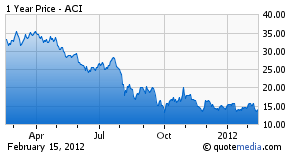 Arch is down significantly since releasing its 4th quarter results and updating guidance for 2012. Surprisingly, Arch is not down appreciably more than peers. For example, Arch is down ~12% since February 6th (through the close of February 15th) while Alpha Natural Resources (ANR), Cloud Peak (NYSE:CLD) and James River (JRCC) are each down ~13%-14%. Walter Energy (NYSE:WLT) is down ~12%. Peabody Energy (BTU) and Consol Energy (NYSE:CNX) are down ~8% and 4%, respectively.
Commentary from sell-side analysts who cover Arch has been pretty negative, but is it negative enough? Of the 14 reports that I've seen, 9 downgraded price targets by an average of 18%. Over the past 90 days, consensus 2012 EPS is down 58% from $2.70 to $1.14 and consensus 2013 EPS is down 56% from $3.26 to $1.44. By contrast, Peabody Energy's EPS estimates are down 38% and 19% for 2012 & 2013, respectively.
Arch is trading at a 9.5x consensus P/E on 2013 EPS, which looks cheap until one compares it to Peabody's 2013 P/E of 7.4x. Unfortunately, there remains downside to both Arch and Peabody's earnings. For example, among the 14 reports that I looked at, 2013 EPS estimates of $2.49, $2.25 and $2.05 are still in the mix. Compared to the consensus of $1.44, those 3 estimates are too high. Even after cutting estimates substantially, analysts are on watch for another production cut from Arch in the next several months.
I think that the consensus EPS for 2013 could easily fall by another 20% to $1.15 from $1.44, (remember $2.49, $2.25 and $2.05 are still in the calculation). That implies Arch's pro forma forward P/E is more like 11.5x. Given that Peabody is trading at 7.4x, (albeit also with downside earnings risk), if one applies a 10x P/E to $1.15 in earnings, that generates a price target of $11.5. At that price, I'm willing to make the bet that most of the bad news is priced in.
What are analysts and industry experts worried about? Arch has about 80% of its thermal coal priced. This is considerably less than peers who are close to sold out for this year. Will Arch will be forced to sell un-priced tons at unfavorable prices. Or, will Arch have to cut production further? Production cuts are horrible for per ton costs. Arch stated that industry exports this year will exceed last year's by 5%-10%. Only Peabody shares this view. If thermal coal exports don't hold up, then Arch is even more likely to miss earnings.
Both Arch and Patriot believe that thermal coal pricing will be depressed for the remainder of 2012 and possibly into 2013. Arch has ~60% of its planned thermal coal sales un-priced in 2013. Thus, if not downside risk from open tonnage next year, there's a great deal of uncertainty. Another concern, approximately 75% of Arch's coking coal production is on the lower-end of the quality spectrum.
These are the coking coals that some fear could fall further out of favor. To be clear, Arch believes that demand for its coking coal will remain robust, but at what price? Finally, Arch's debt to capital is higher than peers. Interest expense will soak up a meaningful portion of cash flow and inhibit the ability to buy back shares.
Disclosure: I am long ACI, BTU, CNX, PCX, ANR.
Additional disclosure: I'm a consultant for SouthGobi Resources.