Since Quest Diagnostics (NYSE:DGX) merged with SmithKline Beecham Labs in 1999 to create the largest independent lab in the country, Laboratory Corporation of America (NYSE:LH), the next largest independent lab, and Quest have spent over $9 billion and purchased more than 19 large lab operations. Adding to the battle for share between the two companies, Labcorp won the business of United Health from Quest at the end of 2006, which represented about 7% of Quest's revenue and sent DGX shares down 17% on the day it was announced while LabCorp only rose 2%. Seemingly, LH's muted reaction can be owed to the assumption that it took accepting the business from UNH at a meaningfully lower margin to win the business. Since then, the faith of the two businesses has diverged considerably. Since 2006, Labcorp has grown operating earnings at 3x the pace of Quest.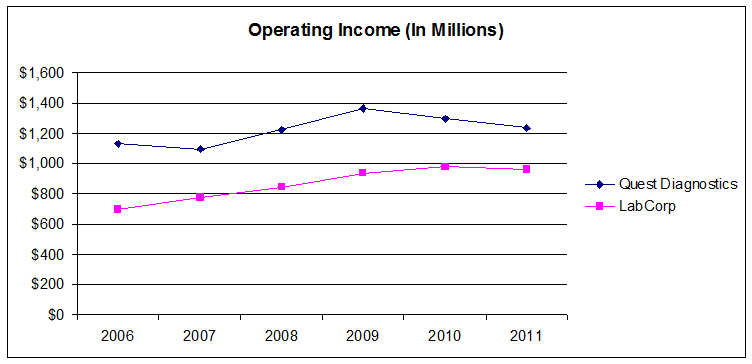 As illustrated by the chart above, while Labcorp has seemingly been outperforming Quest, neither of the companies have been showing extraordinary growth, especially when considering that they collectively completed $5 billion in acquisitions in the same period. The lack of extraordinary growth can be attributed to a weak pricing environment and meager organic volume growth. Since Labcorp undersold Quest on the United contract, both companies have seen operating margin erosion. More importantly, companies that provide benefits, whether it be Medicare, Commercial insurers or Medicaid, have been putting pressure on all providers to contain costs. At the same time, most providers, including clinical labs, have seen meager volume growth since the recession started in 2008 as consumers have pulled back on office visits.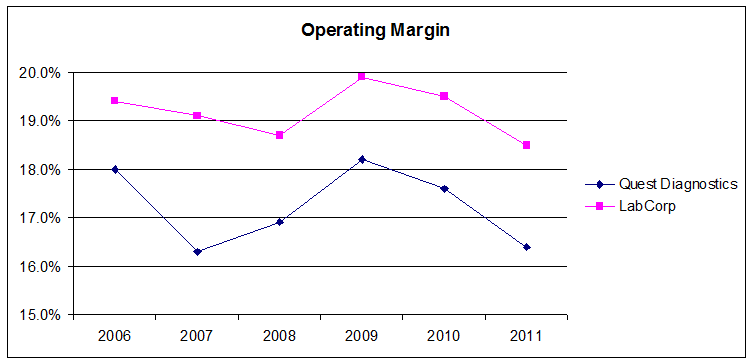 Quest has signaled strongly to the street on its conference calls that it is not interested in any big deals in the near future. Though, with a yet to be named new CEO, it is likely that there will be some strategy shift. Investors can't blame management for their stance on acquisitions. They are saddled with nearly $4 billion in debt after spending over $2 billion to buy back 36.5 million shares over the past three years and making over $1 billion in acquisitions. LabCorp has been less outspoken, saying that there are attractive opportunities, but that they will be diligent about price and fit. After the rush of acquisitions over the past ten years, there are only a few labs left that would make a dent in either LabCorp or Quest's results and the valuations are likely to be high. There are, however, a host of smaller labs that could be bought for relatively reasonable valuations.
Looking at Quest and LabCorp, it's difficult to see how either company will excel in the current environment. Both companies have undertaken significant restructuring in order to take advantage of the synergies with the businesses that they purchased. It is questionable to me why most of the synergies would not have been realized already. It's understandable that it takes time to integrate businesses, but how much restructuring could be left? Labcorp refers mostly to supply chain streamlining and standardizing systems and doesn't lay out a specific target. Quest has grander plans. They plan to shed $500 million in costs in coming years, mostly in the same ways LabCorp is looking to save costs. I'm skeptical that Quest will be able to reduce its overhead by 8% while maintaining or improving its service quality.
While other providers, including hospitals, skilled nursing and home health companies reflect the current challenging reimbursement environment, investors in the lab space (and dialysis) seem to be fairly naive to the potential for real rate cuts over the next few years. In fact, the lab space is an easier space for Medicare to cut then the aforementioned sectors. First, Quest and LabCorp control two thirds of the non-hospital clinical lab market. Law makers could feel more comfortable making cuts to what is perceived to be a couple of large players rather than, for instance, the hospital space, where the largest company, HCA, owns less than 5% of the hospitals in the country. The next largest hospital chain has half of that market share.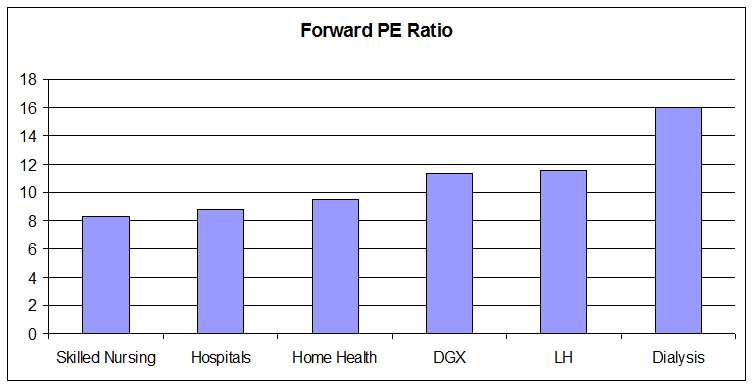 When it comes to volume, Quest and LabCorp will rely heavily on a rebound in utilization. It's difficult in this environment to say when this recovery will happen. There are preliminary signs that utilization has begun to improve, however, there is no clear consensus that there is a 1:1 ratio between volume for these two large labs and doctor visits. Another factor has been smaller labs, with a greater focus on service. Two small public company examples are Enzo (NYSE:ENZ) and Medtox (NASDAQ:MTOX). Since Fiscal 2009, Enzo has experienced 20% organic compound annual revenue growth in its clinical lab business while Medtox, a company that previously focused on drug of abuse testing, has grown its clinical lab business from scratch in 2008 to annualized sales of $36 million heading into 2012. Both companies are focused in different geographic regions and are just a couple examples of labs that are growing share despite a slowdown in the overall market. While some of this is owed to working off of a low base, it primarily reflects physician discontent in dealing with large firms such as Quest and LabCorp. The large labs are comfortable with their position in the market and have significant contracts negotiated with providers. In any industry, this can lend itself to a sense of complacency. Smaller companies entering the market are forced to focus on service in order to gain and maintain their client bases.
The barriers to entry into the lab business are fairly low. The proprietary nature of the business deals more with the efficiency and service level of the labs than any specific technology. Only recently have Quest and LabCorp made a big move into molecular testing with their respective purchases of Athena and Genzyme Labs.
While the names are not particularly expensive at 11x forward earnings, it is difficult to see how Quest and LabCorp will be able to cut costs while trying to win new business. Primary upside risks are that the companies will be able to benefit from a rebound in utilization and that cost cuts are more immediate and effective than anticipated. Specific to Quest, if the company can find a CEO that the street resonates with and that can revive the culture within the company, the multiple could expand. However, with reimbursement headwinds seemingly not priced in and competitors growing at a faster pace, we think investors should steer clear of the large labs until it is apparent that they sustainably grow operating earnings.