Dan Loeb founded Third Point in 1995 and is known for his blunt and direct public letters to company executives. He generally seeks deep-value names but is clearly not afraid to take a big activist position...as is the case currently.
Dan Loeb's big bet remains Yahoo (NASDAQ:YHOO), which was only added last quarter (after a small position in '10). Yahoo common shares now represent 36% of Third Point's total reported long positions and 3.87% of Yahoo's shares outstanding:
(Click charts to expand)

In December of last year, Loeb sent an open letter to Yahoo's board of directors stating (among other things) that "We are disturbed but not surprised by this mismanagement given the history of strategic bungling by Yahoo Board Chairman Roy Bostock and Founder Jerry Yang."
Loeb is seeking more board seats and is clearly betting that not only will he get them but also that he'll be able to force positive change for YHOO shareholders: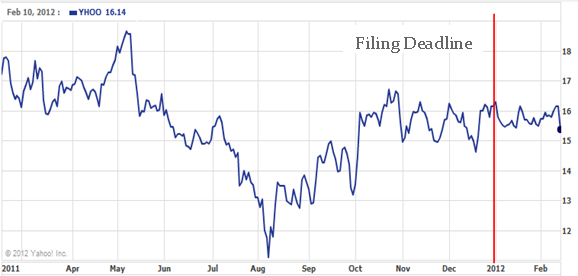 Disclosure: I have no positions in any stocks mentioned, and no plans to initiate any positions within the next 72 hours.