New York Knicks starting point guard Jeremy Lin breaks the mold of your traditional NBA player. He is a 6'3", 200lb, Asian-American, Harvard graduate. He is currently the only Asian-American in the league and the first Harvard grad to play professionally in the last 57 years.
Lin began his professional NBA career with the Golden State Warriors during the 2011 season. He received limited playing time, was eventually cut, and was then picked up by the New York Knicks. On February 4, 2012, Lin proved he was an undervalued player. The fourth-string point guard was put into the Knicks rotation against the New Jersey Nets and helped the team secure a victory with a 25 point contribution. Lin and the Knicks went on to win their next four games, with Lin averaging 26.8 points per game, and launching the eponymous "Lin-sanity."
At Virtue Investing we are constantly looking for value, and while we, like the rest of the nation, have gotten caught up in Lin-sanity, we agree that the Madison Square Garden fans may be on to something by chanting MVP for Emperor Lin. It is quite possible based on Lin's salary of $790,000 and his role in leading the Knicks to five consecutive victories, that Jeremy could literally be the Most "Valuable" Player in the NBA.
In the NBA, a common way to measure a player's value is through his Player Efficiency Rating (a metric designed by John Hollinger to determine a player's "per-minute productivity"). The Player Efficiency Rating [PER] is derived through a formula that factors in field goals, free throws, 3-pointers, assists, rebounds, blocks, steals, missed shots, turnovers, and personal fouls. Currently, LeBron James has a 31.67 Player Efficiency Rating , the highest in the NBA. Jeremy Lin is ranked fourth with a 25.91 PER. LeBron is the more productive player, but look what happens when we factor in each player's salary. With LeBron earning $16M this season and Jeremy earning $760k, Jeremy is providing much more bang for the buck. In fact, it costs the Heat organization 17X more per point of PER for LeBron.


Could Jeremy's play increase the value of MSG stock? The Knicks are owned by a publicly traded company, Madison Square Garden (NASDAQ:MSG). Therefore, while you may not be able to purchase that Lin jersey just yet, you can actually purchase a piece of Lin-sanity. The irony that the Harvard economics major has joined together the world of athletics and finance certainly makes for great headlines, but it is also possible that Jeremy Lin has the true potential to be a catalyst for MSG stock.
This is not the first time that rumors, speculation, and hype around players have driven the stock price for MSG. When Lebron James was deciding which team to join for the 2011 NBA season, he made it clear that playing for the New York Knicks was at the top of his list. On July 7, 2010, the day of James's announcement, Madison Square Garden's stock price increased 6.41%, more than doubling the S&P 500's same day increase of 3.15%. Even more telling were the two trading days following the disappointing announcement that Lebron James chose the Magic City over the Big Apple. MSG stock price fell 5.52% on July 8, 2010 and dropped another 4.61% on July 9, 2010; meanwhile the S&P 500 increased 0.99% and 0.75%, respectively. Similar trends can be seen since the emergence of Jeremy Lin. Madison Square Garden's stock price has returned 6.24% in the five days between February 6, 2012 to February 10, 2012, meanwhile the S&P 500 has a negative return of -0.10%. While some of this price increase can be attributed to a positive earnings report from MSG on February 8th, the continued increase in the stock price late in the week can be potentially contributed to Lin-sanity.
So is the recent increase in MSG stock price justifiable or is it just a Lin-sanity Bubble? "MSG Sports," which includes the Knicks, Rangers, Liberty, and other smaller sports teams, typically contributes 26% of Madison Square Garden's overall revenue, while "MSG Media" and "Entertainment" contribute the remaining 74% (note: cable viewership, including coverage of the Knicks, fall under the category of "Media"). That being said, while Lin-sanity has certainly helped sell more Knicks tickets and merchandise, it may not be impactful enough to justify a significant price movement in the stock. If Lin-sanity turns out to be a fad, then MSG will benefit little from the hype. However, if Lin continues to demonstrate that he can win - not just games, but the hearts of fans as well - then Lin may want to start getting paid in MSG stock options. There are several factors that could act as catalysts for MSG's stock price.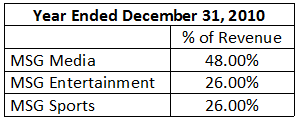 Probably the most significant catalyst would be any impact that the Lin-sanity movement has on the ongoing MSG-Time Warner Cable (TWC) licensing negotiations. For the past two years, MSG and TWC have been in a licensing negotiation regarding the fees TWC pays to MSG in order to air live coverage of Knicks, Rangers, Islanders, Devils, and Sabres games. On January 1, 2012 TWC's license to air the content expired, and an estimated 2.8 million TWC subscribers were blacked out from viewing their beloved sports teams, including the Knicks. This blackout has continued through the entire Lin-sanity craze. Given that Jeremy has broad appeal, particularly to people who are not typically Knicks fans, the continuing blackout might result in subscribers calling TWC and demanding they reach a deal - even if it costs the subscribers a few extra bucks a month.
MSG's media business derives much of its revenues from affiliation fees paid to cable companies like TWC. In their recent financial filings, MSG indicated that the expiration and non-renewal of TWC's affiliation agreement with MSG Networks will have a material impact on operating income. Recent reports indicate that TWC offered to give MSG a 6% license fee increase, whereas MSG was looking for something closer to a 50% increase. The specifics of the negotiations are not known. However, independent studies have estimated that MSG receives around $4.50 month per subscriber from TWC to license MSG content.
If the Lin-sanity craze can put enough pressure on TWC to make a deal with MSG, it could result in an increase in MSG revenue. Let's say MSG can get an extra $1 a month per subscriber from TWC, it would result in an extra $33.6M in revenue over the course of a year - not too bad, considering Mr. Lin is making a minuscule $700k. With some back of the envelope math, a deal would mean a 6-8% increase in revenue for MSG Media.
The other catalyst for MSG is the emergence of a new fan base and market segment. While Johnson & Johnson (NYSE:JNJ) and McDonald's (NYSE:MCD) are trying to diversify their revenue in emerging market countries, MSG may be doing the same through Jeremy Lin. His Asian-American heritage and Harvard background have made him an underdog in the eyes of not just the basketball community, but the world. MSG has the potential to broaden their market share by tapping into a growing market segment of individuals who have been caught up in the Lin-sanity phenomenon.
We do not think that the sudden price jump in MSG stock price is justified in the short run, but if you believe in Jeremy Lin in the long run and think that he is a true contender in the NBA, it may be worth looking at MSG stock.

Disclosure: I have no positions in any stocks mentioned, and no plans to initiate any positions within the next 72 hours.