New York-based Soros Fund Management LLC, founded by George Soros in 1969 with legendary investor Jim Rogers, manages over $24 billion, including $4.57 billion in 13-F assets per its latest Q4 filing Tuesday, February 14.
A frequent commentator on markets, George Soros is probably most known by his political causes and as the person who broke the Bank of England in 1992, netting himself a $1 billion profit in the process by correctly predicting that the British government would have to devalue the pound sterling. He is ranked as the 35th richest person in the world, with a net worth estimated by Forbes at $14.2 billion. An avid philanthropist, he has given away $7 billion to various causes since 1979. The fund holds a moderately diversified portfolio of 145 positions, including 45% of its holdings in large-caps, 30% in mid-caps and the remaining 25% in small-cap equities.
The following are Soros's major buys in Q4 based on that analysis, that are also trading under-valued compared to the peers in their group (see table):
Google Inc. (GOOG) is the Internet's premier search engine. Soros added $157 million in Q4 to its $1 million prior quarter position, ranking it among the largest (almost) new positions this quarter. The addition of GOOG this quarter seems to be a trend this past quarter among many leading fund managers, including Buffett, Tepper and Einhorn, that have increased their exposure to leading technology stocks.
GOOG in particular trades within striking distance of its all-time highs, and at a discounted 12-13 forward P/E and 3.3 P/B, a discount compared to averages of 17 and 1.6 for its closes peer Yahoo! Inc. (YHOO), while earnings are projected to grow at a stellar (for a company this size) 17.5% annual rate from $36.06 in 2011 to $49.74 in 2013 compared to the sub-10% annual earnings growth rate for YHOO. Furthermore, the current P/E also represents a steep discount to its growth rate. We believe that the stock is likely to dip back to the mid- to high- $500s, and we would take advantage of that and buy on dips. The stock has been an excellent long-term performer, up almost six-fold since its IPO in 2004, and it is likely that it will continue outperforming the market going forward.
TripAdvisor Inc. (TRIP) is an online travel research company, aggregating reviews and opinions of members about destinations and accommodations such as hotels, resorts, restaurants, vacation packages and travel guides. Soros added a new $11 million position in the company in Q4.
TRIP was spun-off from online travel services company Expedia about two months ago, when Expedia split into two companies, with the baseline online travel services business remaining under the Expedia name, and the TripAdvisor being spun-off as the only publicly traded, pure-play travel advertising services company. The baseline Expedia business was growing in the single-digits, while TripAdvisor growth rates have been above 30% and are expected to continue being high for the foreseeable future.
Given that, the stock is currently attractively priced at 16-17 forward P/E compared to the average of 26.1 for its peers in the internet content group, and the expected 20%-30% growth going forward. The current discount, after a disappointing Q4 miss about a month ago, may be giving potential investors an opportunity to load up on this high growth name at discount prices before growth and prices ramp up again.
Freeport McMoRan Copper & Gold (FCX) is engaged in the exploration and development of copper, gold, silver and molybdenum mines in Indonesia, North and South America. Soros added a new $16 million position in the company in Q4. FCX trades at 7-8 forward P/E and 2.7 P/B compared to averages of 19.5 and 2.3 for its peers in the non-ferrous mining group, while earnings are projected to rise at a modest 6.0% annual rate from $4.89 in 2011 to $5.49 in 2013.
Delphi Automotive Plc (DLPH): DLPH manufactures vehicle components, powertrain, safety and thermal technology solutions for automotive and commercial vehicle markets worldwide. Soros added a new $15 million position in Q4. DLPH has been a strong performer, rising about 50% from its $20 IPO price about three months ago. The company recently released a stellar Q4, beating estimates and guiding FY earnings higher. The stock still trades at a reasonable 7 forward P/E and 5.6 P/B compared to averages of 8.7 and 2.7 for its peers in the auto/truck OEM group. Earnings are projected to grow at a strong 11.9% annual rate from $3.33 in 2011 to $4.17 in 2013.
Wells Fargo & Company (WFC): WFC is a diversified financial services holding company with 9,000 offices primarily in the U.S., and provides retail, commercial and corporate banking services. Soros added $33 million in Q4 to its $3 million prior quarter position. WFC trades at a discount 8-9 forward P/E, and at 1.1 P/B, compared to averages of 9.6 and 0.7 for the major regional banks group, while earnings are projected to rise at a 13.3% annual rate from $2.82 in 2011 to $3.62 in 2013.
Another major buy by Soros in Q4 that is not under-valued based on a comparison to its peers, at least based on the typical earnings measure, includes:
KeyCorp (KEY): KEY operates as a holding company for KeyBank National Association that provides various investment management, retail and commercial banking, consumer finance, and investment banking products to corporate, individual and institutional clients via 1,033 branches in 14 states. Soros added a new $15 million position in the company in Q4. KEY trades at 9-10 forward P/E and 0.8 P/B compared to averages of 9.2 and 0.9 for its peers in the major regional banks group.
Select Stocks that Soros is most bearish on, based on its moves in Q4 (see table) include: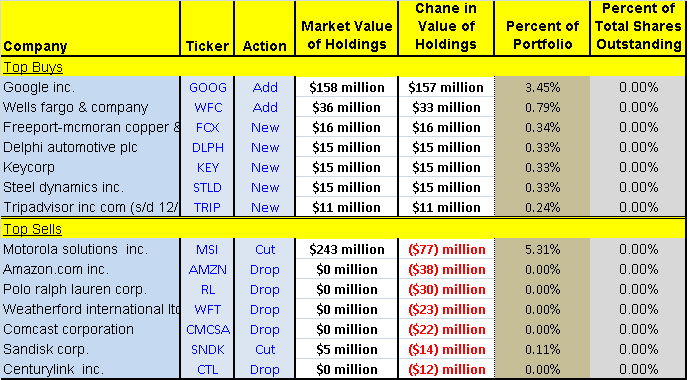 Credit: Historical fundamentals including operating metrics and stock ownership information were derived using SEC filings data, Zacks Investment Research, Thomson Reuters and Briefing.com. The information and data is believed to be accurate, but no guarantees or representations are made.
Disclaimer: Material presented here is for informational purposes only. Nothing in this article should be taken as a solicitation to purchase or sell securities. Before buying or selling any stock you should do your own research and reach your own conclusion. Further, these are our 'opinions' and we may be wrong. We may have positions in securities mentioned in this article. You should take this into consideration before acting on any advice given in this article. If this makes you uncomfortable, then do not listen to our thoughts and opinions. The contents of this article do not take into consideration your individual investment objectives so consult with your own financial adviser before making an investment decision. Investing includes certain risks including loss of principal.