Whether you believe the economic data coming out of China, or you don't, it is always a good idea to monitor an economy that supplies the necessary inputs for Chinese growth.
This week produced encouraging economic news for a country highly leveraged to Asian growth. Australia has been a great beneficiary of Asian, and particularly Chinese growth as rapid industrialization resulted in strong appetite for commodities.
On Wednesday February 15, the Australian Bureau of Statistics reported that the unemployment rate declined from 5.2 percent to 5.1 percent, beating consensus expectations of a rise to 5.3 percent. As the chart below indicates, there is a clear positive trend in the unemployment rate.
Of course more employed individuals means less burden on the state, higher government revenues and healthy consumption related spending - a big component of the Australian economy.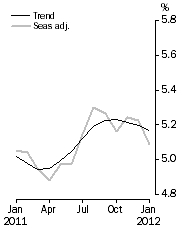 In addition, the National Australia Bank Business Confidence Index, released earlier this week, rose from 3 to 4. The increasing level of the index indicates increasing positive business sentiment, which may indicate future job creation as businesses become more confident to add more employees to meet demand.
Adding to the rosy picture, consumer sentiment measured by the Melbourne Institute rose 4.2 percent, which is a good indicator as more confident consumers tend to spend more and thereby, drive economic growth.
Lastly, the seasonally adjusted New Motor Vehicle Sales for January 2012 increased 1.3 percent over December 2011, reflecting healthy demand; however, unadjusted vehicle sales declined 0.9 percent on a month over month basis.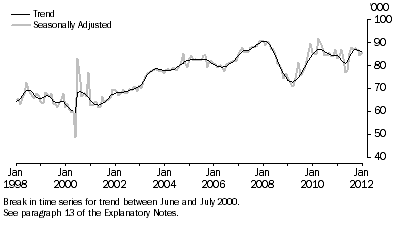 With close proximity and the dependency on Chinese demand for commodities, Australia makes a reliable barometer for Chinese and Asian growth. Improving conditions in Australia can be used by investors to monitor the direction of the world's second biggest economy.
Disclosure: I have no positions in any stocks mentioned, and no plans to initiate any positions within the next 72 hours.